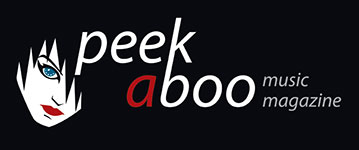 like this concert review
---
Review of the REWIND Festival in Ghent (DAY ONE) with Covenant, Neon Judgement, The Klinik, Red Zebra, SA42, Lebanon Hanover and Simi Nah (Ghent, 12 April 2013)
Concert
[90/100]

18/04/2013, Philippe BLACKMARQUIS
---
It has become a great tradition: Easter time is the time of REWIND, one of the biggest new-wave/darkwave festivals of the year. The REWIND Fest is held in Ghent (Belgium), in the "Vooruit", a gorgeous old theater. The older ones among us remember the Black Easter festivals, which were organized there in the late 90ies. But let's get back to the present time: for this second edition of the Easter REWIND, Filip Delens and his team have prepared a dream lineup.
The first day offers a nice mixture between different musical genres. A few days before the event, the headliners Welle:Erdbal had to cancel their show due to the health problems of two members, Plastique and ALF. Filip Delens had to find a substitute band very quickly and after a number of failed attempts (a.o. with Front 242, who could not come as their new show is not ready yet), Filip found COVENANT, who had headlined last year and accepted to make a short break in their sudio work. This change was a pity for Welle:Erdbal fans but for many people, it was a great idea (even a 'plus') to have the legendary Swedish band to headline the festival again.
Simi Nah
Simih Nah had the honor of opening the evening. It was a pleasure for me to see this great band again after their (acclaimed) performance at the BIM Fest last year. Simi Nah is a French musician, songwriter & vocalist from Nice and ex-bass player with Praga Khan. The name 'Simi Nah' is a combination of 'Simi', the nickname of her mother and 'Mina', the name of Dracula's victim in Bram Stoker's book. Simi's partner in crime is Kenny AKA Scuzzy, a musician, songwriter & producer from Oostende. The third member of the band is Safyée, aka Alice, the daughter that Simi Nah had with the late Micky Mike (Snowy Red). The project "Simi Nah" was started in 2003 and already released two albums, "Cherchez La Femme" in 2004 and "5" in 2012.
Like at the BIM, Simi Nah presented a powerful show! Again, I was impressed by the huge sound they have on stage. Of course there are machines helping them but Scuzzy is continuously fine tuning the sound with his KORG MS-20 controller. Simi has a great presence on stage and moves with elegance and style. She has a typical cabaret French style, especially on songs like "Coco ChaRnel" (what a great title!). Think Miss Kittin' or Vive La Fête but with a more EBM sound. The band started with "La Machine" as intro and "Coco Charnel", followed by "R&B (Rubis & Bikinis)", "Sans Se Voiler La Face" and "Batcave". Watch them perform "Batcave" below:
Like at the BIM, Safyée (Alice) sang a wonderful cover of Euroshima (Wardance), as a tribute to her father, Snowy Red, who died in 2009. A very touching moment! Watch it in the video below...
As aw whole, Simi Nah's show was very good, very professional! A great start for the evening! Simi and Safyée gave us a short interview backstage after the show, in which they are talking about their upcoming EP: check it below:
Setlist: La Machine, Coco Charnel, R&B (Rubis & Bikinis), Sans Se Voiler La Face, Batcave, Dressing Room, Euroshima (War Dance), Cabaret, 100 Visages.
Check the pictures by Seb Leeson here.
Note that the son of Snowy Red, Michael (Weyrd Son Records) will release a tribute 2LP to Snowy Red in May with artists like Animal Bodies, Led Er Est, Bestial Mouths, etc... Can't wait for this release!
Lebanon Hanover
Great idea to program this fresh new band: they have developed a cult following thanks to their gloomy cold-wave music. The band is composed of a couple: Larissa Iceglass, originally from Switzerland, on vocals, guitars and synths and William Maybelline, from England, on vocals, bass and synths. They take their dark girl/boy vocals, razor sharp guitars and brooding bass-lines to create some sort of synthetic apocalyptic pop, reminiscent of Siouxsie, Cure, Bauhaus or Xmal Deutschland.
At REWIND, they struggled a bit to get a good sound and they seemed embarrassed to play on such a big stage. They confirmed to me that it was indeed the first time. But as a whole, the set was great! They alternated songs sung by Laurissa with songs sung by William. They did not move a lot on the stage, except during "Totally Tot", when William started dancing in a typical cold-wave style. During their set, they managed to create a dark atmosphere, especially on titles like "Sand", "Kunst" and "Die World II". They finished their set with their brand new single: "Gallow Dance". After two widely acclaimed albums, they really confirm their status of leaders on the minimal wave scene: a very promising band! After the show, they gave us a very nice interview, which will be published in the next few days. Check two live video's of the concert:
Setlist: No One Holds Hands, Sand, Kunst, Totally Tot, Ice Cave, Saddest Smile, Albatross, Die World II, Gallow Dance
Check the pictures by Seb Leeson here.
After the show, Lebanon Hanover gave us an interview: check it here!
Signal Août 42 (SA42)
For me, this Belgian band was a nice discovery on stage! Created in 1981, it's the project of Jacky Meurisse. Note that the name of the band has no link with Front 242, 'Signal Août 42' is in connection with the date when the German propaganda publication in the second world war came out. The musical style is a mix of EBM and new beat with a number of smashing dancefloor hits. Jacky was also involved in Amnesia and other new-beat/dance acts.
At the festival, they played a 'best of' setlist with hits like "Submarine Dance" but also "Pleasure and Crime", their very first song. On stage, Jacky Meurisse has a strong presence, with his military jacket, and he is continuously urging the public to dance and to move, which they did! Soon, everybody was dancing. They finished with "Vae Victis", their latest release from 2010. This show was a nice surprise! Check the band performing "To Talk Nonsense" below.
Setlist: Submarine Dance, Follow My Voice, To Talk Nonsense, Pleasure And Crime, Transformation, Dead Is Calling, Live Less, Waterdome, Langemark, Vae Victis.
Check the pictures by Seb Leeson here.
After the show, Jacky Meurisse gave us a short video interview, in which he talked about the band and his project to release a new album ("Inspiration") with new compositions that will all sound like a particular artist that was an inspiration to him like, eg, Fad Gadget, Cabaret Voltaire, Joy Division, etc. Check the interview here.
Red Zebra
This was the 'farewell show' for Red Zebra. This Belgian band started out in 1978 under the name of 'The Bungalows'! Their first self-produced, self-written and self-sold EP included the song "I can't live in a living room". This biting indictment of bourgeois society became a radio hit and is considered one of Belgium's finest punk-wave classics. After many changes in their lineup, and several disputes about the ownership of the band, they recently decided to call it quits.
This farewell show was nevertheless very impressive! Peter Slabbynck, the frontman and singer, was in great form and the band played their best songs with a lot of energy! Starting with "Agent Orange", they went on with hits like "The Ultimate Stranger" and "John Wayne", without forgetting their usual cover of The Sound, this time, "Skeletons". "I can't live in a living room" was simply perfect and they closed the setlist with "The Art of Conversation", "Polar Club" (during which Slabbynck pretented to be a hunchback), and the classics "God Is Not A DJ" and "Spit On The City", on which everybody was singing along "We Don't Need Another MCDonald's...". As encore, they played the superb ballad "Beirut By Night", with a touch of accordion, and finally, a punchy cover of the Sex Pistols' "Holidays In The Sun". A great show, full of (post)punk hymns that makes us regret all the more the disbanding of this major Belgian act!
Setlist: Agent Orange, Ultimate Stranger, Shadows Of Doubt, Skeletons, Suffocate, John Wayne, I Got the Microphone, No Kitchen In The House, I Can't Live In A Living Room, Art Of Conversation, Polar Club, God Is Not A DJ, Spit On The City. Encore: Beirut By Night, Holidays In The Sun
Check the pictures by Seb Leeson here.
The Klinik
After this, it was the much awaited return of The Klinik, the legendary Belgian project formed by Marc Verhaeghen and Dirk Ivens (Absolute Body Control, Dive, Sonar). In the mid 80's, they were pioneers of minimal industrial EBM with touches of trance and dark ambient. Recently, due to Verhaeghen's illness, it's Borg (Peter Mastbooms, also in The Juggernauts) who performs on stage as a second band member.
At REWIND, they were presenting their new album: "Eat Your Heart Out", their first full-fledged production since 22 years! As usual, they performed with their heads wrapped in gauze. The first songs were new songs: "Nothing You Can Do" and "Bite Now Bite" and they fit perfectly in the band's live shows! The sound was huge and gave a powerful and new dimension to the minimalistic arrangements. Ivens' menacing, distorted voice provided an ice cold feeling to the music, the whole show being a bit like an electronic nightmare... fpr our pleasure! The band also played classics like "Black Leather" and "Hours And Hours". "Stay" was another new song and it was a kind of break in the concert, with more ambient sequences. But The Klinik quickly came back to harsh atmospheres and finished their set with the hits "Moving Hands" and "Memories". Due to lack of time, they could not play "Those" and "Brain Damage", but they came back without their masks for the encore: a superb interpretation of "Go Back". It was an excellent concert! Dirk Ivens has a very strong presence on stage and the live V-jaying by BORG gives a real added value to the show.
Check them playing their new song "In Your Room" below:
Setlist: Nothing You Can Do, Bite Now Bite, Hours And Hours, Black Leather, Mindswitch, In Your Room, Pain And Pleasure, Obsession, Stay, Moving Hands, Memories. Encore: Go Back.
Check the pictures by Xavier Marquis here.
Neon Judgement
Formed in Leuven in 1980 by Dirk Da Davo (keyboards/vocalist) and TB Frank (guitarist/vocalist), Neon Judgement are considered, along with their Belgian peers Front 242, as one of the original pioneering EBM bands, with their herky-jerky rhythms and droning vocals. The band is a traditional headliner in many festivals and they had already headlined REWIND last year. They gave a classic 'best of' show, with classics like "Tomorrow In The Papers", "Miss Brown",... Dirk Da Davo was standing left on the stage with his keyboard stand and computers and Frank TB was on the right, with his guitar and amp. They also played "Leash", the single from their last CD "Smack" (2009). The last song, "TV Treated", was welcomed with screams and shouts by the audience. As usual, Frank TB came to sit on one stage speaker to play the guitar riff and when Da Davo launched his famous synth phrases, it was an explosion in the hall. A great show! Unfortunately, they didn't play an encore so we missed "Factory Walk" and "Nion Nion". I was told that they had to stop because TB Frank was suffering from a broken toe. Get well soon!
Setlist: Tomorrow In The Papers, Too Cold To Breathe, Sister Sue, Please Release Me Let Me Go Go, STLG, Miss Brown, Chinese Black, The Man, I Wish I Could, Concrete, Leash, The Fashion Party, TV Treated.
Check the pictures by Xavier Marquis here.
Covenant
Performing in replacement of Welle:Erdbal, Covenant were headlining the first REWIND night for the second time in two years! I suggest they come back every year, to become some sort of talisman for the festival. For those who live on another planet, Covenant is one of the spearheads of dark synthpop. Formed in 1986 in Helsingborg, Sweden, after a concert of Front 242 in Malmö, the band started with a music influenced by Belgian EBM but also by Kraftwerk and Nitzer Ebb. Later they evolved towards a 'softer' and more melodic Futurepop and gained worldwide success. In 2011, they released one of the best album of the year: "Modern Ruin". They are currently working on a new album, "Leaving Babylon", due in September 2013.
Since Daniel Myer (Haujobb,...) left the band, Covenant is composed of Eskil Simonsson (lead vocals, composition, lyrics, production, synths), Daniel Jonasson, also in Dupont (synths) and Joakim Montelius (synths, production). Montelius doesn't tour anymore and is replaced by another keyboardist on stage. This concert was very interesting in comparison with previous shows, especially because the band decided to go back to their very first album, "Dreams Of A Cryotank", originally released in 1994 and re-released last year on vinyl as a limited edition of 500 copies. After 3 hits to start the show in the best way, they played "Voices", "Theremin" and "Wasteland" from this legendary first album, in which they had a much more experimental, EBM/Trance oriented sound. A nice surprise for the connoisseurs but for many people, it was more like a break in the midst of a series of dancefloor killers.
With his usual stylish look, Simonsson is a great showman: so, he easily took the audience in the palm of his hands. Even better, he seemed to be perfectly sober, which is not always the case. The next songs were real synth-pop masterpieces: "The Beauty And The Grace", "20Hz", "Figurehead" and of course, "Ritual Noise". The concert hall was on fire and the festival arrived at its first peak: a musical communion between a band and its audience. The final song was a new, unreleased song, "The Last Dance" and it sounded great! It will be released on the band's forthcoming album. As encore, they played the beautiful ballad "Happy Man", which Eskil dedicated to a certain Vince, a Belgian fan who died a few months ago. A very touching moment! Before going, the trio gave the audience a complete musical orgasm with "Dead Stars". In a nutshell, a wonderful show and the perfect way to end this first festival night...
I filmed an excerpt of "Dead Stars" from the backstage area: chek this exclusive video below
Setlist: Stalker, Bullet, Judge Of My Domain, Voices, Theremin, Wasteland, Beauty And The Grace, 20Hz, Figurehead, Ritual Noise, The Last Dance. Encore: Happy Man, Dead Stars.
Check the pictures by Xavier Marquis here.
Philippe BLACKMARQUIS
18/04/2013
---