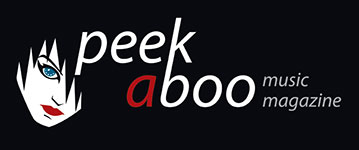 like this movie review
---
GIUSEPPE TORNATORE
The Best Offer
Movie
Arthouse
•
Thriller
[55/100]

A-Film
01/10/2014, Didier BECU
---
Maybe the name of Giuseppe Tornatore doesn't say anything to you. That certainly changes when we're adding the movie that made him famous: Cinema Paradiso. In this gigantic hit the Italian director told a story about love for the movies. Nah, we can't think of something more beautiful than that! Since then the filmmaker never could match the beauty of this milestone, even if he always kept on making nice things.
His newest movie The Best Offer (in Italian that sounds like La Migliore Offerta) became another victim from critics who accused Tornatore for being a one hit wonder. The question arises if those people actually saw The Best Offer as this psychological thriller (or something like that, as you never will find the right description) surely is definitely worth watching.
As he does it so often, actor Geoffrey Rush once again controls a whole movie with his skills. In The Best Offer the Brit plays the role from Virgil: a well respected art-expert who only loves himself and art (or better said: the money that's involved!). Virgil has no problems in betraying his clients if that can make himself a wealthier man as he's more than just a salesman, he collects art himself. One day Virgil gets a call from Claire Ibbetson (Sylvia Hoeks). The solitary heiress invites Virgil to her gigantic home so he can auction her large art collection. Virgil can't see her as Claire suffers from agoraphobia. During their mysterious talks, Virgil falls for the first time in his life in love with someone.
Of course there are other things going on in this movie, but reveal that would mean that we kill the power from it. Anyone who thinks that The Best Offer is a boring movie that is made for art fanatics is wrong, even if it helps of course when you know who Titiaan or Modigliani is. There are surely some moments in where Tornatore looses himself by adding too many useless symbols in his story, but people who are looking for an intelligent thriller with excellent performances should give The Best Offer a try. The movie is out on DVD on A-Film.
Didier BECU
01/10/2014
---
Misschien doet de naam Giuseppe Tornatore bij de meeste mensen niet meteen een belletje rinkelen. Dat doet het zeker als we zijn bekendste film vermelden: Cinema Paradiso. Na deze gigantische hit uit 1988 die over de liefde voor cinema gaat (kan het nog mooier zijn?) bleef de Italiaanse filmmaker niet op zijn lauweren rusten, ofschoon hij nadien dat torenhoge niveau nooit meer heeft teruggevonden.
Met zijn nieuwste film The Best Offer (dat in het Italiaans als La Migliore Offerta zo veel mooier klinkt) ging het eigenlijk ook niet al te best, want heel wat critici grepen de kans schoon om Tornatore nog maar eens de grond in te boren. De regisseur bleef niet gespaard van een belediging als "eendagsvlieg". De vraag is of deze mensen wel degelijk naar The Best Offer hebben gekeken omdat deze psychologische thriller (ook al kun je nooit de juiste term ervoor vinden) zeker de moeite loont.
Zoals hij dat zo vaak doet, plooit Geoffrey Rush ook The Best Offer door zijn uitmuntend acteertalent volledig naar zijn hand. In deze meer dan twee uur durende film speelt de Brit de arrogante veilingmeester Virgil die alleen maar oog heeft voor zichzelf, en kunst. Want jawel, naast het veilen koopt hij zelf ook gegeerde kunstwerken aan en voelt er zich helemaal niet te beroerd voor om zijn cliënteel te bedriegen. Op een dag krijgt Virgil een vreemd telefoontje van een jonge vrouw (Sylvia Hoeks). De steenrijke dame nodigt de kunstkenner uit om naar haar landgoed te komen om haar gigantische kunstcollectie te taxeren. Een ontmoeting zit er evenwel niet in omdat Claire aan een verregaande vorm van pleinvrees lijdt. Tijdens de mysterieuze gesprekken wordt de kunstverzamelaar voor het eerst verliefd in zijn leven.
Er gebeurt natuurlijk heel wat meer dan dat, maar meer verklappen zou meteen ook de vernietiging van de kracht die deze film uitstraalt betekenen. Wie denkt dat The Best Offer een vervelend drama voor kunstkenners is, heeft het verkeerd voor, ofschoon het helpt als je weet wie Titiaan of Modigliani is. Af en toe verliest Tornatore wel eens de pedalen omdat hij zijn verhaal meer betekenis wil geven dan het in werkelijkheid bevat, maar wie op zoek is naar een intelligente thriller met excellente vertolkingen mag deze prent zonder twijfelen uit de winkelrekken halen.
The Best Offer is nu uit op dvd via A-Film.
Didier BECU
01/10/2014
---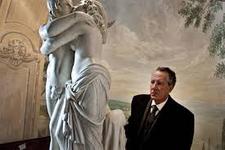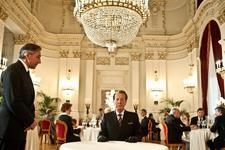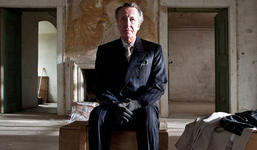 ---