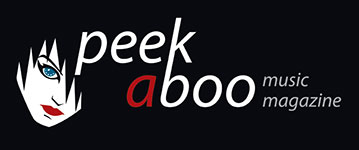 like this cult movies review
---
MARK L. LESTER
Class of 1984
Movie
•
Cult movies
Action
[74/100]

Just Bridge
14/07/2014, Didier BECU
---
Naughty schoolkids have always been a fave subject for films, just think of Blackboard Jungle or Dangerous Minds. However, the pupils from teacher Andy Norris (Perry King) are from a total different kind. From his first day on, the new teacher is aware that he's entering an unknown, dangerous world. The little bastards are lead by Peter Stegman (Timothy Van Patten): a bully who seeks the protecting arms from mommy when it's getting too hot. The thug controls everything that doesn't fit between the walls of the classroom: from prostitution to drugs. Norris swears that he will get the gang under his thumbs, but before all that he'll need 90 minutes of pure violence.


The film has the title Class Of 1984, but was made in 1982. A prophecy, Mark L. Lester made a sciencefiction movie but wanted to warn his public that soon things in America would get out of hand. History made it clear that he was right. Warning or not, some people thought that Lester had crossed too many lines. But what do you expect? Pupils who rape the teacher's wife or a teacher who hatches the hand of a student, admit it: you don't see that every day in the theatres!


The movie is considered today as one of the most violent movies from the 80's. Sadly enough, today the reality has become more violent. Anyway, Lester wanted more than warn the American audience. His main goal was making a decent action classic that was inspired by some of his favourite film moments: from A Clockwork Orange (the choreography of the violence) or The Godfather.


Due to many reasons, the movie has become a real cult classic these days. Alice Cooper's I Am The Future was the popular title track and you'll also notice Michael J. Fox's debut on the white screen. No worries though as he's the best kid from school. Maybe Class Of 1984 is a bit dated, but recommended for those who are looking for some melancholy.


Class Of 1984 is worldwide available on DVD, but has never been released on Blu-ray. The version we have in our hands is the Benelux-one that is released on Bridge Pictures. Not only it comes in an great steelbox, there's also the great Anchor Bay-extra The Making Of Class Of 1984 (35 minutes) included.
Didier BECU
14/07/2014
---
Ondeugende scholieren zijn altijd een geliefd onderwerp in de filmgeschiedenis geweest. Denk maar aan Blackboard Jungle of Dangerous Minds, maar de scholieren die muziekleraar Andy Norris (Perry King) onder zijn hoede krijgt maken het wel erg bont. Vanaf zijn eerste werkdag merkt de nieuwbakken leraar dat hij geen doetjes in zijn klas zal krijgen. De ettertjes worden geleid door Peter Stegman (Timothy Van Patten), een bullebak eerste klas die evenwel bij moederlief gaat huilen als het ijzer aan zijn voeten te heet wordt. De punk controleert alles wat niet binnen de klasmuren past. Norris zweert dat hij de bende zal temmen, maar daar zal eerst anderhalf uur hard geweld voor nodig zijn.
De film heet wel Class Of 1984, maar kwam wel degelijk in 1982 uit. Daarmee wilde regisseur Mark L. Lester zijn publiek wijsmaken dat hij alleen maar een sciencefictionfilm wilde maken, toch hadden Amerikaanse moraalridders daar maar weinig oor naar. Wat wil je? Scholieren die de echtgenote van de leraar verkrachten of een onderwijzer die de arm van een leerling afhakt …geef toe: het komt niet bepaald veel voor in onze bioscopen!
De film wordt nog altijd als één van de meest gewelddadige van de jaren 80 beschouwt, toch is er ondertussen zoiets als de werkelijkheid. Diverse drama's hebben immers aangetoond dat het in Amerika perfect mogelijk is dat tieners met een geweer de schoolpoorten binnenwandelen. Nu goed, het is nooit Lesters bedoeling geweest om Amerika een geweten te schoppen, maar ze gewoon een flinke portie actie te bezorgen. Maar wel met tonnen stijl. Zo zie je duidelijk dat Lester zich liet inspireren door A Clockwork Orange (de choreographie van het geweld) of The Godfather.
De film is wegens heel wat redenen pure cult geworden. Niet alleen zorgde Alice Cooper met I Am The Future voor de titeltrack, ook maakt Michael J. Fox hier zijn debuut op het witte doek en dan nog wel als een onuitstaanbare mouwveger! Misschien is de film wat gedateerd, maar wie op zoek is naar een flinke brok melancholie moet deze film beslist op zijn lijstje aankruisen!
Class Of 1984 is over heel de wereld vlot op dvd te vinden, maar nog nooit op Blu-ray uitgebracht. Een van de beste versies komt uit de Benelux door Bridge Pictures. Niet alleen is er een prachtige steelbox, ook vind je er een interessante The Making Of Class Of 1984 op terug die zo'n 35 minuten duurt.
Didier BECU
14/07/2014
---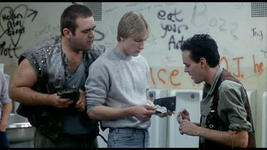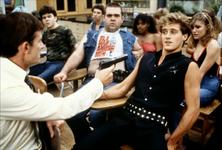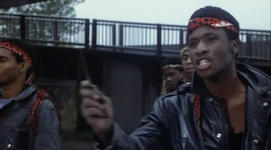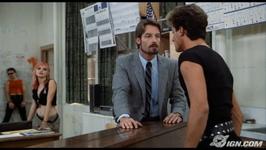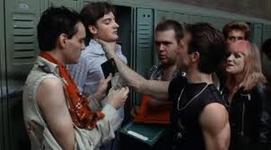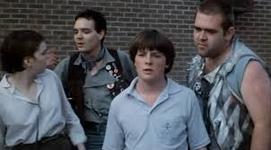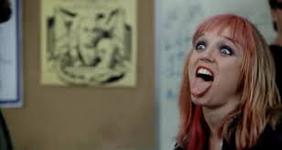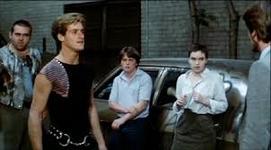 ---