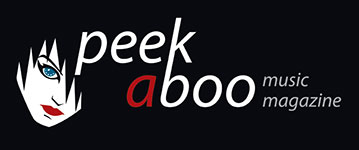 like this movie review
---
MATT BETTINELLI-OLPIN
Devil's Due
Movie
Horror
[45/100]

20th Century Fox
18/06/2014, Didier BECU
---
Housemothers who bare a child from the devil. it's indeed a concept that's already been filmed by Polanski in Rosemary's Baby. And let's be honest about it: there was never a better one. Mind you, the makers from this
lowbudgetfilm never denied the fact that this classic was the base for their mockumentary. You can't blame those guys cos after all this horror comedy is nothing but an innocent joke that became big business.


Bettinelli-Olpin and Gillett already are years in Radio Silence: that's a team od amateur filmmakers who make with a minimum of money horror flicks that they put on YouTube. One of thse selfmade movies that dit it well was The Time Machine: An Interactive Adventure. 20th Century Fox was quite overwhelmed by this (or do we have to say made blind by the upcoming dollar signs?) and asked the two to make such a movie. Making money with a minimum of cists is always nice, not? For a reviewer it's quite difficult to decide whether we will see this through the eyes of a big studio or from the perspective from a hobbyproject that out of a sudden became a Hollywood dream. Nah good, most critics slashed this movie down and that's a bit of a shame as Devil's Due might be a misser if it comes to quality horror, but it's certainly a funny one.


Zach (Zach Gilford) and Samantha (Allison Miller) are a nice couple. The two know that one day they'll be married, but at the moment they're still young and they wanna taste life in all its aspects.The lovers land during one of their trips in a South-American country and it's at an undergroundparty that everything goes wrong. They got drunk and somebody drags samantha to a dark hole. When they're back at home, the verdict is hard. Not only is the young woman pregnant, she also has a mental illness and owns supernatural forces. The reason is that she's pregnant from the devil.


The funniest thing is that you can't say that Devil's Due is a horror movie as there's nothing scary to see. As said this movie is a so-called mockumentary, and in horror terms this means that everything's been filmed with a cheap handcamera. During 70 minutes we follow the adventures of those two doomed lovers who prepare everything for the birth of the unwanted child. This leads to quite funny situations that will please the fans from say Project X ,but it has nothing to do with horror. The sole scary moments are in the last ten minutes, but Bettinelli-Olpin and Gillett are making such a mess of their finale that no one knows what it's all about.


The directing is mediocre, maybe even very amateurlike, but that's okay. The performances aren't bad as the actors are doing what they're told. So, is it a good movie then? Not really, as not only it seems quite silly that in every situation (even if they're running for the life) that the couple has time to film it , but only because the movie is not original enough. But, and that's another truth, the movie never bored and that's always a good thing to say.


So, if someone says that this movie is great then he knows nothing about cinematography. If he tells you it sucks then he simply has no sense for humor.
Didier BECU
18/06/2014
---
Brave huismoeders die een kind van de duivel baren. Het is een concept dat tientallen jaren geleden al eens door Roman Polanski op onnavolgbare wijze in Rosemary's Baby werd belicht. De makers van deze lowbudgetfilm ontkennen evenwel geen enkele seconde dat hun mockumentary voor een groot deel op dit duivelsverhaal is gebaseerd. Je kan het de kerels ook moeilijk kwalijk nemen, eigenlijk is deze horrorkomedie niet meer dan een uit de hand gelopen grap.


Het duo Bettinelli-Olpin en Gillett maakten deel uit van Radio Silence: een collectief van amateurs die met een minimum aan middelen zelf horrorfilms in elkaar knutselen en die dan vervolgens op YouTube plaatsen. Een van deze probeersels (The Time Machine: An Interactive Adventure) werd zo veel keer bekeken dat 20th Century Fox het best zag zitten om zo'n lowbudgetfilm te steunen (of moeten we zeggen om er geld uit te halen?) Een hobbyproject werd dus plotseling een ware Hollywooddroom. Als filmrecensent is het dan ook bijzonder moeilijk om te kiezen welke weg je inslaat: hanteer je nu de normen van een grote studio of bekijk je deze film vanuit het perspectief van een amateurfilm? Nu goed, de meeste critici hebben deze mockumentary met de grond gelijk gemaakt en dat is best jammer, deze film is immers best leuk (maar zeker niet angstaanjagend).


Zach (Zach Gilford) en Samantha (Allison Miller) zijn een leuk koppeltje die ervan overtuigd zijn dat ze ooit wel voor het altaar zullen staan, maar op dit moment willen ze vooral van hun jonge leven profiteren. Tijdens één van hun uitstapjes in een Zuid-Amerikaans land loopt het tijdens een party echter stevig uit de hand. De twee worden stomdronken en de knappe Samantha wordt naar één of ander donker hol geduwd. En tja, maanden later is het verdict wel zeer erg zwaar. Samantha is niet alleen ongewenst zwanger, ook blijkt ze knettergek te zijn en over bovennatuurlijke krachten te beschikken. De reden is (nou ja) simpel: ze draagt het kind van de duivel.


Het grappige aan Devil's Due is dat er eigenlijk niks gebeurt dat met horror heeft te maken. Deze film is dus een mockumentary, wat in de griezelwereld gewoon synoniem staat voor een met een handcam gedraaide film. Bijna zeventig minuten lang volgen we Zach en Samantha die zich op een vrij sullige manier voorbereiden op de komst van de boreling. Dat leidt tot grappige situaties die niet zouden misstaan in films als Project X (en dus in feite onweerstaanbaar grappig zijn), alleen vraag je je af waarom deze prent het etiket van griezelfilm draagt. Het antwoord op die vraag komt in de laatste tien minuten maar Bettinelli-Olpin en Gillett maken er zo'n verwarrend boeltje van dat geen mens weet waarover het gaat. Veel tijd om het mysterie op te lossen heb je niet, want weldra volgt de aftiteling.


Neen, op dat vlak is het dus ook al geen lachertje om Devil's Due te bespreken. De regie is matig, om niet te zeggen volslagen amateuristisch, maar ook dat stoort niet. De acteerprestaties zijn niet meteen overdonderend, maar ook hier doen de spelers wat van hun wordt verwacht en dat volstaat. Gaat het dan om een goede film? Helemaal niet, want er zijn heel wat ongerijmdheden (blijkbaar is er altijd wel een camera in de buurt die alles kan opnemen), ook ontbreekt Devil's Due voldoende originaliteit of het nodige vernuft om hem boven de middelmaat te doen uitstijgen. Toch niet getreurd, de film houdt je 80 minuten aan de buis gekluisterd en is bovendien nog grappig ook!


Devil's Due is een allesbehalve doordeweekse griezelfilm. Niet omdat hij origineel is, wel omdat er maar bitter weinig te bibberen valt. Het woord "goed" gaan we niet gebruiken, wel leuk om naar te kijken.
Didier BECU
18/06/2014
---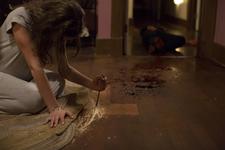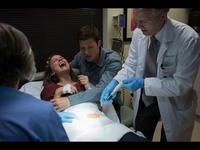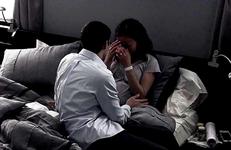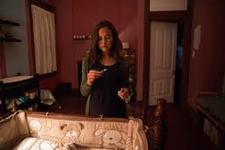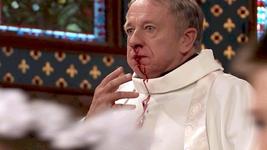 ---