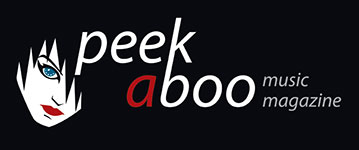 like this movie classics review
---
MIKLOS JANCSO
The Confrontation (Fenyes Szelek)
Movie
•
Movie classics
Drama
•
World Cinema
[73/100]

Second Run DVD
13/01/2014, Didier BECU
---
With the releases from Second Run DVD we often get the feeling that our cultural gaps (at least if we're talking about East-European cinema) got filled up. As after all, be honest about it: can you come up with the name of one Hungarian filmmaker without using Wikipedia? Yes, of course this question excludes all our Hungarian readers.

Miklós Jancsó is one of those. This Hungarian director started his career with filming documentaries. Throughout the years he became a well respected filmmaker who got praised at several festivals. In 1972 he won in Cannes the prestigious price for Best Director with Még kér a nép. Later on he got nominated for a Golden Lion in Venice ( Szörnyek évadja) and in Berlin for a Golden Bear (L'aube).
His style is often described as political musical. With this method he criticized the politicians who occupied his beloved country, but the protest was done in a frisky way. Besides that, in the 60's the Sovjet-pressure on art was becoming less in Hungary and so directors dared more. A fine technique to camouflage this was using historic events. The public was smart enough to notice that through this Miklós Jancsó made a link to the current situation.

In The Confrontation from 1968 the director uses the same technique. The movie is set in 1947. At the courtyard of a convent Laci and Jutka are debating how they can realise the revolution they're dreaming of. The Second World War caused a lot of tragedies and the time was ripe for the whole world to join themselves behind the red flag. The sole problem is of course how you can make this revolution be successful. It seems like everybody has his own way, and that's the essence of this whole movie. Miklós Jancsó avoids heavy political discussions as he wraps them in a musical. The truth is that by such an approach some part of the message lost its goal, but otherwise the audience was kept awake. We would even go as far by stating that you can actually describe The Confrontation as a West Side Story for those who believe in Communistic ideals. It's an unusual film, but due to its unique approach (and of course its cinematographic merits) it never looks dated. A must for everyone who is in love with East European cinema.

The Confrontation is in a restored version out on DVD on Second Run DVD.
Didier BECU
13/01/2014
---
Met de releases van Second Run DVD lijkt het net alsof we daarmee de mogelijkheid hebben gekregen om een heleboel gaatjes uit het Oost-Europese cinefiel erfgoed op te vullen. Want geef toe, zou jij zonder Wikipedia te raadplegen de naam van een Hongaarse cineast kunnen verzinnen?
Miklós Jancsó is één van hun. Deze Hongaarse cineast begon zijn carrière als documentairemaker, maar met de jaren werd hij een filmregisseur die op allerlei filmfestivals werd gelauwerd. Met Még kér a nép veroverde hij in 1972 in Cannes de prijs voor Beste Regisseur. Later werd hij nog eens voor een Gouden Palm genomineerd, alsook voor een Gouden Leeuw ( Szörnyek évadja) en in Berlijn voor een Gouden Beer (L'aube).
Zijn stijl wordt vaak omschreven als politieke musical. Hij schopt de heersende ordehandhavers wel een geweten, maar hij deed dat steeds op een speelse manier. Omdat het juk van de Sovjets in de jaren 60 wat minder woog, beschikten de Hongaarse cineasten over een iets grotere vrijheid om hun politieke ideologieën de wijde wereld in te sturen. Niet dat daarmee alles was toegelaten, maar toch konden de Hongaarse filmmakers (en dan vooral Miklós Jancsó) de verboden vruchten goed camoufleren door gewoon historische vertellingen te gebruiken. Slimme kijkers hadden meteen door dat Miklós Jancsó daarmee de politieke machthebbers van zijn tijd een veeg uit de pan wilde geven.
Ook in The Confrontation uit 1968 gebruikte de Hongaar deze slimme techniek. We schrijven 1947. Ergens op de koer van een klooster debatteren Laci en Jutka over hoe ze het best de revolutie kunnen aanpakken. De Tweede Wereldoorlog heeft voor tonnen bloed gezorgd en het is de hoogste tijd dat de mensheid zich voltallig achter de grote rode droom schaart. De hamvraag blijft natuurlijk op welke manier je die het best kan verwezenlijken. Daar gaat dus de hele film over. Maar in plaats van de kijker te bombarderen met zwaar politiek geleuter verpakt Miklós Jancsó zijn boodschap in een frivole musical waarin choreografie en politieke idealen elkaar vinden (een beetje als Jacques Demy in Frankrijk deed). Je zou zelfs zo ver kunnen gaan om The Confrontration als een West Side Story voor linkse rakkers te bestempelen. Toegegeven, door deze manier gaat de echte boodschap wel een beetje de mist in, anderzijds blijft het een unieke (en vaak briljante) cinematografische kijk op politieke cinema!
The Confrontation is uit op dvd (en dit in een mooie gerestaureerde versie) uitgebracht op Second Run DVD.
Didier BECU
13/01/2014
---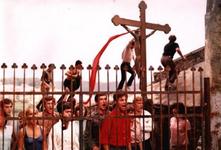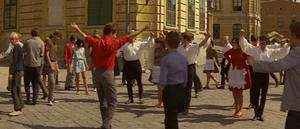 ---