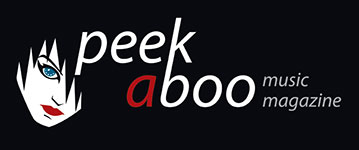 like this movie review
---
ROBERT RODRIGUEZ
Machete Kills
Movie
Action
•
Pulp
[50/100]

Splendid Films
10/10/2014, Didier BECU
---
The story from Machete started as a joke: a trailer from a non-existing movie that was put between Death Proof and Planet Terror in the Grindhouse-project from Rodriguez and Tarantino. Because the public thought that Danny Trejo looked incredible cool, Rodriguez decided that it would be a good idea to give his Mexican hero a whole movie. Machete from 2010 is a nice action flick: a masterpiece it ain't, but irresistible funny nonetheless! Four year laters Rodriguez repeated the joke in Machete Kills. Without doubting the fact that he meant it in a way good, the movie has become just another misser from Rodriguez who also kind of raped this year Sin City with the unnecessary sequel.
The story is completely crazy. Machete (Danny Trejo) gets the orders from the American president to catch criminal Mendez (Demian Bichir). That's not a very easy thing to do as the heart from the crook is connected with a bomb: if he dies, whole Washington will explode. What follows is a stupid James Bond-story that probably is penned down by a kid (with a very bad taste). The plots (if they exist) are completely ridiculous, the characters are not funny at all (another low in Mel Gibson's terrible career) and even if there are many explosions, you might fall asleep during the middle of this boring story. You say we didn't get it as Rodriguez just wanted to make an ode to those lovely action flicks from the 70's? We know that, mind you, but just like in Sin City 2 everything is so exagerrated that it starts to work on the nerves.
Danny Trejo is indeed cool and Michelle Rodriguez will always remain one of the most gorgeous babes a boy can think of (just like Jessica Alba who is featured for some minutes), but with that alone you can't please 100 minutes the eyes of the viewer. In both the beginning and the end we are warned that Machete will return in Machete Kills Again In Space. No, Rodriguez, just leave it like that!
Machete Kills is released on Splendid Films. Lots of beautiful babes, that's for sure, but cinematographic wise there's nothing to see!

Didier BECU
10/10/2014
---
Het verhaal van Machete begon ooit als een grap, nl. als de trailer van een niet bestaande film die tussen Death Proof en Planet Terror in het Grindhouse-project werd gegooid. Omdat het publiek vond dat Danny Trejo er onweerstaanbaar cool uitzag, bezorgde bedenker Robert Rodriguez in 2010 de Mexicaanse held een volwaardige film. Het resultaat mocht er best wezen: een meesterwerk was het niet, maar voldoende grappig. Vier jaar later deed Rodriguez het met Machete Kills nog eens over, en alhoewel het waarschijnlijk allemaal wel goed bedoeld is, gaat de koning van de slechte smaak wederom ronduit op zijn bek (iets wat hij dit jaar al eerder deed met het onnodige vervolg op Sin City).
Het verhaal is te gek voor woorden. Machete (Danny Trejo) wordt door de Amerikaanse president opgetrommeld om de crimineel Mendez (Demian Bichir) uit te schakelen. Eenvoudig is dat niet, want aan zijn hart is een bom gekoppeld. Sterft Mendez, dan wordt meteen ook Washington uitgeschakeld. Wat volgt is een (slecht) James Bond-achtig verhaal dat door een kleuter is geschreven. De plots (als die al aanwezig zijn) zijn ronduit lachwekkend, de vele personages debiel (nog nooit zag je bijv. zo'n slechte Mel Gibson aan het werk) en het verhaal is ondanks de vele explosies gewoonweg slaapverwekkend. Je zegt dat we het niet hebben begrepen omdat Rodriguez een ode wilde brengen aan de actiefilm uit de jaren 70? Natuurlijk weten we dat, alleen is Rodriguez er niet in geslaagd om dat op een goede manier te doen. Net zoals in Sin City 2 is het allemaal zo overdreven dat het gewoon op de zenuwen werkt.
Danny Trejo is wel cool en Michelle Rodriguez blijft nog altijd één van de lekkerste babes van het moment (net als Jessica Alba die je een paar minuten aan het werk ziet), alleen kun je daar de kijker geen honderd minuten mee paaien. Zowel op het einde als bij het begin worden we ervan op de hoogte gebracht dat Machete zal terugkeren in Machete Kills Again In Space. Neen, Rodriguez laat het maar zitten.
Machete Kills is uitgebracht op Splendid Films. Aan mooie vrouwen geen gebrek, voor de cinematografische meerwaarde heb je meer dan één vergrootglas nodig!
Didier BECU
10/10/2014
---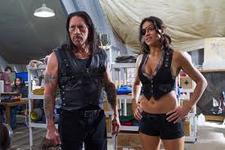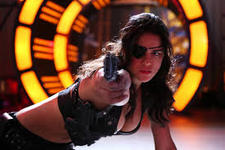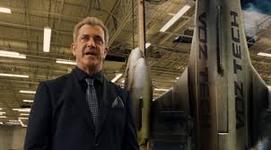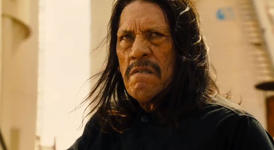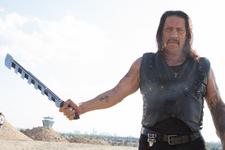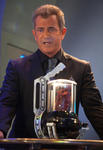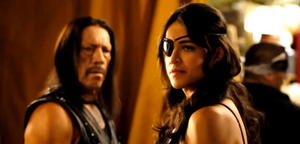 ---