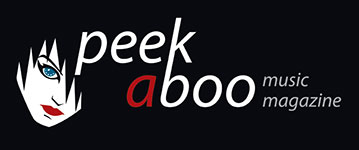 like this interview
---
DARK POEM
I'm quite pleased with the music we make and what's equally important, I enjoy making it.
15/06/2014, Didier BECU
---
It's always nice to have a chat with my fave Belgian darkfolkband (or however you would like to call them), but this time the band has something special to tell as on 20th June there's something going to happen special. What? Well Raya will tell!
Hello Raya. This will not be the usual Dark Poem-interview, but still I think your fans are thrilling to know what you're up to these days.
Hello Didier. We're still working on songs for the new Dark Poem album, and because we are perfectionists, this takes some time. We hope it will be ready by the end of this year.
When we last spoke you sounded a bit furious. You told me that this country has to learn that there's more around than just Stromae. Do I hear the call from an artist who is fed up with our current media?
I wasn't furious, only a little bit annoyed by the mainstream media, because they only focus on the artists that belong to their little club. If you're not part of the in-crowd, your music never gets any attention. I never really understood why so many interesting artists are being ignored, until recently a friend told me: 'You only get in if you're willing to play their game and follow their rules.'
I believe he might be right. But don't misunderstand me, I'm not bitter about this. I'm quite pleased with the music we make and what's equally important, I enjoy making it.
An also, I do like Stromae, but I just don't want to hear the same songs ten times a day, every day. That's why I listen to Radio Centraal and Kinky Star Radio rather than to the mainstream radio stations.
I don't want to make this a political issue. But still, I think people are getting more ignorant and you can see that in the interest for art too. People are caring less and less, it's more self importance related. Do you share that opinion?
I'm not sure. Maybe people have always been selfish and ignorant. And most of them are a little bit lazy when it comes to culture.
Well enough of that! Let's be positive. You are part of the The Thepaphone Midsummer Video Clip Event. A difficult name, so there's a lot to explain. What is it exactly?
The Thepaphone is a project of Mark Burghgraeve, intended to bring talented musicians, artists, writers, designers, videographers and other creative people together. On the 20th of June, there is a Video Clip Event at the Backyard House (Montignystraat 38, 2018 Antwerp) where lots of interesting things will happen such as the presentation of the new Dark Poem video clip.
This project has been set up by Mark Burghgraeve who is an icon if it comes to Belgian experimental electronics. How did you meet with him? Is it a sort of Antwerp-connection?
I met Mark a few years ago at Home Recording Day in Ghent, because I had the honor to sing two songs with my friends of For Greater Good who were performing there, and Mark was doing their PA. He struck me as a professional, but very modest person, with a great sense of humor. Back then I had no idea who he was, only afterwards I found out that he is an icon indeed. The amount of wonderful music he made and still makes, it's incredible! Now that we've been working together, he has become a dear friend and what's so special about him is that although he is the maestro, he is so unpretentious. That's very rare is the world of musicians, you know.
There's also a video by Dark Poem playing. Please tell us!
Our first video, the Curse of the Forest Nymphs was my idea, so this time it was Sophie's turn to dream up a video clip. We chose the song Too Dark to See, because it's her song, and several people told us that it's their favorite song on Tales from the Shades. So last winter, we went to the woods with video artist Alain Oosterlinck and a bunch of freaky friends who were willing to freeze their asses off. The result is an intense video full of demonic creatures.
That's all I will say about it. If you're very curious you should come to the Midsummer Video Clip Event.
This movie was shot by Alain Oosterlinck. Can you tell something about him?
He's a member of the Thepaphone brother & sisterhood. We know him since the Unholy Ground video clip. It's always nice to work with Alain, because of his endless enthusiasm and his decisiveness. He's also a professional who knows what he's doing and he has a vision. A very intelligent and interesting person.
How important are visuals for Dark Poem?
Our philosophy is: instead of sitting back and watching how the world turns, we create our own world. We turn our inspiration into stories, our stories into music and this becomes our soundtrack. The music is the main thing, because with music we have direct access to emotions. It's a portal to people's Inner World. But our poetic realm also needs a visual aspect to make it complete. That's why we have the masks and the costumes, and also the visuals of Kolja Aertgeerts, because they are the decor of our show.
Somewhere I do think that your music fits perfect for a soundtrack, not? If so, which movie would you choose?
O, I like this question! What a lovely daydream! If I could choose I would like our music to be used for the next HBO series. I'm crazy about quality TV series with complex characters, good psychology, thrilling storylines and unexpected plot twists. I think it should be a series about witches, elves, demons and other fantastic creatures in obscure underworlds, exciting drama with some dark humour in it, a bit like the fantasy version of Six feet Under or Breaking Bad but without the horror. It should have a beautiful retro look like for instance Carnivale and maybe there should be some spaceships in it too.
Your event is also free. A rare thing these days. I mean art is more than just an item for the upper class to show they can afford it, not?
This event can only be free thanks to KasjaNoova who had been so sweet to let the Thepaphone use her house. We wanted it to be free this time because we're on a mission: to let the world know that we exist. Come and see us! We make beautiful things! This is our contribution to making the world more interesting. And if you're determined to spend some money, or to support your local scene, there will be a little merchandise shop.
Time for the last question, so we have to say goodbye. Tell us why you think people should attend The Thepaphone Midsummer Video Clip Event!
Because it's going to be something different.
Didier BECU
15/06/2014
---