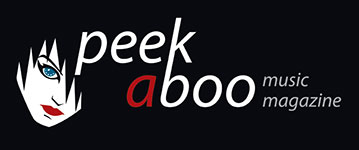 like this interview
---
!DISTAIN
I can't believe in a community based on lies while referring to God. And as this is really irritating me, I keep writing about it.
05/07/2011, Jurgen VANVLASSELAER
---
They hail from Bayern and since 1992 Alexander Braun , Oliver Faig and Sebastian von Wyschetzki started their little trip through synthpopland as Distain! Oliver and Sebastian left the band after a few years,while Alexander found another partner in crime, Manfred Thomaser, with great success as their single 'Sex 'n cross' became a number 1 hit in the Sideline charts. They just released their 6th studio album (On/Off) and again we can confirm that it 's a beauty. Many synthpop albums switch highlights with album fillers, but this is never the case with !distain.Time for a little chat with the very friendly German duo.
First of all congratulations with the new album, as you know already, I loved it. How do you start making a new record, do you start with a melody, a lyric and do you know, before you enter the studio, how you want it to sound?
Manfred: During the periods of preparation for 25 Frames A Second and Raise The Level we were just writing songs. We did not want to put them into a direction before they were done. We did not care if the number of slow songs on the album was higher or lower than the number of fast ones, for example. On/Off started with the idea to mainly write songs to be played on the dance floor. Our intention was to be able to play all songs live and there is not much space for slow songs in a live set. But to start with a higher tempo in the morning does not necessarily mean you know how a new song sounds at the end of the day. Every song depends on an idea and there is no fixed rule how to work on it. Very often there is a melody just appearing from somewhere inside and if we do like this melody we go for it.
I think you are great in making catchy melodies, they are always spot on. Is that just a gift or is that hard work?
Alexander: Thank you for the compliment. That is a good question! I think when it is hard work it is not coming from the heart. In my eyes, music should be something about lightness, feeling, fun and singing straight from your heart. Know how is helpful but still, the most important thing is the feeling and how you are able to express it. Our most successful song "confession" was one of my first songs.
Why are there so many religious references in your songs?
Manfred: To believe in something is very personal. But many people seem to need a kind of community to express the way they believe. These communities may be helpful. But what if their representatives do not practice what they preach? Think about the Ten Commandments and think about catholic representatives ignoring them. There has been so much abuse. There has been so much killing in the name of god. I may believe in god but I can't believe in a community based on lies while referring to god and as this is really irritating me, I keep writing about it.
What are you influenced by?
Alexander: Everything that touches me, my soul and brings a smile to my face. That can be the song This Light Between Us from Armin Van Buuren or just the beautiful beach of the Baltic Sea.
On What Do You Want From Me you work together with Swedish artist Tess Fries. How did you meet her?
Alexander: Ingo from Conzoom Records had asked me to do a remix for Dual Density. I immediately fell in love with the voice of Tess Fries. So I asked her if she was interested in a collaboration project. She knew !distain and even liked us. So I just sent a new playback. She composed the vocal melody of the verses and I composed the melody of the chorus and she did the lyrics. It was a great experience which I hope we can reprise one day...and what a pity, we haven't met personally yet.
What Do You Want From Me is a great song, but I still think Miss Fries was a bit miscast there. I don't have any doubts that she is a good singer, but her voice doesn't really go well with Alexander's warm voice. I would have gone for Estefania from X Marks the Pedwalk or Julia Beyer from Chandeen, ex-Technoir. Or are those names just too obvious?
Alexander: Thank you for your authentic words. We know Julia Beyer and hopefully can work with her in the future… But in terms of Tess, I think our voices fit well together. Maybe this is a question of taste. I respect your opinion but there was no plan to have this special singer for this special song. It happened more accidentally...and that song just happened to be around at that moment...
The second single of the new album will be Why (Bootlicking Hypocrites), perfect choice but why only an e-release?
Manfred: The e-release is a reaction to general market developments. From year to year people buy less single-CDs. So to manufacture CDs does not make a lot of sense while everyone is looking for downloads
Manfred can you tell us a little bit about your side project Arsine Tibé. Is Alexander involved in any side project?
Manfred: Arsine Tibé appeared some years ago without a blueprint. I had recorded an instrumental album but I knew it would not be easy to release it. Not many record labels are interested in instrumental music. In 2008, Synthphony Records gave me the chance to release a remix album on my own. So I asked bands like In The Nursery, Girls Under Glass or Das Ich, if I could remix one of their songs. The release (Synthphony REMIXed: Vol. 8) included twelve Arsine Tibé remixes and my instrumental album as a bonus disc. I kept writing songs for Arsine Tibé and have finished a new album a few months ago. It contains guest vocals by Seyhan, Tania Murray and Alexander. I hope to release the long player in autumn or winter.
Alexander was involved in a side project called Sonictune. He released the album Tales Of The Night with our producer Remi Janotta.
What are the future plans? Touring? Are you already writing new material?
Alexander: At the moment we are concentrating on live rehearsals although there is no tour planned. We are working on that, the demand in seeing us live is greater outside Germany...we will keep you informed.
Is there space for experimenting in !distain? Like working with guitars for instance?
Alexander: We did this already in older tracks like Alien Atmosphere, Keep my Illusion or Mandragore. To be honest, we never make plans, it always just happens...like the duet with Tess which I see as an experiment, too.
On one of your older EPs (Tears Of Joy), the famous English producer Gareth Jones (worked with Nitzer Ebb, Depeche Mode etc etc) did a remix for you guys. How did that go? Have you met him in person?
Alexander: A friend of ours contacted him via email. It was some kind of technical exchange. He asked Jones if he was interested in remixing a German band and Jones just said yes. His first offer was too expensive for us, so he did it for less money and in the end, he even did a second remix after his first one was totally different from what everyone would recognize as a !distain song. What I am trying to say is, he is a very nice guy!
It is interesting that Conzoom Records is going to re-release Tears of Joy on one of their next compilations!
I read once that Steve Naghavi (And One) is a big !distain fan, true or false?
Alexander: YES, I am so proud of this. I once met him in Cologne where he told me this personally. He said he had all our CDs...and I hope it was not due to the amount of beers we had.
After Oliver and Sebastian left in 2003 the name was changed from Distain! To !distain. Was that just to show people that there is a new !distain or was it a legal matter?
Manfred: It was just to show people that something had changed within the band.
Alexander: And at the same time it is still !distain
Do you still have contact with them? Are they still making music? Why did they leave?
Alexander: We are in touch with Oliver, who has recently done a remix of Mandragore for us. Today he makes a living composing music for the TV business. Sebastian is also working for the media business but we just meet once in a year...
We split due to different aims we had concerning music. Oliver once said our relationship was like that of an old couple that had to divorce.
Are there records or CDs in your music collection that would surprise people? Like in my case, Boney M or Abba.
Alexander: I also love Boney M, ABBA, and...: BadBoysBlue, Fancy (ha, ha, ha)
Why should our readers buy the new album? The answer; "cause it's a great album", doesn't count.
Alexander: Because it will put a smile on your face!
Thanks a lot for your time and goodluck with the new album!
Jurgen VANVLASSELAER
05/07/2011
---