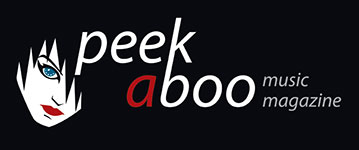 like this interview
---
SOVIETWAVE
Cosmonauts' day special
20/04/2017, Masha KASHA
photos: © Alexander Gluz
---
The New Retro wave in its classical sense also existed in the post soviet countries (e.g. "Tesla Boy") but from the beginning of the 2000s a new style began to emerge - we can outline a phenomenon called "sovietwave". (I am afraid I will have to add a new music style to the Peek-a-Boo library). Do you know why our interview is issued on the 12th of April? Well it IS the cosmonautics day in the ex-soviet countries.
For this particular reason we could conduct an exclusive interview with Dmitriy Gruzdev - one of the founders of the sovietwave community. Be the first to read it!
And check out the online playlist provided for this occasion.
When did you come up with the idea to open the separate blog for sovietwave music?
We did not have any obvious plan, we wanted to gather some specific music in a one place. On VKontakte (= Russian kind of facebook ed.) a lot of specialised music communities existed but sovietwave did not yet exist. My blog was founded in 2014 - at that time some of the signature albums were issued.
What is the concept of sovietwave?
Sovietwave is a dreamy electronic music inspired by the soviet culture. The musicians compose and mix their tracks using synthesisers, sound distortion, movie and radio samples. When you listen to it you get a feeling that this music is played from a radio device, a tape recorder or a vinyl disc. It offers us the "live" experience of how it would have sounded during the soviet past - when the technologies and the recording abilities had their limits.
(=bad good music quality has always been a part of the soviet concept, since most of the alternative and really forward thinking bands were forbidden, never officially sold… therefore a lot of tracks were secretly re-recorded from tape to tape).
Within the new genre there are some typical sovietwave traditions that have been established. For example, some of the musicians maintained anonymity and just closed their projects without announcement and switched to new ones. (In our eyes that shall be persecuted!) Another dominant tradition is that most of the bands end their name with the number. For example "Proton-4".
The style of sovietwave itself remains quite vague and drifts somewhere between minimal electro and post-punk, altering from dreamy to dark moods. Since the style is not well defined it happens that the people of the community end up discussing if the band really belongs to sovietwave or not.
What is the difference between "sovietwave" and the "new retro wave"?
Well, it is especially the mood. New retro wave is like neon lights, Miami beach driving and sovietwave is the relaxed summer spent at dacha (ed. - countryhouse), the childhood and vacation. Our electro is much closer to chillwave. It also comes from the other side of the block.
Which new old bands can you outline?
The minimum challenge for the newretrowavers are Mayak and Tvorozhnoe Ozero
But there are a lot of others like: Proton-4 , Impuls-80, Elektronika-302, Uran-08, lilii, PPVK, Pinballsound Artek Elektronika, Ijun, Bezhevaja Luna, Moskva-Kassiopeya, BAIKAL. It is very hard to stop because it is my favourite music and I am afraid to list every one individually. Check out the playlist we have provided!
Are there any sovietwave bands which were born because of your blog?
It is possible… but they are rather inspired by the blog's bands than reinventing new aesthetics.
But I would like to insist that Sovietwave did not really appear out of the blue. Some bands already existed before the official blog, looking for a similar sound - for example Kim and Buran, Vesna na Ulitse Karla Juhana, SV Hutor etc.
What is the reaction of the visitors of your blog?
Marvellous! We have very loyal and active users, who are keen to comment and to support the "artificiality" of music.
Are there any people you know who already appreciate sovietwave in the West?
We have no idea! I guess you are the first to write about it!
Is sovietwave a kind of rememberance of the USSR, that previously existed, or merely a nostalgia for the bright future (never to come)?
I guess, that the return to the bright future is reserved for the elder generations. Our young members do not want to join or rebuild the USSR. I would like to insist, that our blog is apolitical and we never discuss current political issues. We have a lot of bands and contributors from a post-soviet space.
When do you think the next sovietwave festival will take place?
It is a surely THE accurate question - if everything goes fine, well already this summer…
P.S. From your editor Masha: do not miss Lilii, Pinballsound and Revoltmeter. And of course check out the sovietwave blog.
Masha KASHA
20/04/2017
---