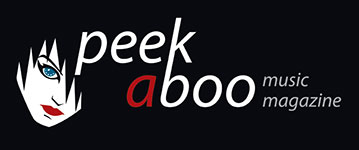 like this interview
---
SUICIDE COMMANDO
I thought it was about time to show the newer generation that Suicide Commando has more to offer then just "Bind Torture Kill" or "Die Motherfucker Die".
28/10/2015, Britta Tabrit
photos: © Marquis(pi)X
---
In times that the dark scene is changing, there are still some constants like Suicide Commando. I was lucky to talk with Johan van Roy about the past and the future of Suicide Commando, a project that soon celebrates its 30th birthday!

So let's begin with the near past. How was this year for you?
To be honest, it's been a very difficult year so far, for many reasons. The rehab after my knee surgery that didn't go as planned, trying to be back on stage too early. It also caused extra stress which resulted in a burnout, etc. So, it definitely wasn't my best year so far, a year to forget as soon as possible.
You're about to release the vinyl LP Electro Convulsion Therapy soon. I read that it contains stuff that's more than 20 years old. Why did you chose these old demo tapes and what does this music mean to you personally?
I've been doing music for over 25 years now and I noticed that throughout the years the people/fans attending our shows don't even know my older works anymore. The fans who are coming to our live shows these days is a mixture of 2 generations, I even know of fans who come to the shows with their children. So, I thought it was a good time to present my older works to this new generation of kids that grew up in a digital age with mp3's instead of crappy tapes. The Suicide Sessions that included my first 3 albums already was a step in that direction, now we just went a step further with the re-release of my last official demo tape from 1993, Electro Convulsion Therapy.
For me (and also for Dirk Ivens who is releasing the LP on his Minimal-Maximal label), it's more of a nostalgia thing, I have so many good memories of those old days, recording and releasing those tapes. It was such a fun era to create music. Somehow we were more innovative then today, for example the song Wonderful Machines on the bonus disc of the Electro Convulsion Therapy, was created with a real kitchen mixer from my mom. These things are almost unexisting today. Of course, for an outsider this has no value, but for me personally it's pure nostalgia. And don't get me wrong, I'm not saying that in the old days everything was better, I believe every era has its great moments.
So, with the recent release somehow the past meets the future. But you're playing vintage sets on stage as well. What's the idea behind that and how does it feel?
Same story here, the idea to start doing these vintage sets was because I noticed how our crowd changed throughout the years, having two generations attending our shows, I thought it was about time to show the newer generation that Suicide Commando has more to offer then just Blind Torture Kill or Die Motherfucker Die. But I deliberately wanted to keep the old songs separated from our more club oriented newer works. I think many of those very old songs wouldn't fit with the new ones, so that's when I came up with the idea of doing some rare vintage sets. To make the difference even bigger, I also asked Gert Haelevoet (of Frames A Second) to join me on stage again like in the old days. He was my live keyboard player for many years until Torben and Mario joined me. So, both shows are completely different, not only musically but also on stage. It's funny to see how many bands all of a sudden also start doing vintage shows themselves.
What are the most precious memories of your musical career?
Oh, that's a difficult one as there have been so many precious moments in my career, from releasing my very first demo tape in 1988, signing to the Off Beat label and releasing my very first CD back in 1994, the unexpected success of See You In Hell back in 1995 which made Suicide Commando big in the scene, the success of the entire Mindstrip album back in 2000 with club hits like Hellraiser or Love Breeds Suicide, to see that Suicide Commando became an example for many new bands in the scene, When Evil Speaks entered the German charts, our very first tour in the USA, or in Mexico, Brazil, Russia … And I hope some more memories will follow.
But Suicide Commando does have a future, too. What's coming up next? Any shows planned?
I'm still working on my new album, but due to my burnout, things got delayed with some months, so, I now hope to release the new album somewhere in 2016. We obviously do many new shows in 2016 from E-Tropolis to Amphi, from the Out Of Line Weekender to M'era Luna, you name it, we play it next year!
On top of that, Suicide Commando will exist 30 years in 2016, so, I'm also planning a special "tribute" album at this very moment. So, still plenty of things to come!
Maybe a book about your band history?
No plans for a book just yet, but who knows … Maybe I should write a book and reveal some inside crappy gossip from the scene (laughs)?
By the way, what's your favorite book?
To be honest, I hardly read a book. In the last years I had no time for that. So, I can't even remember the last book I read, unless you count Working In Cubase SX as a book?
Do you believe in predestination?
Apart from being predestined to die, I don't really believe in predestination.
And please, choose one sort of ice cream: chocolate cookies, vanilla, strawberry, cherry yogurt or peppermint
Only one sort? I'd rather have a mixture of strawberry with vanilla and chocolate (laughs).
Johan, thank you so much for your time and see you soon!
Britta Tabrit
28/10/2015
---
In tijden dat de donkere muziekscène voortdurend verandert, zijn er nog vaste waarden zoals Suicide Commando. Ik had het geluk om bezieler Johan van Roy wat vragen te stellen over het verleden en de toekomst van zijn project dat ondertussen bijna 30 jaar oud is!
Laten we met het recente verleden beginnen, hoe was het afgelopen jaar voor je?
Om eerlijk te zijn, een zeer moeilijk jaar, om vele redenen. De revalidatie na mijn knie-operatie ging niet zoals gepland, waardoor ik niet op een podium kon zoals gepland. Het veroorzaakte heel wat extra stress, en dat werd uiteindelijk een burn-out. Neen, het was zeker niet mijn beste jaar tot nu toe, het is een jaar om zo snel mogelijk te vergeten!
Binnenkort breng je Electro Convulsion Therapy uit. Ik las dat er op deze plaat opnames staan van meer dan 20 jaar oud. Waarom heb je voor de oude demo's gekozen en wat betekent deze muziek voor jou persoonlijk?
Ik maak al meer dan 25 jaar muziek en ik heb gemerkt dat in de loop der jaren heel wat mensen die naar onze concerten komen, mijn oudere werk niet kennen. De Suicide Commando-fans bestaan eigenlijk uit twee generaties, er zijn zelfs fans die naar onze shows komen kijken met hun kinderen. Dus ik dacht dat het een goed moment was om aan deze nieuwe generatie, die is opgegroeid in het digitale tijdperk van de mp3's (in plaats van waardeloze tapes), mijn ouder werk voor te stellen. The Suicide Sessions waarin je mijn eerste drie platen vond, was al een stap in die richting, nu gaan we gewoon een stap verder met de re-release van mijn laatste officiële demotape uit 1993: Electro Convulsion Therapy.
Voor mij (en voor Dirk Ivens die de lp op zijn Minimal-Maximal-label uitbrengt) is het meer dan zo maar wat nostalgie, ik heb zoveel goede herinneringen aan die oude dagen, de opnames en het uitbrengen van deze tapes. Het was een leuke tijd om muziek te maken. Op de een of andere manier waren we toen veel innovatiever dan vandaag, het nummer Wonderful Machines dat je op de bonusdisk van de Electro Convulsion Therapy vindt, is bijv. gemaakt met een echte keukenmixer van mijn moeder. Dat zijn dingen die vandaag niet meer mogelijk zijn. Natuurlijk heeft dat voor een buitenstaander geen waarde, maar voor mij is dat pure nostalgie. En begrijp me niet verkeerd, ik zeg niet dat vroeger alles beter was, elk tijdperk heeft zijn goede momenten.
Dus op de nieuwe opnames kruist het verleden met de toekomst. Maar op het podium speel jij toch ook vintagesets? Wat is het idee daarachter en hoe voelt dat aan?
Hetzelfde verhaal eigenlijk, het idee om met die vintagesets te beginnen was omdat ik merkte hoe ons publiek door de jaren was veranderd, 2 generaties die naar onze shows komen, ik vond dat het tijd werd om de nieuwere generatie te tonen dat Suicide Commando meer te bieden heeft dan Die Motherfucker Die of Blind Torture Kill.
Maar ik wilde bewust de oude nummers gescheiden gehouden van het nieuwere werk. Ik denk dat veel van die oude nummers niet zouden passen bij de nieuwe, dus toen kwam ik met het idee om een aantal vintagesets te doen. Om het verschil nog groter te maken vroeg ik aan Gert Haelevoet (van Frames A Second) om samen met mij op het podium te kruipen, net zoals in de oude dagen. Hij was mijn keyboardspeler voor liveoptredens gedurende vele jaren tot wanneer Torben en Mario erbij zijn gekomen. Dus beide shows zijn totaal verschillend, niet alleen muzikaal, maar ook op het podium. Het is grappig om te zien hoe veel bands nu ook opeens vintageshows beginnen te spelen.
Wat zijn de meest dierbare herinneringen uit je muzikale carrière?
Oh, dat is een moeilijke vraag omdat er zo veel mooie momenten waren, mijn eerste demo uit 1988, toen ik op het Off Beat-label zat of mijn eerste cd in 1994, het onverwachte succes van See You In Hell in 1995 waarmee Suicide Commando groot werd in de scène, het succes van het Mindstrip-album in 2000 die clubhits als Hellraiser of Love Breeds Suicide bevatte, of om te zien hoe Suicide Commando een voorbeeld werd voor veel nieuwe bands in de scene, When Evil Speaks dat de Duitse hitparade haalde, onze eerste tour in de VS of in Mexico, Brazilië, Rusland... en ik hoop dat er in de toekomst nog wat heel wat herinneringen aan dit lijstje kunnen worden toegevoegd.
Maar natuurlijk heeft Suicide Commando ook nog een toekomst, kun je daar iets over kwijt?
Ik ben nog steeds met mijn nieuw album bezig, maar als gevolg van mijn burn-out is dat met enkele maanden uitgesteld, dus ik hoop dat de nieuwe plaat ergens in 2016 zal uitkomen. Er zijn natuurlijk ook een heleboel shows gepland volgend jaar, zoals E-Tropolis, Amphi, de Out Of Line Weekender en M'era Luna. En in 2016 bestaat Suicide Commando 30 jaar, en ik denk aan een tribute-album. Er staan genoeg dingen te gebeuren!
Misschien kan je wel een boek over je band schrijven?
Daar heb ik nog geen plannen voor, maar wie weet... Misschien moet ik dat toch maar eens doen en alle roddels uit de scène onthullen! (schiet in de lach).
Wat is trouwens je favoriete boek?
Om eerlijk te zijn lees ik bijna nooit. In de afgelopen jaren heb ik daar nauwelijks tijd voor gehad, ik kan me zelfs niet herinneren welk boek ik het laatst heb gelezen. Telt Working In Cubase SX mee als boek?
Geloof jij in voorbestemming?
Neen, behalve dat we allemaal voorbestemd zijn om te sterven.

Kies een ijssoort: chocoladekoekjes, vanille, aardbei, kersenyoghurt of pepermunt.
Eén soort maar? Ik heb liever een mengsel van aardbeien met vanille en chocolade (lacht).

Heel erg bedankt voor je tijd, Johan, en tot ziens.
Britta Tabrit
28/10/2015
---