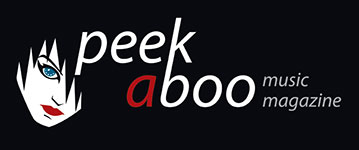 like this interview
---
TRUMMERFRAU
Man, we live in 2011, we are Generation iPod! We can discover tons of music and mix it all into our personal usage.
01/08/2011, Didier BECU
---
You like bands that can't be classified? Then Peek-A-Boo wants to introduce you to Trümmerfrau who were described by our German colleagues as the ultimate mix between And One and David Guetta. And as we always like to explore some new things here, we decided to dive into the Trümmerfrau-world…
Well outside Germany, Trümmerfrau are quite unknown, so tell us who and what you are!
We are an electronic music project with an own, unique vision of sound. We play as live band (vocalist/fx man plus keyboarder/backing vocalist). We also do DJ-Sets or play Ableton sets as Live-Club act.
We fit into no scene and try to find our own definition of Independent-Music!
In a German mag (Nachtaktiv) I saw you described as being a mixture of David Guetta and And One. Strange as it might sound I did agree. Do you?
Yeah – to give the people out there a raw description, this may fit. On one hand we have roots in the so called darkelectro-scene, very 80's, very early 90's, melancholic and deep, but we do not like all those people, who retro everything.
This sucks – and that is the reason, why we also search for the real hot contemporary stuff on the other hand. And yeah, we combine it into that style of music, we developed in making music for 5 years now in that project. Our own style, which also contains elements of trash, because we need a lot of fun in the music and lyrics, pop music and that kinda spark, which ignites that special crazy sounding ideas, a TrümmerFrau-Song is made of.
In fact, do you care which scene falls for Trümmerfrau?
We do not care at all. The worst thing on earth is entering a club on a Saturday night and then finding DJs/Bands, who play only EBM with Vampires, Darkness and that shitty "We are true"-Style. Or just boring percussive-chord-mz-mz house music. This means meaningless musicians and hollow fans, who are too lazy to find their own definition of musical taste. Man, we live 2011, we are Generation iPod!
We can discover tons of music and mix it all into our personal usage. Go out! Open your ears and eyes! Use possibilities!
If I hear your music then I hear a band who's been influenced by the synth sounds from 80's, 90's and now, is that true?
Yeah, this is true, too. To give you an example: in the mastering I use to work with Andreas Sippel (ex-Second Decay/Vendome now), who is a very great mentor in organic, analogue, great 80ies-depending synth sounds.
I still can learn a lot from him. And then I produce bands in my own studio, like AADF, who have a very modern, harsh kinda sound. So, at that point I have two artistic visions I admire. And at third there are my own experiments with LFOs, Oscillators, Envelopes, chaining that with that etc. Just: freaky stuff!
I like dirty electrohouse, indiedance, newdisco, fidget, dubstyle, U know, the newer and more crazy it is, the better! And Man, you have good ears, I just try to combine it all with that thing, some people now call TrümmerFrau´s handwriting.
Are you the kind of guys who have millions of dance records at home?
No and yes. We have a lot of dance records at home. But only one direction sucks. In my home you will find CDs from Blind Guardian, Coldplay, Moby, In Flames over Spock´s Beard and Tool to David Guetta, Combichrist, Deine Lakaien and Deadmau5.
Sometimes people are saying that the current dance scene is in a way punk. If I hear a band like yours, I can see sense in that as well.
That is also my way of thinking about our music. A good new fat club hit needs to break with conventions, as well as it plays with the standards, we all know and get used to. If you call that punk. Okay.
We noticed your lyrics are quite important too, can you tell us something about it?
Yiihaa. There is a everyday-life story, every song is based on. Although some of the lyrics are stupid phrases, there is a sense behind them. We sing about life with all of its aspects and also leave room to interpret. And do not forget about that paradox humorous stuff, with which we try to criticize some things – society or idiots in the music industry for example.
Most of your lyrics are sung in Germany. If international success is on its way, can this chance you think?
I do not know. And I can not control. If a song needs English lyrics – okay. If it needs German – okay. Music also works without understanding lyrics. So when we have a special deep feeling in a song, I think people in Timbuktu will also understand the language of … yeah, music!
What's most important if it comes the music : the brains or the dancing feet?
Both, definitely. I give TrümmerFrau-Songs so many details in the music, like 4 basslines, all layered.
An example for the freaks: a Sinus-Subbass, above that centered a Sawbass, a supersaw with low cutoff totally in the stereo, and above it all a little dirt-envelope for the overtones. And our lyrics … very abstract sometimes.
So – if you want to discover something to make your brain run, You will find it. But: Never forget the whole! It is still dance-music for the feet, for the heart, for the party.
What's your favourite record of all time and please state why.
Wooo-hoooo! Hard one to answer … But I think – and I know YOU will think, that it is strange – it is Blind Guardian – Imaginations from the other Side. Very metal, but very orchestral. On this record, every song is a hit and the whole CD is a journey through dreams and emotions.
Great musicians, who always believe in their style of music. And a reason, why I am musician today. I saw them live in Dortmund, when I was a 15 years old boy and it was a manifestation: Do whatever you like in music, as long as it has true spirit it will move your soul and the soul of others. Where is my guitar – hehehehe.
With whom wouldn't you mind to be alone with in an elevator for 8 hours and what would you do?
With Barrack Obama. I would like to ask him everything about Area 51 and Roswell. And I would learn, that the little grey ones are on this planet since the 40ies. Yeah and we would made plans for a new-age future of mankind.
Do you have a special message to the readers?
Buy our record. We are totally burned. We need the money.
Didier BECU
01/08/2011
---