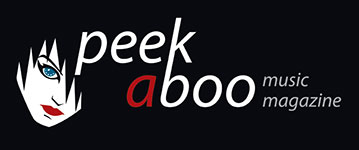 like this page
---
Peek-A-Boo
Peek-a-boo Magazine has been made possible and still exists due the combined efforts and support of:
Body Beats Productions (Antwerp)
Bunkerleute (Leuven)
Le Fantastique (Brussels)
Porta Nigra (Aarschot)
Our main purpose as and still is is to support underground music scene, artists, bands, concert and parties...

The initial idea was to start-up a new kind of pocket-sized magazine for this purpose, free of charge, with integrated information around upcoming events, interesting CD reviews, interviews as well as an overview of flyers/events of several organizations.
Peek-a-boo magazine has evolved also as an online magazine, with even more extended information, calendar, reviews, interviews and photoshoots.

Mind you, Peek-a-boo Magazine is a 100% non-profit magazine, accomplished by an 100% voluntary staff and crew!
We hope you'll enjoy our efforts !
The Peek-A-Boo team!
---
Promo material
If you have some material to review, please send it to Promo @ Peek - a - Boo - Magazine. be
(Don't forget to remove the anti-spamm spaces in the address above!)
Peek-A-Boo team
FOUNDERS
BodyBeats Productions
www.bodybeats.be
Frédéric COTTON
Le Fantastique
PARTNERS
Dark Entries team
www.darkentries.be
Dries HAESELDONCKX
Bunkerleute
Gunter Vanreppelen
Gothville - www.gothville.com
PHOTOGRAPHERS
Evi Tersago
BodyBeats / Peek-a-Boo Magazine
MAGAZINE & WEBSITE
WRITERS
Charles "Chuck" MOORHOUSE

---