---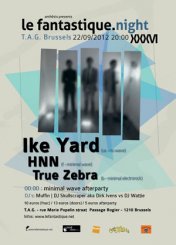 Fantastique.Night XXXVI
Sat 22nd of September 2012
Anthęsis / LeFantastique.Net
---
---
HNN
---

HNN (Hsilgne Nekorb Ni) is a side project by Gregg Anthe (In Broken English). Visual act by ML.

First album "Pièce Radiophonique" available soon…

Official website : http://www.inbrokenenglish.com/hnn
[biography from last.fm, click here to read the full biography on last.fm]
---
IKE YARD
---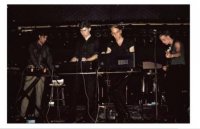 Ike Yard was founded in 1979 in New York. Members are Stuart Argabright, Kenny Compton (bass/vocals), Fred Szymanski (synthesizers/ programming) & Michael Diekmann (guitar). Together they recorded for labels like Disques du Crépuscule and Factory. Ike Yard dissolved at the beginning of 1983. Their only album, 'A Fact A Second' (on Factory in 1982) is still a classic in the minimal genre and stood the test of time very easily.

Although Ike Yard dissolved by the beginning of 1983, the band reformed as a three piece unit with original members Stuart Argabright, Kenneth Compton and Michael Diekmann in 2007.
After a hiatus of 28 years a brand new album (Nord) has been released in 2010.
---
TRUE ZEBRA
---
True Zebra is Kevin Strauwen, a musician, songwriter, engineer and producer who received amazing reviews with his official self-released digital debut album as True Zebra.
Conceived as rock but mistaken with electronic tries and techniques, True Zebra transmutes an alternative view into the electro rock scene with tight-grooves, industrial-esque rhythms and spookish melodies.