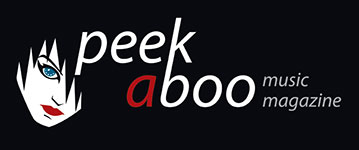 like this news item
---
---
New album will be released on 23rd April. Between esotericism and myth, Geometric Vision show how darkwave sounds at the foot of Mount Vesuvius.
New Geometric Vision album, FIRE! FIRE! FIRE! is out on 23 April for the Italian-Swiss label Swiss Dark Nights.
It has been recorded and mixed at the Italian Sound Lab Studio in Nola (Naples) and Mastered by Marco Milanesio at O.F.F. Studio in Turin.
The visionary cover art was created by the artist Elettra Cuivre who worked with the band for years and has also collaborated on the lyrics on this record.
There will be also a special guest, Volkan Caner of She Past Away, who will sing on a track.
FIRE! FIRE! FIRE!, almost like an alarm, a premonition of misfortune but also a cry of liberation, an attempt to escape from the evil that afflicts us, enveloped in flames.
The record is a mystical journey between ancestral esotericism and contemporary awkwardness.
A symbolic succession of ancient legends, ruins, statues, volcanoes, natural calamities and magic.
The scenario is mental but with strong references to the homeland: Naples, Pompeii, Vesuvius and the Caldera Flegrea - the place where the video of the first single Apocalypse Queen released in June 2017 was shot - but also the Orient, Latin America, Africa.
Geometric Vision formed in Naples in 2012 and is composed of Ago Giordano, Gennaro Campanile and Roberto Amato.
The debut album was released in 2013 with references to Cold Wave. In 2015 the second album "Virtual Analog Tears" was released, characterised by a greater sound research and the vision of the band becomes less geometric and more dystopian.
The two albums received generally positive reviews in Italy and abroad and Geometric Vision are inserted in the list of the new post-punk/darkwave contemporary bands.
In FIRE! FIRE! FIRE! Geometric Vision explore a new consciousness of themselves and of what surrounds them, leaving for a while the cold and dreamy dimension of the previous works to let themselves be enveloped by the flames of a sacred fire.
---
Het nieuwe album wordt uitgebracht op 23 april. Tussen esoterie en mythe toont Geometric Vision hoe darkwave klinkt aan de voet van de Vesuvius.
Nieuw Geometric Vision-album, FIRE! FIRE! FIRE! is uit op 23 april op het Italiaans-Zwitserse label Swiss Dark Nights.
Het is opgenomen en gemixt in de Italiaanse Sound Lab Studio in Nola (Napels) en mastered door Marco Milanesio in O.F.F. Studio in Turijn.
De visionaire cover art is gemaakt door de kunstenaar Elettra Cuivre die al jaren met de band samenwerkt en ook heeft meegewerkt aan de teksten op dit album.
Er zal ook een speciale gast zijn, Volkan Caner van She Past Away, die op een nummer zal zingen.
FIRE! FIRE! FIRE!, bijna als een alarm, een voorgevoel van ongeluk, maar ook een kreet van bevrijding, een poging om te ontsnappen aan het kwaad dat ons in vuur en vlam hult.
De plaat is een mystieke reis tussen voorouderlijke esoterie en hedendaagse onhandigheid.
Een symbolische opeenvolging van oude legendes, ruïnes, standbeelden, vulkanen, natuurlijke rampen en magie.
Het scenario is mentaal maar met sterke verwijzingen naar het thuisland: Napels, Pompeii, de Vesuvius en de Caldera Flegrea - de plaats waar de video van de eerste single Apocalypse Queen die in juni 2017 werd uitgebracht, werd opgenomen - maar ook de Oriënt, Latijns-Amerika, Afrika.
Geometric Vision werd in 2012 opgericht in Napels en bestaat uit Ago Giordano, Gennaro Campanile en Roberto Amato.
Het debuutalbum werd in 2013 uitgebracht met verwijzingen naar de cold wave. In 2015 werd het tweede album "Virtual Analog Tears" uitgebracht, dat wordt gekenmerkt door een beter geluidsonderzoek en de visie van de band minder geometrisch en dystopischer wordt.
De twee albums kregen over het algemeen positieve recensies in Italië en in het buitenland en Geometric Vision is opgenomen in de lijst van de nieuwe post-punk / darkwave hedendaagse bands.
In FIRE! FIRE! FIRE! neemt Geometric Vision een nieuw bewustzijn van zichzelf en van wat hen omringt, en laat een tijdje de koude en dromerige dimensie van de vorige werken over om zich te laten omhullen door de vlammen van een heilig vuur.