---
GANG OF FOUR
---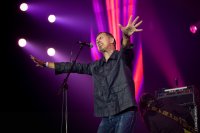 Gang of Four are a British post-punk group from Leeds, England. Original personnel were singer Jon King, guitarist Andy Gill, bass guitarist Dave Allen and drummer Hugo Burnham. They were fully active from 1977 to 1984, and then re-emerged twice in the 1990s with King and Gill. In 2005, the original lineup reunited.

The group had a single in the British Top 60 with "At Home He's A Tourist" in 1979, which was blacklisted by Top Of The Pops for its use of the relatively innocuous term "rubbers".

Storming, Doc Marten-booted and fueled by a heady cocktail of Gramsci, Marx and lager, out of the Leeds art-school scene that produced The Mekons and Delta 5, they played a stripped-to-the-wire, funk-fueled permutation of punk rock. This is best exemplified by the dry production and forceful polemic of debut effort Entertainment! - Gang of Four's later albums (Songs Of The Free and Hard) found them softening some of their more jarring qualities, and drifting towards disco.

Critic Stewart Mason has called "Love Like Anthrax" (their first single, later re-recorded as "Anthrax") not only the group's "most notorious song" but also "one of the most unique and interesting songs of its time"; it's also a good example of Gang of Four's social perspective. After a minute-long, droning, feedback-laced guitar intro, the rhythm section sets up a funky, churning beat, and the guitar drops out entirely. In one stereo channel, King sings a "post-punk anti-love song", comparing himself to a beetle trapped on its back ("and there's no way for me to get up") and equating love with "a case of anthrax, and that's some thing I don't want to catch.
[biography from last.fm, click here to read the full biography on last.fm]