---
ONE WITHOUT
---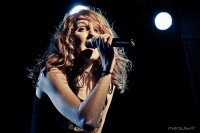 ONE WITHOUT are a gothic metal band from Gothenburg, Sweden.

ONE WITHOUT is the result of taking the well-known ?Gothenburg Metal Sound? and expanding it with elements of modern rock and pop in order to create an incomparable and fresh style of its own. There is nothing to fear about the combination of powerful brutality, catchy grooves and an advanced pop-approach. It all depends on the self-confidence of the involved musicians and their song writing skills, which is exactly what makes the difference with ONE WITHOUT.

The band was formed in the early days of 2003 by Joonas Niskanen and Erik Pasanen, who joined the band shortly after. Soon there was a full line-up and the band recorded their first four track demo ?Lonely Moments? in April 2005. ONE WITHOUT broke up the same year because of various side projects and complications.

After over a year of silence they gathered once again in 2006 and recorded the EP entitled ?Soul Rehab? containing 5 songs. At this time, only 3 members were left from the original lineup, Joonas, Erik and Olle Töpel. Kenny Boufadene joined the band in August 2007 as bass player. ONE WITHOUT released a new single and a video to a song called ?No Spinning Dice? in September 2007.

The recording for their debut album started in February 2008, but couldn't be completed because Eric, their singer and guitarist, left the band. Catrin Feymark joined the band as singer in 2008, and she re-wrote all the lyrics and melodies in a short period of time. They recorded a new song called ?Whispers of the Voiceless?. In the end of 2008 the bass player Kristofer Bergman joined the band as Kenny switched to guitar.
[biography from last.fm, click here to read the full biography on last.fm]