---
THE CULT
---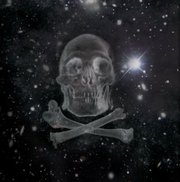 THE DARKEST NEW WAVE AND THE HARDEST ROCK. FROM A BAND WITH A REAL SINGER AND REAL GUITAR HERO.
First there was The Southern Death Cult. Despite the success, front man Ian Astbury quits after a year and a half. He wants to move further away from the gothic scene. With Theatre Of Hate's guitar player ('Do You Believe In The Westworld?') Billy Duffy he forms Death Cult. But it's still a bit too much gothic. So it's shortened to The Cult.
The band combines Led Zeppelin's hard rock with The Doors' mystique and The Cure's dark new wave. 'She Sells Sanctuary' is their first big musical explosion. The second song is an 'anthem', an instant classic. It makes sure that the second album 'Love' (1985) shoots into the world like a comet. It's released in over 30 countries and becomes a million seller.
The Cult is the rock band Great Britain is waiting for during the eighties. But the British people cannot enjoy it for too long. The band leaves the country for its first world tour and is almost always on the road from then on.
The recordings of 'Electric' (1987) start in a studio in Oxfordshire (GB) but the record is totally remade in New York by the legendary Rick Rubin. He is then known for his hip hop work (Beastie Boys, LL Cool J, Run-D.M.C.). 'Electric' becomes his, together with Slayer's 'Reign In Blood' (1986), first big guitar album. It's mentioned in the book '1001 Records To Hear Before You Die.'
The Cult becomes very popular in the United States and headlines festivals all over the world. Halfway through the nineties the band falls apart. Around the millennium they hold a reunion, but that does not last long. Astbury becomes the noticeable singer of The Doors of the 21st Century, a band with former band members from the Doors Robby Krieger and Ray Manzarek.
All's well that ends well. From 2005 onwards the band is totally back. With a real singer. With a real guitar hero. And with real songs.
MOST FAMOUS SONGS
She Sells Sanctuary/Rain/Love Removal Machine/Fire Woman/Edie/Sweet Soul Sister
THE CULT performed @ Sinner's Day 2011, October 2011