---
THE MISSION
---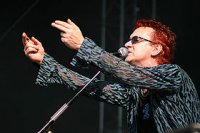 THE BAND THAT GAVE GOTHIC A FACE. THE MISSION TURNS 25 AND CELEBRATES THIS WITH AN EXTENDED TOUR IN THE ORIGINAL LINE-UP. EXCLUSIVELY IN BELGIUM AT SINNER'S DAY.
The Mission is 'wave deluxe'. The band was formed in 1986 with solid parts of big names. The frame is one half of The Sisters Of Mercy. Guitar player Wayne Hussey and bass player Craig Adams leave the band and choose to sail their own boat. Drummer Mick Brown (ex Red Lorry Yellow Lorry) and guitar player Simon Hinkler (ex Pulp) sail along.
None of this goes easy. The founding duo chooses The Sisterhood as the name for their new project. But lead singer Andrew Eldritch of The Sisters Of Mercy is not happy with that. He quickly releases an album with The Sisterhood as title.
The Mission it is then. Not after the famous movie from 1986 with Robert De Niro but – according to the source – a) the title of an unfinished album of The Sisters Of Mercy, b) a speakers' brand and c) the dream of Hussey's Mormon parents: their son becoming a missionary.
The bickering is very annoying but it turns out to be a creative blessing. It puts things in focus. The first singles of the young band are number 1 hits in the British alternative charts and lead to a worldwide record deal.
The Mission gives gothic a face and grows into a popular live band with fanatic followers. Such a diehard fan calls himself 'Eskimo'. A pet name that is highly inapt because things always get hot during concerts.
The Mission plays a lot and they love it. They perform 7 evenings in a row in the – now gone – London Astoria (as big as the AB) and headline twice at Reading (the British Pukkelpop).
In 2008 Hussey tells the world that he's had enough. After 10 albums he chooses to go solo. He is the only one that stayed a member of the band all this time. In February and March 2010 The Mission performs 4 nights in a big London venue. Every night the focus is on a different period from the band's history.
The goodbye is short lived though. The '5th period' starts with a tour with almost the complete original line-up (only drummer Mick Brown is absent for the gigs) for the occasion of the 25th birthday of The Mission. Sinner's Day is the only stop in our county.
THE MISSION performed @ Sinner's Day 2011, October 2011