---
VIC ANSELMO
---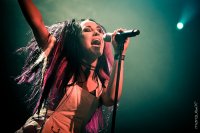 Vic Anselmo is a Latvian Gothic/Alternative singer and songwriter. A great invention, stunning voice and wide musical horizon let her find her own special ways in creating music. Her songs sound like a soundtrack to dreams. They are very sensual and would amaze you with their dynamic contrasts and sound variety. All that comes together with an impressive onstage image.
Vic Anselmo is bound to be the first Latvian alternative lady to be known outside the Baltic States.
Her debut album «Trapped un a Dream» was out in Europe in October 2008 and got a great response from music media: Newcomer of The Month in Orkus 10.2008, 2nd place in Zillo's sound check, Legacy12/15, Rockoon 5/6, Sonic Seducer Sound check 7th place, Gothic 9.5/10, West Zeit 5/5 and more… Vic Anselmo also entered Latvian FHM magazine with photo session and interview.
Vic Anselmo supported an European tour of German electronic avantgarde duo Deine Lakaien. Vic Anselmo opened all 24 shows of Indicator tour and got a recognition and awesome response of big crowds in Germany, Austria, Switzerland and Luxembourg. Except tour with Deine Lakaien she performed two European club tours with her band and big festivals like WGT 2009(D), Waregem Gothic Festival 2010(BE), Castle Party 2009(PL), Elf Fantasy Fair2010(NL), and Dark Mills 2010 in London.