---
VOMITO NEGRO
---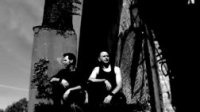 VOMITO NEGRO are from Belgium.

Vomito Negro already took off way back in 1983, and over the past decades they established a name for themselves as uncompromising aural architects, combining power with emotion, electro with vision.
Vomito Negro is Latin for ?black vomit?, a phenomenon that arises in the last stage of the disease yellow fever, when the patient throws up his putrefied intestines and ultimately dies. Macabre? One might consider Vomito Negro's interest in the darker side of the human condition as unhealthy, but in fact it?s fueled by a desire to cope with and to understand life (and consequently, death) as we know it.

Vomito Negro handles their topics with grim sarcasm and/or penetrating personal involvement; under the surface however, they give way to a message of redemption, passion and purification.

From the start on, flexibility and diversity is one of Vomito Negro's major qualities. Vomito Negro is never content with a certain formula: their musical approach, essentially based on the European ?Industrialist? tradition of the early eighties, takes a different angle with every record. Vomito Negro established to be one of the most important Industrial European bands of 80?s & early 90?s and built up a great following since.

Then, after numerous successful releases like 'Shock', Human' & 'The New Drug' (to name a few) and discontent with the result of their last studio album ?Fireball?, Gin Devo decided to put Vomito Negro aside for a while and to invest all his energy and creativity in his new project called Pressure Control and released the debut album ?Vamp? (Daft Records ). Guy Van Mieghem sold his studio equipment and stopped all his musical activities since ?Vomito Negro went into a sleep mode?
[biography from last.fm, click here to read the full biography on last.fm]