---
XMH
---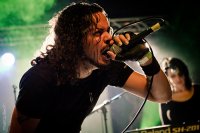 Dark electro band XMH was founded in 2005 by singer/songwriter Benjamin Samson. To put on a good live show Benjamin recruited Pieter Sperling (keyboards/programming) and Isa Garcia (vocals/keyboards).

XMH released their debut ep cd 'Life' in 2005 which managed to stay in the Dutch Underground Charts (DUC) for more than 6 months! The song 'Rape Your God' also stayed in the DUC for a very long time and has become a club favorite in the dutch dark underground scene. In 2005 and 2006 XMH built up a strong fan following by playing in clubs/venues all over Holland/Belgium.

In Summer 2007 XMH presented their debut album 'Time To Play' at a packed and sold-out venue at the Summer Darkness festival. The debut cd got very good responses from press, fans, DJ's and other bands. In short time the cd 'Time To Play' reached nr. 2 and the song 'Rape Your God V.2' went to nr. 1 in the Dutch Underground Charts! Tracks like 'Rape Your God V2, Loser, Wet, Global Killer and Private Cowboy' from the album were picked up by DJ's immediately and have become real dancefloorkillers. Many tracks from 'Time To Play' are also featured on several compilation cd's.

The energetic live shows have been received very well by audience and media. XMH has a take no prisoners, in-your-face attitude with main-focus singer Benjamin Samson, who takes control of the stage and is viciously shouting like there's no tomorrow. XMH only has one aim: to get the people dancing and partying!

In short time XMH have worked themselves up to become one of the best new hot acts from Holland. XMH have already toured in Holland, Germany, England, Spain and Belgium with bands such as Covenant, Combichrist, Funker Vogt, Angels & Agony, Clan Of Xymox, Blutengel, DAF, Agonoize, Grendel, The Birthday Massacre, The Crüxshadows, Das Ich and many others, showing them that XMH are some tough competition, and that there is a new generation of bands hungry to take over.

To ease the waiting for the new XMH album the band released a DJ Promo called the Led Manville Remixes, this cd contains 6 exclusive remixes and went to nr. 2 in the Dutch Underground Charts.

Readers of Sonic Seducer Magazine voted XMH to the 4th position of the Battle Of The Bands Competition which proves XMH are becoming more and more popular in all countries.

XMH released their new cd 'STATE OF MIND ' on 14 May 2010 at Danse Macabre Records (Das Ich, KMFDM, etc.). The new XMH cd is produced by Len Lemeire (Implant, 32Crash, Anne Clark). The cd contains 10 dancefloorkillers like Dictate, WasteD and the song Komasaufen which already caused some controversy in Germany. Also remixes by Soman, Implant and Jesus On Extasy are featured on the album. The new cd got good reviews from magazines like Zillo, Sonic Seducer, Negatief, etc. In July Nilaihah Records will release the XMH album in North and South America.
XMH performed @ Eurorock Festival 2015, May 2015
| | | | | |
| --- | --- | --- | --- | --- |
| | 05/2015 | PHOTOSHOOT | Eurorock Festival, Neerpelt, Belgium | [marquis(pi)X] |
| | 01/2014 | PHOTOSHOOT | De Piek, Vlissingen, The Netherlands | [Filip Van Muylem] |
| | 11/2010 | PHOTOSHOOT | Zappa, Antwerp, Belgium | [marquis(pi)X] |
| | 03/2014 | INTERVIEW | We would love to do the big summer festivals in Germany and the rest of Europe! | [Filip VAN MUYLEM] |
| | 07/2013 | INTERVIEW | Working together with Erk Aicrag from Hocico or Nic Endo from Atari Teenage Riot would be great! | [Filip VAN MUYLEM] |
| | 08/2011 | INTERVIEW | XMH is primarily about the music, not about lecturing people. | [Didier Becu] |
| | 11/2014 | CD (EP) | The Blind | [Filip VAN MUYLEM] |
| | 02/2014 | CD | In Your Face | [Filip VAN MUYLEM] |
| | 12/2013 | CD | The Business EP | [Filip VAN MUYLEM] |
| | 08/2013 | CONCERT | XMH live at Infest, Bradford University, UK, 25/08/2013 | [Filip VAN MUYLEM] |
| | 04/2014 | NEWS | XMH launches 'In Your Face' album in 2 versions | |
| | 12/2013 | NEWS | Peek-A-Boo proudly presents the newest video by XMH | |