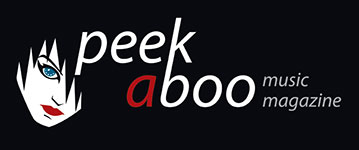 like this interview
---
OPPENHEIMER MKII
When I compose something I imagine it being played on the radio to millions of people.Or it has to make you smile, or cry, or remind you of something.You have to be able to hum it in the bath.
14/09/2013, Jurgen VANVLASSELAER
---
OPPENHEIMER MKII is the new project of Andy Oppenheimer from Oppenheimer Analysis and Mahk Rumbae, known from his work with Konstruktivists. Their fantastic debut album, The Presence Of The Abnormal, has just been released, so we thought it was a great idea to have a little chat with the duo.
Welcome guys. How did it all start for OPPENHEIMER MKII? How and where did you guys meet?
Andy: In Vienna in april two years ago, which was also our first gig. Walter Robotka introduced us – he runs the Klanggalerie label and thought we could write and produce songs for an album for him to release. I had already started working with other producers, Mark Warner, formerly of Sudeten Creche, to form Touching The Void, and Mickey Clarke, ex-Naked Lunch.
Is there a big difference between working with Martin (Oppenheimer Analysis) and working with Mahk? Do you approach making tracks the same way?
Andy:I don't like comparing people, as everyone is different to work with in all sorts of ways. The main music difference with all my new collaborations is that I'm producing many more songs. And instead of starting by writing the lyrics, as I did with Martin, we start with a basic backing track which Mahk will compose. I will compose the lyrics to that and then the tune as well, which I then send to Mahk for him to put together as a rough track. Then I go to the studio in Vienna to record the vocals and the rest of the production - and the whole track follows. I much prefer this way. I can feel the music bringing on a theme as I hear it, then the words and tune just follow. It is better for songwriting – it makes you more economical with the lyrics, they are more precisely fitted to the music. The other main difference is distance – but we are in constant email contact and I visit Vienna as often as possible. We got through the whole of the first album – all 12 songs - in just two trips and Mahk did the rest of the work after I'd gone back.
Congratulations with the new album The Presence Of The Abnormal. One of the finest minimal synth albums that I have heard in a long time. Most minimal synth albums start to get boring after a while, but you manage to avoid that trap easily. What's your secret?
Andy: Thank you very much for the kind words Jűrgen! We hope other people will get to hear it and enjoy it as well. What is also amazing is that Mahk had never produced a pop album before – and it's as though he's done hundreds!
I have grown up with so many types of music and despite not having played any instrument for long, haven't gone a day without hearing music since my childhood. I like and aim to write words and tunes that are catchy and hopefully, memorable. When I compose something I imagine it being played on the radio to millions of people or, if it is played in a club, I want it to propel people onto the dancefloor. Or it has to make them smile, or cry, or remind them of something…. If it doesn't pass that test for me, that is, as popular music - it isn't much good as a song. You have to be able to hum it in the bath.
I write for a living, and in a very structured way. Writing songs is totally different of course, and much more spontaneous – an idea can come to you out of the blue. But I structure lyrics carefully and have a traditional approach to songwriting. And if events and other things in my life filter through into the music, I hope people who hear it can identify with the ideas as well – with just enough emotion for the listener to relate to. I try to be evocative – I think in pictures and scenes, the video along with the song.
Mahk: As Andy mentioned, I'd never tried to write any music in this style before, but as someone who has always liked catchy pop songs as well a more experimental music, I tried to create songs that are simple, but still have that classic song structure. Ultimately a good song is a good song whatever genre of music it falls into. I think the album works because there is a varied mix of sounds for the dancefloor, more aggressive sounding songs, some more experimental ones, and then of course, the ballad in the middle.
Andy, you are a specialist in defence and counter terrorism, you wrote even several books about the subject. It also reflects in some of your lyrics.
Andy: Well yes I've written one book, on the bombing campaign waged by the Irish Republican Army, and have co-written and edited dozens of others. But when it's suggested I write another book, my response is – I want to write songs…
Yes - the themes of my work have come into the songs. The title of the album itself is a term in counter-terrorism which I and an army colleague of mine use in our talks: The Presence of the Abnormal is something that shouldn't be there - which could indicate a bomb has been planted - or that terrorist activity is afoot. War and combat tend to be themes of rock bands, not electro, so we may be breaking new ground here.
Also songs like the title track – The Presence of the Abnormal - which is a breakneck race to dismantle a device while on mission – and Adrenaline Rush, Being a Target, and Another Nightmare are highly personal and based on the experiences of my work and of my very brave colleagues. But again I try to get the lyrics to work for a universal audience who have had a multitude of experiences. And the album has several love songs as well, very Soft-Cell-inspired. Action Man and My Girl Friday are really just fun pastiche songs to dance to, for which electro works so well.
You are a defence consultant. How do I have to interpret this? Does the UK government ask for your opinion every now and then? Or how does that work?
Andy:I'm an independent consultant in Counter-terrorism and a published author and speaker at events around the world, which makes me more visible than most experts in this field. So the media rather than government often ask for my opinion. And some of my colleagues know about the music and have heard it. One has in fact just interviewed me about the album for the music review section of the British forces newspaper.
The album is out now for a couple of months, so you had the time to step back and have a look at it from a distance. Are you still pleased with it or would you have done some things differently ?
Andy: Yes I'm over the moon about it, and play it every day when I'm out on the seafront with the Ipod. I'm still amazed at how well Mahk produced it in so short a time. My only change would be that Mahk's latest remix of Action Man is so good that I wish it were on the album! But we are trying to release this on an EP, along with other unreleased songs, You Won't Disarm Me, Line of Sight and a cover version of Bowie's Be My Wife [a kind of follow up to the last lyric in Adrenaline Rush – "Will you still be my wife…. "]
I would also love to do an even more souped-up version of On Brighton Pier, with some extra choral and more vocal harmonies. Mahk stopped me adding any more for the album version as he said it would've been too cheesy… I guess I really like what could be called Maximal Electro.
Mahk: I think from the production side, there's always little sonic things you hear once you have the finished product in your hand – stuff that you didn't notice while making the record. But I'm still very pleased with how it turned out. Now I've had a little bit of distance from the songs, I'm starting to go back and radically rework some of them. Andy mentioned the more upbeat, minimal synth sounding version of Action Man, and I'm currently working on a completely different version of You Will Never Know, which is now a slow burning synth ballad.
Andy:which I've now heard, and is truly mindblowing – it really brings out the emotion in that song as well as transporting you back to a nightclub in the '80s.
I know Oppenheimer Analyses did a few gigs in the past. Is it the intention to perform with Oppenheimer MK II as well or will this just be a studio project?
Andy: No we really do want to play live gigs as well as recording. Our main gig this year is at the Wroclaw Industrial Festival in Poland 7-9 November. Main problem is time – we both work full-time and so we have to fit travel to gigs and overnight stays in with everything else. Next year I hope to get out there and do more on stage. We very much want to play live in London and Berlin [as I did with Oppenheimer Analysis several times].
Mahk, you are also a member of the Konstruktivists, an experimental-industrial project. Is there much difference between writing music for OPPENHEIMER MKII and working for Konstruktivists?
Mahk: From a songwriting perspective it's completely different in that in OPPENHEIMER MKII I'm trying to following the general songwriting rules of intro/verse/chorus/verse etc. With Konstruktivists, the music is much more freeform and often less melodic and structured.
From a technical perspective, I take a very similar approach in both projects. The musical ideas come from improvisation, either playing with a drum sound or a synth patch, or just a bassline – then the track is built up layer by layer from there.
You just made a beautiful clip for the On Brighton Pier track. The fact that it was shot in black and white makes it even stronger I have to say. It breathes pure nostalgia.It reminded me of the vacations I had as a little boy at the seashore.
Andy:That's very kind – thank you. I'm so glad you and others are saying how much they like the On Brighton Pier video. Mahk wanted to keep it black and white – it would have been almost psychedelic in colour! And I think it works well in black and white for the nostalgia element, a bit like a British film from the early 1960s. The lyrics are in fact inspired by the first pages of a book written by a war hero I know, describing a childhood trip he made to Brighton.
What's next on the agenda of OPPENHEIMER MKII?
Andy: A second album – Mahk is so prolific in providing backing tracks I've got a backlog of songs to write! And hopefully, more live performance as and when people invite us, and time and funds allow. More videos, more interviews, more reviews – we hope. Promoting the work beyond Facebook and playing gigs is by far the hardest part - and especially these days with so much out there, and also trying to get something new into the arena where people tend to collect music from the time when electro began.
Mahk: Continuing to promote the album and get the message out there is an ongoing activity.Sadly, as is the case with musicians and singers who have been recognised for work they recorded in the past, there is often a much lower interest in their current recordings – and we're trying to overcome that and reach as many people as we can with OPPENHEIMER MKII. We're working on some more videos, and would like to release an EP with two unreleased songs from the album sessions Line Of Sight and You Won't Disarm Me plus the remixes. Then we'll start on the next album. I already have demos for ten songs ready for Andy to work on when inspiration hits.
Final word?
Andy:Enjoy!
Thank you very much for the answers, I am already looking forward to the new album and let's hope we can see you on a Belgian stage very soon!
http://oppenheimermkii.bandcamp.com/album/the-presence-of-the-abnormal
Jurgen VANVLASSELAER
14/09/2013
---