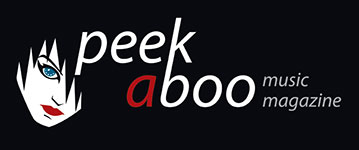 like this interview
---
LLUMEN
Support the music you listen to! Think about how much time you spend listening to music and how much of your identity is based upon the music you like!
24/08/2013, Filip VAN MUYLEM
---
LLUMEN is the opening band of VP live. On top, it's a nice Belgium band and part of our own team here at Peek-a-boo. The perfect starter of a series of 8 interviews in a row (yes: all 8 bands will be interviewed). Pieter Coussement and I had a nice chat, and this is what we talked about …
LLUMEN is a very interesting name, what does it mean and why did you choose it?
PC: For years, I searched for a name that could fit a broader context. As you -and probably only you- may remember, I had a band once that was called "Sad CBA". I definitely wanted a name for my project that was less gloomy sounding. After some soul-searching, LLUMEN was the obvious choice. The name in itself has a clear reference to light, with lumen being the unit of luminous flux. Adding the extra "L" in front adds a play on pronunciation. In Romance languages, it's either pronounced as "y" or unvoiced, making it sound similar to 'human' or 'U-Men'.
Honestly I even forgot that I booked you back then after seeing you on stage during the Eurorock Festival, can you tell the people who missed it what Sad CBA was about and describe the music a bit?
PC: Sad CBA was a project I had with my brother and Ivan Van der Herten. It was more darkwave dark electro oriented, although it started out as a prog-rock punk band. We played a few gigs and had a lot of fun. One of the highlights was playing the legendary Eurorock festival. In time, life got in the way and the band dissolved into thin air.
And now you have a full cd.
PC: Well, I have an album that is almost ready, I just need to get it released. I'm currently looking into that.
One of the questions I have is about the meaning of "Force of Nurture"?
PC: The "Force of Nurture" signifies that social surroundings (i.e. nurture) can play an equally important part as nature in how you turn out as an individual. At the same time, it's a critique on personal branding. It seems to me that we are very focussed on appearance, with visual identity taking up the larger part of how we present ourselves and what we identify with; either as individuals or as a group. This is of course not surprising, knowing that we predominantly rely on our visual sense for our daily needs. In "Force of Nurture", I try to convey the following: while many experience personal style or 'branding' as something unique and 'personal', it may well be a culturally determined and corporately induced sense of taste or fashion. I don't claim that I'm above all of this (as stated in the song). I'm merely saying that branding is out there, so you better own it before it owns you.
What comes first: the music or the lyrics? And is there something that connects all the songs lyrically? What are the lyrics mostly about?
PC: Both are there at the same time, but very much apart. Lyrical ideas develop from a single sentence that I read or misread somewhere and that continues to linger in my mind. The music evolves in a similar fashion; I doodle a lot on my computer making elements or stems that sometimes grow into song ideas. I have to admit that, on average, it's a really slow process for me, since I'm easily distracted and have difficulties letting go. For some reason I think a song can always use an extra layer, so I'll keep on adding and changing stuff until I'm satisfied. Then, more often than not, I need to take 10 layers out again.
Lyrically the songs deal with random thoughts, that somehow initiate from the same common ground. It appears to me that a lot of the songs are love songs with a malevolent twist, either themed around the absence of your loved one or dealing with the obsessive quality of love. So there's always some solitude in there, a kind of darkness that appears to sit comfortably in my brain. While most songs have an autobiographical base, they often are told from a third person standpoint. So, even though most of the times I don't even fully agree with that person's view, I tend to find that specific point of view extremely interesting.
"Cold in December" sounds a bit like Diorama; was that on purpose or is it me and what do you think of this link?
PC: If it does sound like "Diorama", that is absolutely by accident; it is of course tributary to a lot of bands, and Diorama may well be one of them.
I can only take this as a compliment. To me, Diorama, alongside bands as Frozen Plasma and Neuroticfish -and the list might well be a lot longer-, are musically very exciting. Somehow, I still like music that has more than a single chord in it, even though I'm in utter awe of how some people are able to make great music by using only very little 'musical' content. I tend to fail miserably at this when I give such minimalism a try. I know this may sound a bit presumptuous, but that is not my intention; it is merely the logical consequence of the slow and intricate composition process I usually involve myself in. Many of those hard hitting bands have proven over and over that they are as musically talented as many of their more traditional counterparts. They also fulfill their role pushing the boundaries of music - even if I personally think they should be pushing much harder still.
This song was also a big step forward for you, right?
PC: Yes it was. I first send it to Seba at Alfa Matrix for one of their Endzeit Bunkertracks, but it ended up on the Electronic Body Matrix compilation. Soon after, I got an email from Martin Sprissler from Gothic Magazine to have a version on one of their compilations too. An interview with the magazine and another contribution to the magazine's compilation followed. Next, I was asked to do a few remixes, but due to time restraints -I was finishing my PhD thesis at the time-, I was only able to finish two of them; the "Evil Bloody Music" remix for Alien Vampires and "Let You Go" for Stray. Currently, I have more time, but that of course goes into preparing for the upcoming live gigs.
You have a nice resume; can you tell the readers and how it affects the way you work?
PC: I assume you're hinting at the PhD. I spent four years on that at the systematic musicology department of Ghent University. It was on Interactive art. I also do the occasional real-time visuals for SONAR, write contributions for a music magazine and I am involved in the collaborative project lichTraum with Peter De Koning?
All of those things influence the way I work. In art pieces, I tend to use a lot of abstract noises, or at least 'non-musical' content. I always combine such element with an interactive component, so that pieces are constructed through people reacting to them. For lichTraum this is similar; there, we create new synthesisers, controlled through a virtual 3D interface. The interface in itself is an integral part of the performances we do with it. It is not unimaginable that, when we finally release some material under the lichTraum moniker, it will be in the form of software applications in which listeners will have to play our music themselves. The visuals that I do on occasion for SONAR use the same virtual 3D environment, albeit more in a VJ-like setting. The cool thing about it - at least to me - is that they will never ever be the same. It is simply impossible to recreate a set.
I guess it's clear that the visual part of a performance is very dear to me. I've been lucky enough that I could always earn a living making music and visuals work together; so for LLUMEN, this will be no different. I hope that by the time we hit the VP Live stage, the visual show will be as refined as the music is.
Isn't it a duality: working for a music magazine while making music of your own, and has nobody ever asked a question about it?
PC: Writing about music is something that came with the job of doing my PhD, be it in a very specialised manner. Now that I write reviews (on occasion), this specialised viewpoint somewhat colours the contents of what I write. Often, it seems that I look for the more exotic edge of the music to base my reviews on. On the other hand, I think it is natural that 'specialists' -sike- write about music, as musicians have a somewhat different approach to listening to music than fans do. More analytic and scrutinous, I guess.
Knowing that a band always grows and changes: how would you describe your music today?
PC: That's a very difficult question. On the one hand, I really want to keep an open mind about my music and incorporate as many influences as I can fit into it. On the other hand, I still find myself comfortably nested in the EBM-related scene. While I try to have a sound that is somewhat new and innovative, people keep on referring to it as old-school. I stopped trying to be experimental for the sake of it a long time ago. I have plenty of side-projects just for that, and now I tend to concentrate most on making the music that I'd like to hear at parties, or the music that is fun to play, listen to and watch in a live setting. In the end, there are many influences by my all-time heroes. And at times, some influences of a 'newer' generation will find their place too.
'Huntress' is a soft song, a bit unexpected if you see the title (more expecting something more aggressive instead of what I call a 'dreamer')?
PC: I think 'Huntress' is exactly what it needs to be. If you stalk a prey, you'd better go about it in a silent manner: and then go for the swift kill. Making a lot of drama and empty threats is not something my huntress would do.
'Silicon cinema' has a nice piano synth, also a bit of a 'dreamer'. What are the backings about or from where do they come?
PC: The song is about sex - or better - making love, but there's a lyrical twist that makes it a bit strange. One of the partners in the equation has a double feature in the story. The samples in it describe someone's experience while being in subspace. The rest people should find out for themselves.
I suppose Gary Numan & Diorama are an important influence? Any other influences?
PC: I don't think that Diorama or Gary Numan are very important influences to my music, even though I really like theirs. Without wanting to go on a name-dropping quest, I do feel like mentioning a few people that where (and are) very important to me throughout the act of making music.
Front 242, Daniel Myer, Bill Leeb, Skinny Puppy, Uwe Schmidt, Carsten Nicolai, Ryoji Ikeda and Ben Lukas Boysen just to name a few.
Who does the second voice on 'New moon rise'?
PC: It's just me. For a few songs, it's easy to switch between voices and I think the duality is quite fitting. With electronic music, it's possible and easy to include several voice types. Of course, one needs to pay attention to the fact that at one point, you also want to bring this live, so I try to restrain myself from using extreme effects on my voice.
The addition of the guitar is great (a bit like Stin Scatzor, right?) How about the gigs: LLUMEN is a one man's band, right?
PC: Adding a guitar to some of the songs was probably more inspired by FLA than Stin Scatzor. I'm blessed that my live band consists out of two of my best friends. Both are guitar players. My lead guitar player brings all the 'oomph' I need, while adding a bit of flavour too. However, I do not actually believe that bringing a rock or metal guitar player is an absolute necessity to have a cool rock 'n roll atmosphere at an electro concert. Nor do I think that this is the atmosphere one should necessarily look for at an electro concert. At the moment, I think that laptop-only concerts sometimes lack a bit in communicative power. But I'm confident that with an ever-increasing variety of musical controllers, people will eventually be able to have a similar experience as they have had for decades at rock concerts.
Live, my guitar player will focus on what he does best; playing impressive solo's - and now that I said it, he will be nervous about it. The third member is in charge of synths as well as controlling the visuals. He actually has the biggest responsibility: making everything fit.
So, on stage we are three, while in the studio it is basically me, occasionally bringing in the rest of the band to ping pong ideas around.
Sint-Niklaas will be your first gig right? And then the VP 2014 live? Nervous?
PC: Sint-Niklaas won't be the very first gig for LLUMEN. We played in 2011, on a sunday afternoon in Liège. I think nervous isn't the right term; 'excited' to play live sounds more accurate! At the last lichTraum concert, I was nervous. Peter and I played in the university's Aula with an audience mainly consisting of contemporary composers. That is something to get really nervous about.
I love to play live and I think it's a pity that there are not more opportunities for starting bands to perform. Bigger festivals appear to look only for a line-up with (old or) established bands at the moment. Mind you, I understand that festivals too are confronted with the economical truth, so it is becoming harder to pull a festival off financially. But it does become problematic that, when your reputation as a band is determined by the amount of likes you get, you are unable to get any airplay. The labels asses how big your fan base is, but you aren't given any opportunity to perform. And then, concert promoters need to sell tickets, so they rely on notoriety rather than their musical judgement. These are the ingredients for a very conservative popularity contest and in that vicious circle, basically everybody gets screwed, not in the least the audience.
My opinion is that, if anything, the public should be responsible for making things move along in the music scene. They should not only take responsibility for the music they like, but also raise their voice on what they would like to happen (and then stick to it). SO GO TO THE KICKSTARTER CAMPAIGN NOW! They could of course start or continue with valuing the music they listen to by buying it, or, if it's out there for free, at least support the music by sharing it. All in all, I'm as excited to play in Sint-Niklaas as I am about playing at VP. The bigger venues aren't necessarily more daunting than the smaller ones.
I remember from last year that XP8 and Surgyn did one song together: anything in mind for LLUMEN? Who would you pick from the bill to team up with and why?
PC: Nothing has been planned so far. If I had to choose someone, it would be Sascha Klein. When velocity came out in 2000, I was really impressed and it continues to be one of my all-time favourites. But the line-up is really diverse and fun, so I'll extend an open invitation to all of them.
Any special demands for VP live?
PC: I know Surgyn had a inflatable pool and a pineapple on their rider, which in effect the lovely VP crew catered for. I don't think I can make it much more exotic than that, but maybe I'll grow an attitude by then and ask for something funny, but useful nonetheless. As for demands, I would only demand (or ask politely) that people come out to see us perform. We will make it worthwhile.
Last words?
PC: Support the music you listen to! Think about how much time you spend listening to music and how much of your identity is based upon the music you like. Then, it should only come as natural that you support it. That being said, I think the proverbial last word should be for the audience. So as you have the last word, you can come and tell me about your thoughts at both the Sint-Niklaas as the VP concert.
Thx a lot!
For the fans of the people who want to know more about last year:
LLUMEN soundcloud page:
live pictures at KAVKA, Antwerp
Filip VAN MUYLEM
24/08/2013
---