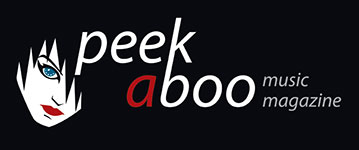 like this interview
---
DUCHAMP
Music can be such a powerful way to connect people and I am beginning to understand this more and more
19/08/2013, Didier BECU
---
When I heard the newest album by DuChamp on the Italian Boring Machines-label, I was thinking of Nico and that alone is a reason to fall in love with this band. All of a sudden I wanted to know everything and the best way for this is to make an interview!
Hello, DuChamp is a very weird name to make it in music, so please tell us why you choose this name.
I don´t have a real answer for that. Maybe it was somehow an unconscious decision because of several factors: I truly adore dadaism and its strong connections with anarchism, I love the French language and Marcel Duchamp´s "Anemic Cinema". One day I came up with the idea to use DuChamp as a moniker, and I thought it was a good idea, so I just kept it.
You're a scientist. Can scientists actually make music? I mean we all have the idea that they are kind of boring. So please release us from this thought!
The Italian biologist and Nobel Prize winner Rita Levi Montalcini had a twin sister who was a painter, and she often said that there is no real difference between the artistic and scientific creative processes. In music I can see the component of mathematics and the component of pure irrational inspiration. With science it is exactly the same, there is intuition and there is rationality, and you need both if you want to be a good scientist. My favorite writer, Primo Levi, was a chemist (like me), and he wrote many times about how the scientific method was a benefit for his writing. I´m not aware of how many aspects of my activity as a scientist I put in my music, maybe the sense of wonder. I think it´s something you can see in many scientists/artists, such as film director Jean Painlevé, to name one. He was also an activist, another aspect that is quite important to me. There are many musicians I know that are scientists as well, like My Dear Killer, or Man Meets Bear, both very good songwriters.
Your musical experience started when you got fixed to a hair dryer. What's so special about the sound of a hair dryer?
The sound of my mom´s hairdryer is truly one of my first memories. I remember very well how blissful I found all things related to the hair fixing ritual, that warm, continuum, circular sound over all. When I got into drone music, years ago, it reminded me of all those sensations. That´s probably why drone to me is always associated with love, pleasure and caring. I´ve played many different types of music, but I can see how the idea of drone is so deeply grounded in me. More than I was aware.
You're Italian, but you went to Berlin. Was that for professional reasons?
I moved in Berlin for several reasons, including work. As a researcher it is very hard to live in Italy. The political and social situation also became difficult to stand and certain personal difficulties made me think it was much better for me to leave. I chose Berlin because I loved it from the very first time and there are so many empty spaces and possibilities that you can fill with your mind...I´ve already lived in Paris but it ended up being too stressful. It´s also just great to live in a place where you don't need a lot of money to live well. So far, I´m very happy with my choice, even with all the obvious troubles of being an immigrant.
But still you landed on an Italian label. How did you get in touch with Boring Machines?
I knew Onga, Boring Machines´ head, though Alice of Occulto Magazine, a long-time friend of mine and my partner in Occultofest. I admire and am good friends with some of the people he's produced such as Bemydelay, the guys of Eternal Zio, How Much Chuck, Fabio Orsi...and I really love the fact that the label is mainly based on his personal good taste and and human connections, as it should always be, I guess.
I think what happened is simply that Onga listened to my raw tape recordings on soundcloud and became interested in what I was doing. When he proposed to do a release, I was very happy but very shocked. Up until that point I was just recording on 4-track tape and never took my solo project very seriously!
Overall I keep finding it interesting that, although I moved somewhere else, I´m doing the same work. I'm still playing music and recording for an Italian label and it makes me think there are some aspects of my life that are so grounded that they will never change.
I really am in love with your album. What does the title NAR mean?
First of all, thanks a lot! "Nar" means pomegranate in Arabic, Turkish, Bosnian and other languages. It´s a very beautiful and interesting fruit. It is connected with fertility, abundance and wisdom in a lot of cultures or traditions (ancient Greece, Islam, Hebraism, Christianity, Armenia, Hinduism to name a few). I´m fascinated by the fact that so many different cultures have all found hidden meanings in one very unusual fruit. Lara Schilling, who made the artwork, and I were speaking about pomegranates, Armenian architecture and the movie "Sayat Nova", so that´s how the title came about. I also really like how "Nar" sounds.
Your album is released on vinyl. What do you think from that vinyl-revival?
I simply think that vinyl never died! In some specific scenes (punk, garage, surf) they kept releasing vinyl throughout the 90's even though CD's were very popular, so I never had a true sensation of a decline. I think the popularity of certain formats, such as vinyl or tapes, is just a reaction to the immateriality (and very bad quality) of mp3s and to the overwhelming choice of the overly wide and confusing music selection of music on offer. I also feel it is a reaction against the traceability of your personal taste though the use of media players. Vinyl is a great object, one which requires effort not only to choose and buy, but also in the time required to listen, through the turning of the sides and being at home and so on. It is completely different from the distracted way you listen to music on an mp3 player while commuting. Plus, you can listen in an anonymous way. In an era in which it is common for people to seemingly share their whole life, that is already a big statement.
At the moment, I´m very interested in tapes as well. I´ve recorded most of my music on tape because of my lack of a good audio card and skill with recording programs. I´m fascinated by the additional noise and sounds that it produces outside of your control. It´s an organic material.
Apart from the drones, I really thought you sounded a lot like Nico who happens to be a real heroine of mine. Do you think this comparison makes sense?
I really like Nico (and I adore The Velvet Underground). Such a wonderful voice and presence, so that´s a very big compliment for me. I know I have a pretty low voice so I can see why you see some similarities. I think each person has many voices, it´s just a matter of being conscious of that and developing it. It´s a little bit like being self-conscious of the different sides of your personality.
In fact, I didn't really have her music in mind while I was recording. I was mainly thinking about The Ronnettes, whose music is, to me, quite close to perfection.
You also sing on some tracks. A Worship is excellent, but extremely dark. Do you see yourself as a dark person?
I'm a very morning, breakfast, sunlight kind of person. I compose and record most of my stuff on Saturday or Sunday mornings in my flat, which is incredibly sunny. I think I´m very fascinated by those Medea-like women, like Diamanda Galas, but I´m very different from that. "A worship" sounds that dark because it was a love imploring, but some songs are inspired by very positive feelings such "Seisachtheia".
I know this is a nasty question, but I have to ask. Artists like your are condemned to make their music for a small audience. I mean, your album is released at 300 copies which isn't a lot. Never had the feeling things had to be bigger…Brian Eno is a superstar after all.
Well, I never even thought about making a record, so for me to now have one is very exciting ! So far, I´m just glad to have a record out, to have the chance to tour and meet people. Music can be such a powerful way to connect with people and I am beginning to understand this more and more. Some people would not consider me an ambitious person since I don´t care about having a career or money or buying things. However, since my aim is to live how I want, where I want, do the work and music I want, being with the people I want and doing my best to contribute to social change, well, you can tell this is mega-ambitious.
You are also involved in other musical projects. Can you tell us something about that?
I´m a part of a duo with Will Gresson called Fausto Maijstral. We play semi-improvised pieces somewhere between drone, musique concrete and noise. Will and I are both huge fans of Roy Montgomery, in fact that´s mainly why we started playing together! I love the process of improvising, its really related to trust and empathy and it´s a very powerful mental exercise. Right now we're mixing our debut album. I´m also part of a girl band called Brabrabra with my friends Susanna and Saiko. I truly love this project because we write real songs. We have very catchy pop songs played in a very minimalist way which I think is reminiscent of bands like Liliput, Y Pants and The Slits. Playing with them is a true pleasure. I've also started a project, mainly inspired by the band Chrome, back in Italy with my brother named "Sacco e Vanzetti". I would actually play in millions of bands if I could. I love how music creates these deep emotional connections.
I wanna finish with two questions I always ask. What's your favourite record of all time and please state why.
It´s very hard to name one. So I'll name two: "Isn´t Anything" from My Bloody Valentine, because I bought it not knowing who they were when I was 15 and it totally blew my mind. The other one is "Half Machine Lip Moves" by Chrome, because I find something wonderful every time I listen to it.
With whom wouldn't you mind to be alone with in an elevator for 8 hours and what would you do then?
I think I would like to be with the deep blue eyes person from my record´s acknowledgment, but I think we would try our best to get out.
A final message for our Peek-A-Boo?
Many thanks and I hope to play in Belgium soon because every time I played there it was an incredible adventure!
Didier BECU
19/08/2013
---