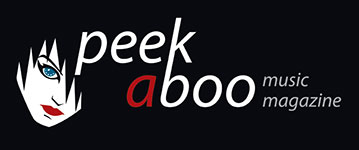 like this interview
---
ZWARTE POËZIE
I wanted to show people what could have been possible if we in the Netherlands would have been making Wave in our mother tongue.
09/06/2013, Xavier KRUTH
---
Zwarte Poëzie creates Wave in Dutch. They already released two CDs with own work, but nowadays they tour with Dutch translations of the Neue Deutsche Welle songs. What's more, you can see them with their NDW-programme on the seventh Dark Entries Night on 14 June in the Kinky Star in Ghent. Enough to ask Edwin van der Velde about his motivation.
How did Zwarte Poëzie see the light?
About ten years ago, I stopped with my band Isolation and I wrote English-language wave in my bedroom. It did not have it's own character. It was cloned from The Cure, Joy Division and others. Then came the moment I got a Dutch vocal line in my thoughts and worked it out as a song. This song became 'Misschien Morgen Wel' (on the 'Grijs Verleden' ep) and the last line in the last verse was 'This is another phantasy, this is black poetry' (Dit is een andere fantasie, dit is Zwarte Poëzie). This was how I got the name. That was the birth of Zwarte Poëzie. A number of my English language songs were translated - including Grijs Verleden - and so I got a first set of Duth wave songs.
Your website says that you were adopted by the goth scene. Do you feel at home there?
The wave scene in the Netherlands is not so big these times. And outside of that it's really hard for Zwarte Poëzie to get gigs and an audience, thus I feel 'adopted' by the select wave company there is.
Dutch wave is not widespread. In Flanders I can think about Arbeid adelt! And aroma di Amore. I hardly know bands in the Netherlands that are singing in Dutch. What do you think is the reason?
The typical Dutch music from ten years ago always sounded the same. It has improved since. If you listened to the radio, you could hear by the arrangements that it was a band singing in Dutch. And then you have popular music. I think that hardly any band wanted to be associated with this, and this association is made immediately. Dutch is very direct and this holds back some people to listen to it. Translate the average hip hop or grunge song and the feeling is very strong. It's actually strange, because in Dutch movies you will find that we are often much more free than in Hollywood movies. But not in music, it seems.
You released your two discs Grijs Verleden and Liefde by internet. Do cd-versions exist? Is it your philosophy to put everything online for free?
Both cd's are available at gigs for those who want, but I think that downloading for free should also be available. Zwarte Poëzie is a DIY band. Until Liefde, I produced, recorded and mixed everything myself. This changed with the NDW songs because I began to realise that I wouldn't meet the quality I wanted. Because of the author rights, I didn't release this one. As an unknown band, you want your music to be listened to by as many people as possible and the few money I will miss are worth it to spread my music for free. Apart from Zwarte Poëzie, I have got a nice job that earns me enough, luckily. For future releases, I'm thinking of working with a free gift. Give me a beer or something. That's very nice.
The composition of the band has changed through time. A few years ago, you played in a classical drums-bass-guitar-formation, now you play only with guitar and synth. Is that a practical choice?
Musically I became more influenced by electronical bands and this was the course I wanted to move in, with bass-synth and drum computer. When the former band begin to grow out of each other, it seemed logical to first start with drum computer and then with bass synth. It's also very practical. I always wrote the songs in Zwarte Poëzie, now I can work them out completely.
Where did the idea stem from to cover Neue Deutsche Welle songs and translate them to Dutch?
This is almost my answer to the question why Dutch wave was not widespread. I wanted to show people what could have been possible if we in the Netherlands would have been making wave in our mother tongue. Besides, I was and still am struggling with a writer's bloc and I wanted to record something free of obligations and without any stress.
You will soon release a new ep with the Neue Deutsche Welle songs. What was important for the choice of the songs?
The choice of the songs was based on feasibility and results. I tried to cover many songs and make them sound like Zwarte Poëzie by arranging them like I always do. With many musicians and songs, it was not going to work out or the lyrics in Dutch didn't work (Palais Schaumburg, Nina Hagen, Fehlfarben, Ixi, etc). The original plan did go further and included doing several non-English wave including Flemish and French songs. Because I had enough NDW covers I kept the idea for 'sometimes'. So yes, there's a big chance that I will do my best one day for De Brassers, Aroma Di Amore, Arbeid Adelt! and Madou.
This interview first appeared in Dutch on the website Dark Entries.
Xavier KRUTH
09/06/2013
---
Dit interview is ook in het Nederlands te lezen op de website van Dark Entries
Xavier KRUTH
09/06/2013
---