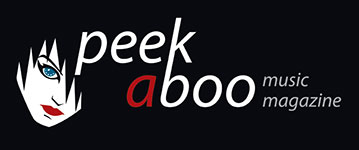 like this interview
---
IMPLANT
Run, run, run... Non-stop scrambling on the hamster wheel to become the perfect productive citizen!
13/05/2013, Filip VAN MUYLEM
photos: © Marquis(pi)X
---
IMPLANT has a new CD out, along with a new video. So, it was time to get back to mastermind Len Lemeire, whom I caught in between his more than 1.000 activities …
First of all, from where came the following idea: 'Haven't we all been there? Before you can even think of breathing again, you are already facing another panic deadline, working late into the night on that new last-minute, super urgent, top priority report for your boss who will not even thank you. Deliver, deliver, deliver... That increasing feeling of stress and pressure. Run, run, run... Non-stop scrambling on the hamster wheel to become the perfect productive citizen!'
The productive citizen can be seen as a concept. A representation of the standards they force us to live up to. The system became very focused on productivity over the last decade. We live in strange economic times, where people can make money by investing against a currency. Where people have to invest their savings to help banks overcome wrong investments. We have to keep increasing the output. We should all be productive citizens, keep the system turning, no questions asked. But I ask you, should we produce more e-mails or more positive emotions?
You use some samples from movies: can you tell something about them? Where do you get them and how do you decide to use them?
There is not one movie sample on this album. I collect samples from various other sources, but no movies. Problem with movies is that everybody is using them. But I wanted something different. A lot of the sampling on this album is from speeches from professors or old BBC documentaries. I use various sources for samples, ranging from TV to Youtube etc. Jour nucléair is the original news broadcast in Germany after the Chernobyl disaster.
Somehow I keep thinking that J-L (Front242/32 Crash …) is still singing on some of your songs, but it seems to be your voice. I know you for a long time and that's the first time I made this connection, could you explain this and are there others thinking the same thing?
I'm not really sure if it sounds like Jean-Luc. I mean Jean-Luc has such a signature voice. It kind of makes me blush if you tell me my voice sounds like his. But I did learn some tricks from the master while working on 32Crash. Jean-Luc has a very specific way in writing lyrics and he always tends to come up with a vocal line that adds to the track. I think that is part of what makes 32Crash so catchy. And with Implant, I kind of tried to aim for catchiness too.
You have put a lot of effort in the lyrics, why this urge? It's also nice to know that you learned something about it from J-L from the Crash32 project …
Indeed, some of the lyrics are way more worked out then what I am used to do for Implant. On a lot of previous albums, I worked around repetitive vocals. Trying to set a mood by repeating blunt statements.
This time we spent a lot of time trying to tell little stories in each song. Really working on a chorus / refrain structure. And I think we really have something to say this time.
You work for the university of Ghent, has your job something to do with music or technology? Can you still combine it with all the rest?
Officially I still work for Hogent. As of October 1, 2013 I willbecome a staff member of Ugent. And no, it has nothing to do with music. I teach informatics at an economic faculty. So it is technological in a way. Combining this music with all the rest is an absolute must for me. It's what keeps me sane. My little secret getaway place. It's a delicate balance with my job, family life and other hobbies. I'm not sure if you want to know me if I didn't have this music. And I really think everybody should have his own escape plan. If feeding pigeons works for you, then please go for it. For me it's music.
The cool thing about Implant is the new people popping in, how did you manage to get them in for the new album?
This is where I should say it is all a master plan. But it never is. I was stuck when writing lord know I tried, I couldn't find the lyrics nor did the pace of the song work for me. I did have the 'down, down, down …'. I was listening to Leaether Strip when I realized that Claus might be perfect for that track. So I asked Claus. Claus is one of those people that really became a friend after various backstage talks. And what he came up with was so good!
With Bonnie, I wanted to do something about Chernobyl and if possible in French (don't ask me why, I just had this wild idea). So we asked Bonnie to try something on a track. When we got the vocals back, we loved it so much that we deleted the track and started writing a new song around the vocals. The original was a rock track, now it's dance. Isa was a very natural thing to do. Both tracks were finished, but needed a female vocal. I'm currently working on the new XMH production. So Isa was kind of the first girl that came to the studio when we needed a girl.
What are the latest remixes you did?
Ahh, remixes, that is one of those never ending curses in this scene. I'm currently working on Tyske Ludder.
What is the best remix on the extra cd's coming with the new album, according to you? I would for sure know how the remix from LEAETHER STRIP, PLASTIC NOISE EXPERIENCE, AESTHETISCHE, KANT KINO & XMH.
Awwwch, don't ask me what the best remix is. That means I have to favour somebody. Keep in mind, almost all people who did a remix are really close friends (or people I really think need more attention in the scene). But I'm very happy with the remixes. I feel everybody delivered something new to the track, and that is what makes a remix interesting for me. My favourite remix is 'the game'. I know we did it ourselves, but I'm sure nobody is expecting a dub version of that track.
A nice diplomatic answer not to offend anybody.
'C.C.C.P.C.C.T.V.' is one of the songs where I definitely want to know more about, especially the deeper meaning of the title. Can you also tell something about the work on the video, how did that happen and with whom did you work on it?
c.c.c.p : Union of Soviet Socialist Republics (Сою́з Сове́тских Социалисти́ческих Респу́блик)
c.c.t.v. : Closed-circuit television
It's a little story on paranoia, of a guy who can't escape Russian security cameras. For the video we used a 12 screen slip screen of real cctv footage. It is a subliminal message. The idea is that you have to watch the video 12 times to see it all. After 12 times, the song should be stuck in your head, and you will go buy the album.
Keep in mind, this is the first video I ever did myself, and we are planning to do a few more. For a first video, I think it's not that bad.
I couldn't listen to 'payroll Bonanza', so can you tell us something more (it's on the second album if you choose to pay a little extra)?
The lyrics of this one says it all:
I'm going to move my shit to India (haha)
I'm going to wake up with malaria (haha)
A new down in Cambodia (haha)
Join me in this mantra (haha)
It's my little interpretation of outsourcing.
Listening to the opening track makes me ask you: is the industrial revolution worth it? And if I combine it with your other songs 'C.C.C.P.C.C.T.V.' & 'Scanned' it really feels like the realistion of '1984' and other old movies looking at the future which is now (for sure the Charlie Chaplin movie), or do you have another vision on it?
Oh yes, it was worth it. Go figure what would have been had we not had the industrial revolution. I tend to think that we keep moving forward. But I also think that 1984 has never been that close. All we do leaves some digital signature behind. Logging into internet on a phone, every link we follow on the net, every camera we pass. Result is that big brother has become big brotherS. The track scanned is my little take on data mining. Data mining is a key research path in the faculty I work.
What do you think of 'The city' being compared to Fad Gadget? Was it on purpose? I really loved that song, somehow it sounds so sexy and groovy …
'The city' will be the next single. We started working on a video for this one. I think I know what you mean comparing this to Fad Gadget. It must be this wavy-synth that holds the refrain that makes you think of the good old 80's. It's nice you hear Fad Gadget in this one, always been a big fan. Was it on purpose? Not sure, we did want to go for that 80's feeling, but we never said :"he, let's try and sound like Fad Gadget"
How are the reactions related to the cd so far?
As far as I know, only one review has been made for the productive citizen, and that was on peek-a-boo. If that is the standard for what is to come, then great! Somebody called us god, and the album divine. What more do you need LOL.
indeed, we loved it, Len!
Comments from the 3 bands who contributed:
Hi Filip. Len send me a track he was working on, some time ago, and asked me to write the lyrics for "Lord knows I tried". I was instantly inspired and a few days later the words were written and I recorded the vocals here in my own studio. There is really a special connection between Len and I, it was like working with an old friend, and I think we created a really great song together. It was only natural that I also did a remix of the song too. Len has a huge talent and he's one of favorite song writers / producers / remixers, who deserves a lot more attention than he's getting.
XMH
How did the studio work with Len go? Was it easy to fit in the songs?
- We knew Len of course already from his production for the 2nd XMH album State Of Mind from 2010. When we went back to record songs for our new album he would always let us listen to the songs for the new Implant album. Len wanted to have female vocals on a couple of songs so he asked if Isa Garcia wanted to do that. Len already had a clear vision on how the vocals should sound. So he would sing them first and then Isa would sing them. It all went really fast and easy.
Could you pick out the songs you wanted to remix?
- Nope, Len just asked me if I would like to do a remix. And some time later I received the remix kit for "cccpcctv"
Bonnie from Krystal System
What did you want to change whilst remixing them?
Nothing in particular. Most of the time when I do a remix I start out by using only the vocals. And without listening to the original track I start building something new. Usually, along the way, I'll incorporate some sounds and stuff from the original. This is also the way it went with the remix of "cccpcctv".
How did the studio work with Len go? Was it easy to fit in the songs?
Bonnie : Len is a friend and all went smooth. But actually Jour Nucléaire is not a remix : When we were working on our previous album Nuclear, Len asked us to write some lyrics for him and to sing them in one of his song. We got the idea to tweak Iron Song's lyrics, a track we were working on at this time, as we thought they would fit his project. So to sum up : music is all Len's and lyrics all Krystal's (except the sentence sung by Len)... It was fun to do.
I think our both vocals sound cool together on this catchy track, we're glad of it !
here is the link if you want to read over the review of the album:
http://www.peek-a-boo-magazine.be/en/reviews/implant-the-productive-citizen/
Filip VAN MUYLEM
13/05/2013
---