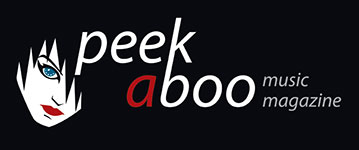 like this interview
---
SNOWY RED
This tribute to Snowy Red allows us to discover a whole new generation that gives new life to the minimal wave music (exclusive interview of Weyrd Son)
08/05/2013, Philippe BLACKMARQUIS
---
Tomorrow, on May 9th, the pre-sale of the brand new compilation "_ever Alive, A Tribute to Snowy Red" will be launched. This double album includes covers of songs of the legendary band created by Micky Mike, this Belgian artist who passed away too soon, in 2009. It is causing quite a stir in the minimal wave scene, especially because of the incredible selection of bands and artists from around the world, who enthusiastically agreed to participate. We had the opportunity to meet Michael Thiel, aka Weyrd Son, the son of Micky Mike, who is releasing this tribute album, for an exclusive interview.
First of all, how did you get the idea of a tribute album to Snowy Red?
To be honest, the idea is not mine. Originally, when my father died, friends asked me to organize a tribute evening and several musicians were ready to play. It did not take place but the idea continued to make its way and a year ago, I decided to do something, not a party, but a tribute album.
How did you choose the artists and groups who participated?
Initially, I followed my personal tastes. I called all the bands I like. I also wanted to recreate the context of the early Snowy Red period. When my father started, he got rid of what existed before. I took the same approach. I didn't want nostalgia for the 80s. I didn't want to ask famous bands from this period to do a cover. I wanted something new, a fresh look, given by artists who are in the same dynamic as my father at the time. And the title of the album, "_ever Alive" puts it clearly: it comes from the Snowy Red title "Never Alive", which I adapted to show that this creation is alive today. The tribute allows us to discover a whole new generation that gives new life to the minimal wave music.
Can you give us an idea of the groups involved?
There is the Canadian band Animal Bodies, from Vancouver, which we begin to know here in Europe. A lot of bands from Los Angeles, that I also love, like Bestial Mouths, Violet Tremors, Deathday, Nové Můra and also //Tense//, originally from Texas but now based in LA. There is also Revelator, the solo project of Ben Chisholm, the partner of Chelsea Wolfe. From New York, we are pleased to have Led Er Est but also Mirror Mirror and Bright Future, a lesser-known project which, like Snowy Red, is based on a single strong personality, Frank Midnite. Not to mention Strange Powers, also a solo project, from Denver. In Europe, we have Mushy and Newclear Waves, from Italy, then Scorpio Violente, from France, Meddicine, from England and Marburg, from Poland.
A very nice bunch of artists! Oddly enough, no Belgian band is present on the compilation, unless of course your sister Safyée.
Initially, I had planned to have a Belgian band, K-Branding, but unfortunately they split up. Apart from them, if I I could go back in time, I would invite :codes. But I thought about it too late. As for my sister, Safyée, who plays in the group Simi Nah, this is her first project under her own name, with the help of Scuzzy, the musician/producer of Simi Nah. She chose the song, the arrangements, etc.. and the result is an excellent cover of "Torpedo Good Luck" and I'm not saying that because she's my sister! (Laughs)
But we do not find any of the great Belgian bands we could have imagined like The Klinik, Front 242 and Neon Judgement...
I think they would have done a great job but it was not the concept of the album.
The release will exist only as a double vinyl album?
Initially, it was supposed to be a single LP. There were 12 or 13 tracks but as soon as I finished the first version, a band contacted me spontaneously to ask me if they could be part of the compilation... I thought it was a sign of fate and decided to do a double album. Then, it was very easy to find other names to complete the second vinyl.
The choice of the songs was made freely by the bands?
Yes, I have given carte blanche to everyone with just one constraint: there couldn't be more than two versions of the same title. Fortunately, it did not happen.
And the selected songs are well spread over Snowy Red's discography...
Mainly from the first album, with 4 songs, 8 songs from the second album and 2 songs for the last two LP's.
And overall, the most famous Snowy Red titles found their way on the compilation...
Yes, Euroshima, Nowhere, etc... Breakdown, which is actually a song by Carol, is also included but the versions are closer to the Snowy Red version, which was released on "Visions". For example, the version of Bright Future includes a saxophone and the one by Nové Můra includes a dialogue with a female singer, as in the version of Snowy Red.
Did the bands remain faithful to the originals or they did they put their own stamp?
They remained faithful, but each time, you recognize the style of the covering band.
These are all groups that have a strong signature.
Yes. The first track, for example, by Bestial Mouths, has a very strong personality. You must know that the song is "Never Alive" to recognize it. This is a good compromise between the personality of Bestial Mouths and the original song of Snowy Red.
The track of Animal Bodies is extraordinary. It even reveals something new for them, I think.
Yes, it is a great success. I love the duality voice / guitar they have created. It was already present in their style but here they pushed it even further.
Led Er Est is also amazing. You have the impression that this is a piece they composed themselves. Ditto for Mushy.
Indeed. Mushy was one of the first artists to whom I asked to participate and she was the first to choose a song. She chose 'Baby Tonight' and it was very strange because I had thought of this song for her as well.
This compilation is also an opportunity to see the influence that Micky Mike still has on the international scene today, 30 years later. Can we talk now of a 'Snowy Red revival'?
There was a small revival when my father returned to the stage and played at the BIM Fest in 2003. There was a revival of interest also partly because of the bootlegs, the unofficial reissues of the first two albums. Then there was the box released by Onderstroom Records in 2011 in cooperation with me, which quickly became a collector item. Today, a lot of DJ's keep playing songs from Snowy Red in their sets.
How do you explain this success? In a way, it's probably because Snowy Red participated in the creation of a new genre of music in '80, by merging different styles?
Initially, my father was very eclectic in his musical tastes. He was in Chainsaw, a leading Belgian punk bands, then there were unknown bands like The End, Fame or Coco Panik. It was postpunk music, not yet new wave, but my father already had his keyboards and he had to fight because the other musicians thought that keyboards were only played by fags. So he decided to do his own thing.
The influence of Gary Numan was also important?
Yes, you do well to quote Gary Numan because it was clearly one of the biggest influences of my father. At the time, people laughed a bit about it but he was a strong advocate of this style of music and history has proven him right. Besides this, there was of course Kraftwerk, John Foxx, Fad Gadget...
And Suicide?
Yes! It is a major influence: in his first album, he dedicated one of the songs, Baby Tonight, to Suicide. It had indeed a small Cherry Cherry touch.
Do you know something about the creation process of the hit "Euroshima (War Dance)"?
I do not know if it's a legend or if he said it to show off but one day, he told me he had created "Euroshima" in half an hour, just because he missed 5 minutes to complete the album "The Right To Die"...
It's often like that that great hits were created..
Yes. The track was recognized several years later when one DJ of the Boccaccio in Ghent played the track...
The song has a slow beat, 100 bpm, so it matched the New Beat style perfectly...
Probably... In the late '80s, by cons, he was more into rock, blues and metal. It was his project Snowy Red MKII. You can hear this evolution on the fourth album.
To return to the tribute album, I suppose each band had its own production?
Yes. I asked them to send me the songs already mastered and mixed because I wanted them to work under usual conditions for them, in order to get their own color. We made a final mastering to fine-tune and normalize the sound and it's Scuzzy who did this with gusto!
Some bands even made video's!
Yes! It was a big surprise. I did not expect such an enthusiasm! Marburg made the first video, for "Nowhere". It is very nice, very industrial, very true to what they do at home in Łódź, in their squats. Then there's the Mirror Mirror video (also of "Nowhere"), which reflects the arty scene of New-York with a featuring by Desi Santiago, a conceptual artist, performer and designer. And finally, there will be a video from Revelator, which has not been 'revealed' yet (Note: in the meantime, it has been revealed, here). It will be a montage pretty much in the style that Ben Chisholm already followed in his previous project, White Horse, with samples of songs from all backgrounds. The video he did for Euroshima is based on movie clips, which he mounted in a very personal way.
Who did you choose for the distribution?
First, I chose Dimitri, the owner of the famous record store Wool-e-Shop in Ghent, who is now launching his new distribution activities. You see him everywhere and he is selling real jewels. Moreover, he is in constant contact with labels and distributors. He offered to do the distribution and I was excited. He will cover Benelux, UK and the USA but I will also work with Rush Hour, which covers the same territory, but in a complementary way. The album will also be sold directly on the BigCartel page of Weyrd Son Records.
Who created the beautiful cover photo?
It's a photographer from New Jersey, Betsy VanLangen. Initially, I wanted to take a picture myself, because I know graphics and photography. But I came across this beautiful picture. I contacted Betsy and she immediately agreed to work with me and gave me really advantageous conditions. I will be forever grateful to her for that.
So the album only comes in vinyl form?
Yes. It corresponds to the period of Snowy Red but also to the current revival of vinyl. With vinyl, everything is bigger, it has much more impact. I have a big fetish for beautiful objects.
This will be primarily a 'color disk'?
Yes, the disc will be gray.
The first edition will be limited to...
500 copies. And if it goes well, there will be a second edition, which will be more classic, in black.
Aren't you cutting yourself from a part of the public by releasing only a vinyl? What about the people who do not have a turntable? No plans to distribute on digital platforms?
Yes, I have a bandcamp page, but no iTunes for the moment. A CD is not impossible but what I found with the Snowy Red box with 5 vinyls is that most people who have these musical tastes have a turntable because it's DJ culture, 80s culture, so it is coherent from this point of view. I am also considering a tape for the collectors, but first we need to see how the vinyl will work.
Let's talk about your new label, Weyrd Son...
The idea came in April 2012. I was asked to make a 'mixtape' and I decided to create a new name for my activities. As the tape was related to my father, I found this anagram of Snowy Red: Weyrd Son. The concept of the label is focussed on minimal wave but with a personal touch that goes well beyond the boundaries of the genre. For
example, I will publish a record of White Horse, the project of Ben Chisholm, which is very experimental. There will also be a split release with Mushy and Meddicine, a reissue of a split-tape and a vinyl reissue of the last tape of Linea Aspera, one of my recent favorites.
In conclusion, I guess it must be special for you, at an emotional level, to publish this album?
Yes, all the more as this release is taking place around a few key dates in the career of Micky Mike, like his birthday, which was yesterday...
Thank you for the interview!
You can pre-order the double tribute album here. Do it now because there will only be 500 copies!
Philippe BLACKMARQUIS
08/05/2013
---