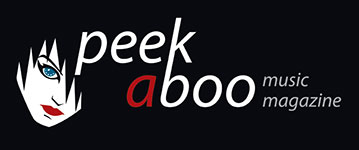 like this interview
---
LEBANON HANOVER
We live in a completely different way from everyone else. We have no jobs, this gives us a lot of time to think and to write.
21/04/2013, Philippe BLACKMARQUIS
---
Lebanon Hanover are one of the most promising bands on the minimal wave scene. They have developed a cult following thanks to their gloomy cold-wave music. The band is composed of a couple: Larissa Iceglass, originally from Switzerland, on vocals, guitars and synths and William Maybelline, from England, on vocals, bass and synths. They take their dark girl/boy vocals, razor sharp guitars and brooding bass-lines to create some sort of synthetic apocalyptic pop, reminiscent of Siouxsie, Cure, Bauhaus or Xmal Deutschland. Larissa and William are not like other musicians: they don't like the star system and they give priority to their integrity and authenticity. I was very happy when they agreed on a short interview backstage after their show at the REWIND Fest 2013 in Ghent.

Thank you for the interview! Let's start with the name of your band: where does it come from?
L: It's a place in Vermont, in North America and it's very aesthetic. It doesn't sound English, or German, or anything. We didn't want to have a name like "The Something", or "Die Something" in German, so we took this, because it sounds like no other name.
But looking back, it makes sense, because a lot of songs are a mix between English and German...
L: Exactly, and between the two of us, I spoke English with him and he started to speak German, so it was a kind of fusion.
You can speak German as well, William?
W: Ein Bisschen. I'm trying... But I can't speak German fluently.
You told me that the first time you did some music together, it was like an explosion. Can you tell more?
L: We both had solo projects and when we met, we composed 4 or 5 songs of the first album in just one week. We had this strong energy and connection. I came to visit him in England, near Newcastle. It was a little shocking because it's such an uncultivated and lifeless place. I didn't want to leave the house anymore. We just recorded songs and did nothing else.
Which song was the first one you recorded?
L: "Die World", and then "Einhorn" and "Totally Tot", they were all made in two or three days. And the video of "Tot" as well in that week. We always do our own video's because so, we can choose the images and the art concept.
It's the freedom to take the moment when you have the inspiration.
L: We also want to make them available to everyone, it's no HD. Anyone can do video's like that.
It's minimal...
W: It's DIY... And I think this sort of video's can live a lot. They can have a lot of life, in comparison with Hollywood video's, which are so clean and precise.
L: Feelings are more important than production. That's why I like the music from the 40s, 50s, 60s and 70s. There is so much warmth in it. From 80 onward, it's no longer interesting for me: it's too much high-pitched frequencies, hard to bear. My ears are used to old music, so I can't really listen to new music now.
Are you recording with your own gear? Do you have a multi-track recorder?
W: If we had the time, yes, but it would take too much time.
L: We would like to have an 8-track recorder but what we do is simply program on the computer and we try to make it sound analog.
W: We don't take the production too far.
And do you compose together or on your own?
W: It's a mix. One of us prepares a riff, for instance. Then the next one works on the riff and suggests something...
How was "Totally Tot" composed, for instance?
L: I was playing the riff on the guitar and he took the riff on the syntheziser, which gave a completely different feel. It started like this. For every song, the process is different. Most of the time, William will work on the bass.
W: I Like to create the bones of the song.
L: For me, the main part is the vocal part. The guitar is more a side thing. I write a lot of texts, I write what I think and then I sing about what I think. The most important thing in our band is to express our philosophies about this world right now. We are in a world that is very fast and unsafe. I find it interesting to see how my point of view is different from other people. We live in a completely different way from everyone else. We have no jobs, this gives us a lot of time to think and to write.
The real luxury is not money, it's time..
L: Yeah, I think time is really beautiful especially when you use it for beautiful things and not waste it with anything, like working in a steel factory. Like someone I met tonight, it really hurt me: he had a lot of wounds on his fingers just because he has to work everyday.
Working from 9 to 5 like I did for so many years is really modern slavery...
W: We're not born to be slaves...
L: I don't think it's what we actually need. A lot of humans don't need to work so much. They all think that they need to be busy, to be stressed while in fact they could take the time to stop and enjoy life, read a book, etc. They get distracted, they spend their time on Facebook.
You don't like this social networks stuff?
L: It can be really helpful for me: I can talk with my friends in Mexico. I can do so much through it. But a lot of people just do it to distract them from working, and then they go to sleep and go to work again. What did you do in your life? You just die and you never reached nothing. You've lived like some kind of doll, a marionnette...
Now you are living in Germany, in Bochum, I think?
L: Yes.
What do you think about Germany? Are there more opportunities there for you?
W: Musically, there are a lot of activities.
L: It's better than England. There's no wind, no fish & chips shops (laughs).
W: It's better also because people are more reserved. In England, people would want to bite at us just for being the way we are.
L: People were saying to William: "Put your trousers down!"...
W: Yeah, you know like in the hip-hop style, but I'm not wearing my trousers that low...
Yeah, there seems to be problems for gothic people in England, like the murder of Sophie Lancaster, etc.
L: Yeah, when we were walking in the street dressed in black, people used to take the children away from us (laughs)
Yeah, as if you were satanists or something. In Germany, it's different, you are just 'grufti's' like so many others...
W: Yeah
L: There are a lot of grufti's in Bochum. Each time I go to the shop I see sentimental looking people wearing black..
W: Totally laid back..
L: We never saw any goth in England where we lived...
You know about this tribute album to Snowy Red? I believe you were contacted by Michael Thiel to record a song?
W: Yes, he asked us to do a cover of one Snowy Red song.
L: We don't really like the increasing trend for the remix and cover culture. In Lebanon Hanover, it's all about originality and honesty. A cover can simply not reflect my own feelings. But it's a great project!
What are you guys going to do in the next months. You have the new single, "Gallow Dance", and after that?
W: We are working on the new album.
L: It will be out in September. It will be on Fabrika Records because they are kind of our family. We have always done our releases with them and they are our best friends.
OK, we are looking forward to it! Thank you for the interview!
Philippe BLACKMARQUIS
21/04/2013
---