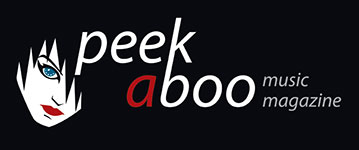 like this interview
---
SURGYN
You are a product. Sell yourself.
25/04/2013, Filip VAN MUYLEM
photos: © Marquis(pi)X
---
The Vampire Party 2013 was a blast and however I tried to interview the guys before the gig, it happened afterwards, but I understand it: as we will soon be hit by their new album and it will be a blast for sure, as their gigs are really great!
From where does your name come?
Surgyn: The initial inspiration for the surgical theme of the band was the character Dr. Steinman from the computer game Bioshock. The name 'Surgyn' came to us after much brainstorming and after realising that 'Surgeon' was already taken. Very old demos came under various other names such as 'Ravens Unkind' and 'Comacage'.
What is the philosophy behind the band? Why do you use make up and look like mister death?
Surgyn: Our first album 'Vanity' explores the vain and vacuous pursuit of beauty at any cost - even death. Our slogans 'Beauty is agony' and 'Fake what you lack' represent the concept of the band's first era. With the second album we are beginning to explore and expand on different strains of this core concept. Image plays a large role in our performances too and we continue to explore this through the use of makeup, elaborate outfits, theatrics and video.
Tell us about your success story, because it really went fast?
Surgyn: We were incredibly lucky to land an Angelspit support slot for our first ever live show. The feedback from this performance was incredible and we were offered more shows in various cities around the UK. In May 2011 we were signed to Death Watch Asia (DWA) in Japan who re-released our (then self-released) debut album 'Vanity'. Since then we have had the honor of touring with bands such as Aesthetic Perfection, Combichrist and Modulate as well as supporting many more of our favourite artists. Last year we started to break out of the UK and have so far travelled to Sweden, The Netherlands and, most recently, Belgium. Next month 'Vanity' will be re-released as a special limited edition in North America and we're excited to see where we'll travel to next.
Can you already live from the music you make or do you have regular jobs (curious which one if yes)?
Surgyn: Glamour is a full time job.
You signed a Japanese record label: Deathwatch Asia. How come, I mean sounds pretty strange for a UK band, no?
Surgyn: Death Watch Asia contacted us after Leighton (one of the Resistanz organisers) sent our self-released album to Jamie at DWA who decided to sign us immediately. It was a huge moment in our career and has granted us a lot of opportunities ever since.
Your story is a bit different from C-Lekktor, so what is your bound with C-Lekktor?
Surgyn: We played with C-Lekktor at both Resistanz Festival in the UK and Vampire Party in Belgium this year. They make great music and are really lovely guys. We're both big fans.
'Sharp as stars', never heard of this expression, what does it mean in this song?
Surgyn: 'Sharp as stars' is a line Sovereign came up with when he wrote the lyrics for the song. We really liked how it sounded and it seemed natural to choose that as the title. The rest of the lyrics explain a bit more what 'Sharp as stars' really means.
I think you can tell us more about this one too: 'Aesthetics (are a Moral Imperative)'?
Surgyn: 'Aesthetics (are a moral imperative' is the phrase that's written on the floor in blood just before entering Dr. Steinman's area in the game Bioshock. It helped form the basis of the primary concept of Surgyn.
Can you say something about the resistanz festival 2013?
Surgyn: Resistanz is the UK's leading industrial/electro festival. It consistently boasts an incredible line-up and the atmosphere is electric. This was our second year in a row playing there and we're currently planning how we can come back a third time...
Can you tell us something about future plans?
Surgyn: We're half way through writing the second album and eagerly awaiting the release of our debut album in North America. We have some big plans in store.
Any famous last words? And if you can think about a oneliner as header of this interview, what would it be?
Surgyn. You are a product. Sell yourself.
here is the link if you want to know what you missed during one of their gigs (copy & paste):
http://www.peek-a-boo-magazine.be/en/reviews/suicide-commando-soman-aesthetic-perfection-sam-xp8-c-lekktor-surgyn-vampireparty-live-6-4-2013-petrol-antwerpen-belgium/
watch their latest video:
http://www.youtube.com/watch?v=qhq4w2LtHkk
the review of their latest single:
http://www.peek-a-boo-magazine.be/en/reviews/surgyn-feed-me-fame/?viaadmin=1
something great & epical!

listen to it, the link is inside & buy it if you like...
and share it, as a lot of people worked hard on it...

I hope you take the time to take a look at it......
http://www.peek-a-boo-magazine.be/en/reviews/various-artists-dwa-xxx-100-remixes/?viaadmin=1
Filip VAN MUYLEM
25/04/2013
---