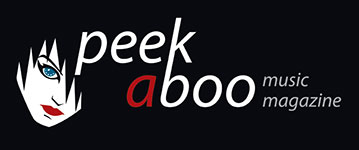 like this interview

---
ROME
I like living out of a suitcase!
17/04/2013, Filip VAN MUYLEM
photos: © Achim Webel
---
Rome will play a solo set during the 3 Porta Nigra gigs (30.05 Köln, 31.05 Rotterdam & 01.06 Aarschot), a good excuse to get to know each other a bit better …
First of all why this name Rome?
ROME is derived from my first name Jerome.
You have a clear political message, right? Can you tell something about it?
No, I don't have a "clear" political message as such, I don't think that goes well with art in general, but I have made no secret of the fact that my personal outlook and that of my associates is rather leftist. I have always been intrigued and fascinated by the history of the European (extreme-) left and therefore this has been highly influential on the subject matter that served as backdrops to some of my records, I guess that's why one might get that impression...
I know that a lot of bands are on some kind of black list (of the national security), because some people don't get the message. Did you have some trouble's in the past because of something like that or can you tell stories from other bands because of that?
I don't know if I am on some black list or not. I don't care. So far I haven't had any trouble with things like that at all.
You live in Luxemburg, a small place, how did you manage to get out of there and spread your music?
Well, I left Luxembourg for a long, long while, so ROME was never tied to my country of birth. I was first signed to a Swedish label and now to German one. It doesn't really matter to me where I live as long as there is an international airport not too far away. I spend most of my time in transit anyway. Either because of gigs or because of studio time or for pleasure...I like living out of a suitcase.
'To teach obedience', what is that song about? Sounds a bit strange to me …
I don't really like to dissect my songs. I think everyone should just enjoy them in his/her very own personal way and see the images he/she wants to see without me giving directions of some kind or other. My songs all stem from personal stuff and I often mix that with some sort of wider theme or concept.
I love the video of 'This silver coil', how did you end up making it?
The video was shot in Italy. Friends from other bands have worked with this crew around Carlo Roberti and were very happy with the results. I met him on tour at some point and we got along well, so I decided to risk giving somebody else some part of the control over how ROME is represented/perceived. I am not very good with visuals, so I basically have to trust someone else to come up with something I like. And videos are kind of tricky because you never really know what it's gonna be like before you actually see the result. This song is on my latest album 'Hell Money'. It's the ninth album I did.
You played before in Belgium (last time it was at the LeFantastique.Night event, in Brussels), how was that?
Yes, we have played in Belgium on several occasions and sure, it was nice. Every concert is different. You know, it depends on so many things...not just the audience and the attendance but also the band, obviously, and all other kinds of circumstances that make some moments more magical than others. It's something you can't really control.
You will play a solo set in Aarschot and play at the other venues of Porta Nigra. Can you tell us something more about it?
Yes, I will play a solo set, indeed. I sometimes like to do that, because it gives me an opportunity to try out new material and see if I can survive alone up there, haha.
Well, I'm really looking forward to playing these shows! I think it's a great concept to get bands from different backgrounds and countries together and play in 3 cities/countries in one go! It should be quite good, I'm sure!
Later on you will have a nice gig in Germany to, the Amphi fest, right? Can you tell us something about that?
Yes, we will play at the amphifestival in Cologne in July. It should be quite an interesting show. There will be the whole band of course and I like the room as it is a seated venue...should be good. We played there two years ago and we had a great time and I believe the people enjoyed it too.
Any last words to close this interview?
thanks for the interview! Our gigs are mentioned in this link:
review of the gig:
http://www.peek-a-boo-magazine.be/en/reviews/ordo-rosarius-equilibrio-in-slaughter-natives-rome-triari-mentalplastic-bodyfiller-empusae-dead-man-s-hill-mr-manuva-porta-nigra-1-6-2013-aarschot-belgium/
New gig announced:
13/9/2013:
https://www.facebook.com/events/174078642763633/
Filip VAN MUYLEM
17/04/2013
---