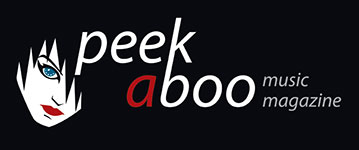 like this interview
---
CONTRE JOUR
We would not say we are melancholic people but we always compose or write what we want to or what we feel at the moment.
26/03/2013, Didier BECU
---
Recently Infrastition released the second album by Contre Jour. a relief as this band from Nice are making gorgeous coldwave-pop added with a bit of synthpop. Time to chat we say!
Hello, tell us who Contre Jour are and how would you describe your sound?
Hi! Contre jour is composed of Christof (prog, bass guitar), Manu (guitars, various instruments, backings) and Roxy (vocals). It's an electro/rock band, influenced by the music of the 80's and the 90's but also by the sound of today.
You're hailing from the sunny Nice. It's not exactly a place I would connect with coldwave. I mean, there's not really a scene as such over there?

Hehe, it is a cold-wave place, of course, generally speaking "nice" is a touristic place, with the sun, the beach, the holidays, the heat and the whole "French Riviera" luxurious (and shallow, if you ask us) type of atmosphere.
(Although we like when it's sunny… Nice under a rainy day is just awful)
But yes, there is a cold-wave, new-wave, rock scene. There are quite a few good bands down here, some we personally know as friends or good acquaintances, and some we don't know, apart through their music.
We can tell you, when you look at it, that nowadays and in the past, the musical scene in Nice is tremendously impressive, so many talented people officiated with very good band in the 80's / 90's, and today the artistic pool is full of young and middle age people fixated on their music more than ever, keeping doing good stuff with DIY production, with, of course, difficulty to make a living out of it.
I really had some problems describing your sound. Coldwave meets shoegaze perhaps?
Yes, that's it, and let's say it : With PASSION and FALL, we also meet some good aspects of pop music, we're not afraid to say it. It's just very contrasted with ambiances and sound-design landscapes inherent to the minimal electronic, cold-wave, and post-punk music we love so much, so …

All we hope now is that people who like simple and formatted pop music would be open enough to the underground aspects of our music. And that serious and uncompromising cold-wave, post-punk, electronic aficionados, won't think we're heading to become a corrupted band that makes music for money…

The most important thing is: we don't add intentionally either pop or underground aspects to our songs. It's natural, and generally it comes from our musical influences of the moment.
Your songs have a very melancholic mood. Does this reflect the persons you are?
Indeed, the songs reflect the people we are in some way. We would not say we are melancholic people but we always compose or write what we want to or what we feel at the moment and it often has this melancholic mood.
I was unaware of Contre Jour, how are the reactions so far?
Contre Jour started in 2009 and Passion and Fall is our second album in fact. At the beginning, with our first album "One night at the station", the major part of our audience was German, but now with Passion and Fall more French people are starting to listen to us (it surprised us because we didn't yet have many French fans)! We also have listeners in Poland, Russia and England!
Your 2nd album has been released by Infrastition. How did you get in touch?
In fact, our first album was also released with Infrastition. In the first place, it was self-released by the band in early 2010, before to be officially released by Infrastition one year later (march 2011), we take this opportunity to thank Fred, Greg and Alex to have make it possible.

The connexion was initiated by a fan (Fred), who got in touch with Alex of Infrastition and got talking about our music, saying it could be great to release our first album with him. Then Greg (our friend, who's incidentally our ex keyboard player) made all the arrangements with Infrastition to make this happen.

It was a very good surprise for us all … Indeed, we didn't even knew it was possible to be release with this label as a contemporary band, (as Infrastition re-release old albums of very good French cold-wave bands.)

Thanks again to Alex for releasing PASSION and FALL with Infrastition, though we're aiming at something "more" than cold-wave music now.
Talking about Infrastition. France is the home of so many genius coldwavebands (from Asylum Party to Clair Obscur) and yet not many people are aware of that. I guess you think that's a shame….
Yes it is a shame but we can't blame people for being unaware, it's more the inner workings of the "music industry" of today, that's to blame… According to this system, music has to take in money, from the pocket of "simple consumers", rather than "honest enthusiasts"… So it necessarily put the musical standards to the lowest (or should we say crappiest) level.

It's the same problem for every interesting sub-culture, and we guess that this statement is valid for every country in the world …
Some people will say you're living in the past when they hear your music. What do you think?
It may be true for some reasons and it may be false for some other reasons… The thing is we're in love with so many things of the past (with things even much older than the 80's… from 70's to medieval or the antiquity, going through early 1900's and the 19th century).
And at the same time we are so curious about the future. It makes us wonder, and then aim towards new things (either artistically or technically) on and on and on… So, we would say that we're not at all stuck in the past… We're just wedged between the past and the future : trying to have fun while living in the present, as weirdly as we can ;-)
In fact, who are your inspirations?
Our main inspirations are 80's bands like Depeche Mode, The Cure, Siouxsie and the Banshees but also contemporary bands like M83, Fever Ray and Arcade Fire.
We also like so many bands from the 60's starting from the Beatles and The Doors, and also some great French singers such as Alain Bashung, Serge Gainsbroug, Hubert Felix Thiefaine, Daniel Darc etc…
This question has to be answered by Roxy. I thought you had one of the sexiest voices I've heard in ages. Am I just mad or am I right?
Haha, thank you!
I never heard your first album, but is there a big difference between the new one and One Night In The Station?
Yes we think there is. ONATS was more rock / cold wave, and the electronic side was already quite developed, but it wasn't as much organic and vintage/analog oriented than PASSION and FALL.

Artistically speaking, ONATS was more influenced by the 80's and some aspects of the 90's, some people will say it's more "gothic" as well. PASSION and FALL takes its influences from both era : modern bands/albums of today. Then 80's cold-wave/new-wave and 90's trip hop/shoegaze and electronic 90's music.

We sporadically added some other ideas we gleaned from different types of music such as folk, classical, ethnic, 60's etc… For some track, we aimed several types of "modern" sound / composition such as M83's latest album, latest Depeche Mode albums (including ULTRA, and excluding Exciter). We also worked hard in that way, regarding production, to find the perfect compromise between 80's sound and modern sound was very important for us. We recorded, produced, mixed, and mastered both albums ourselves, by the way.
Any chance that we can see Contre Jour on some stage outside France?
Of course yes! We already played in Germany in July 2011 (Berlin, Hamburg and Dresden) and we really hope we could come back in Germany and play in other European countries soon!
Let's finish with the two questions I always ask. What's your favorite record of all time and please state why?
Our favorite as far as the three of us are concerned, would be "Playing the angel" from Depeche Mode because it has a great sound, a great quality of composition, and an awesome introspective/universal type of songwriting !
With whom wouldn't you mind to be alone with in an elevator for 8 hours and what would you do then?
Roxy : Haha Christof would freak out and die before the end of the 8 hours anyway… But we would say Dave Gahan… We could talk for hours and it would be awesome!
Manu : ahahahahaha ! Yes, right, Dave Gahan would be perfect… And if he's not available any other of our favorite singer of all time would be nice to talk with… Including the late Alain Bashung, Ian Curtis, Adrian Borland, Daniel Darc, Serge Gainsbourg, John Lenon, Jim Morrison and such truly talented poets of the music…
Any special message for the Peek-A-Boo readers?
We wish 'em good luck if they want to read ALL the reviews and interviews available on Peek-A-Boo's website! So many hours / days of writing, it's hugely impressive ! Good to see such passionate investment in music.
Cheers from sunny Nice !
Didier BECU
26/03/2013
---