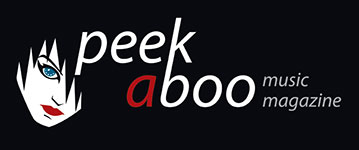 like this interview
---
HIDDEN PLACE
We are still crazy record collectors, so we can say music is one of the reasons of our life.
10/03/2013, Didier BECU
---
When I heard Hidden Place I immediately fell in love. I admit that I'm a sucker for Italian wave, but if a band combines the best elements from Clan Of Xymox, Kirlian Camera and even Absolute Body Control then there's no denying that they're on the right track. Recently the band released their latest album Novecento which is now already one of the highlights of the year here at the Peek-A-Boo-office. So it's definitely time to find out with whom we're dealing with!
Hello, please tell us who Hidden Place are.
Hidden Place are the siblings SaraLux, Fabio, Giampiero and Antonio. Before Hidden Place the men already started making music in 2003, with their neo-folk project Lupi Gladius until SaraLux joined us. All of us are passionate fans of new wave, electronic, etc. We are still crazy record collectors, so we can say music is one of the reasons of our life.
If I hear your music, I hear lots of influences, but you all seem to mix them into one style, not?
You're right! The base our music is electronic, there's no doubt about it. We try to mix various influences and different musical tastes, but we always maintain a certain style. The influences go from Italian new wave to ambient, to experimental music till some glimpses of Martial.
When I saw that your album is released by the label of The Frozen Autumn I immediately erased all coincidences. How did you get in touch with them?
We always have loved The Frozen Autumn. Their music has been a source of inspiration for us. On our first album Fantasia Meccanica we decided to have Diego Merletto as a guest. It has been a big pleasure! We signed to Calembour Records for several reasons: friendship, reliability, professionalism, competence, etc.
Your album is produced by Jean-Pierre Mercier from A Handful Of Snowdrops. I guess this is a dream coming true, not?
Jean Pierre Mercier produced only one song, namely Between The Devil And The Blue Sea. He also added some vocals and lyrics plus a bit of guitar. Everything is born from our passion towards this Canadian band. We follow them for many years and working with them was seeing a dream come true. In the past we would not have thought that this collaboration once should happen, but as you see the music reserves incredible and pleasant surprises.
Apart from some gorgeous darkwave, I hear lots of influences from minimal wavebands…even by Absolute Body Control. Am I dreaming or what?
Yes, there is a little bit of minimal wave. We could mention Absolute Body Control, Section 25 during their electronic period, early Kirlian Camera and many others.
Some songs are sung in Italian. Why? Apart from the fact that you're Italians of course…(laughs).
In every album there is a song sung in Italian. This is because translating them into English would break the deeper meaning of the songs, because some contents are simply untranslatable or they would lose depth in another language. The beauty of our language lies in the variety and the accuracy of a few words, in the thin variations of spirit. Retaining some "Italian" is also pertaining to the first '900, which binds elegance, decadence and the complexity of meanings.
From The Frozen Autumn to Kirlian Camera I always have been obsessed by Italian wavemusic. Is the Italian scene still vivid or not?
We can say that starting from Kirlian Camera and The Frozen Autumn you get to today's Italian bands, the Italian scene has always sought to bring forward some avant-garde ideas. We do not deny that the German music of Kraftwerk or some 80's British sounds has been basic, but maybe the Italians have always interpreted it differently and originally. We, Italians, are always characterized by a certain creativity, despite the darkness of these days. Maybe it's an indelible mark of our soul.
I guess it must be extremely underground because I've been lots of times to the lovely Italy but I never heard one good track over there.
Yes, we understand you totally. It happens with us as well when we are abroad. Quite a lot shitmusic goes in our ears as well. Obviously when we're talking about the underground scene, it's different just like everywhere else.
Will there be a tour with this album? Of course we want to know if there's a chance of seeing you outside Italy!
We will play on 30th March in Naples with a "special & rare synth vocoder show". We hope to play abroad and why not in Belgium? It would be great.
I think Novecento is an absolute masterpiece. How are the reactions so far?
Thank you for your nice words about Novecento. We are glad about it. The album keeps getting good reactions and we must thank all the magazines and webzines for that!
Hmmmm, why name that album Novecento? I'm always having that Bernardo Bertolucci-movie in mind!
It has nothing to do with the Bertolucci-movie. The title is a tribute to the twentieth century. "The 900" is a rather special century. Century avant-garde (Futurism, Dadaïsm, Constructivism, Suprematism), the revolutions of decadence, beauty, characterized by a climate of continuous experimentation and strong cultural and artistic impulses. Their function is that of "a shock" and seduce coming out of the nostalgia and the usual conformism. A century characterized by '"action", by motion, from a different world view, a sense of beauty, pure and very spontaneous. This is the essence of the meaning of title.
Tell me your ultimate dream…..
Hmmm…Elizabeth Frazer from Cocteau Twins singing one of our songs
What's your favorite record of all time and please state why.
There are many but we want to mention Unknown Pleasures by Joy Division. We think this album has changed the music. We must thank this album for making music.
With whom wouldn't you mind to be alone with in an elevator for 8 hours and what would you do then?
We would be with our synths trying to create new music. It could seems scary but at same time emotional as well.
Actually this was a sex question, so do you have a special message for the Peek-A-Boo readers?
Hopefully all Peek-a-Boo readers will find our new album Novecento interesting.
Didier BECU
10/03/2013
---