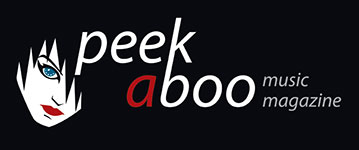 like this interview
---
MARTIN KLEID
Our dream is to see our music growing and get listened by more and more people.
08/03/2013, Didier BECU
---
There's a new magnificent band born in Italy. Their name is Martin Kleid and they play gorgeous postpunk which is added with a electronic touch. The music can be best compared to The Sound (just listen to A Man With A Code Gun) or The Exploding Boy even if the band doesn't know who they are. But enough pigeonholing, they just released a splendid mini-album on Alice In… and it's a tip for all postpunk-devotees.
Sorry to ask this, but I think the name is kind of strange….so please explain.
Honestly it was just a case. We wanted to find a name of a fake person that could combine the four of us into a single person. We were just talking trying to associate two words and Martin Kleid came out. We found the word Kleid in a German vocabulary.
I guess you can be categorized as post-punk. I know a lot of excellent Italian bands but not one of them is making post-punk.
Well, maybe there is a little bit of post punk, synth pop, new wave, indie rock, pop.
You're signed on Alice In… which is a bit of a gothlabel. How did you got in touch with them?
We sent an e-mail presenting our project and the owner of the label, Frank D'Angelo liked it. Then we stayed in contact for three or four months before deciding to sign.
With being signed by them, there's a slight change that you'll become more popular in Germany than in Italy, not? Look what happened to The Exploding Boy for instance.
Yes, you are right… maybe we will become most popular in Germany than in Italy and we honestly hope so. In Italy there is a sort of racism against bands playing this kind of music in English. If you are a British or American based band you have more possibilities… Promo and booking agencies are more open to them then to Italian bands. We honestly don't know who The Exploding Boy are…we will listen to them (starts laughing).
Your first album is a mini album. Why not a full one?
We recorded 8lights in September 2011 and those 7 tracks were the most representative at that moment. 8lights is rock, romantic, melancholy and a little dance, this is what Martin Kleid want to be! That's the reason why we did not record more songs! But we have a lot of new songs for the next album though!
Your album is called 8lights, what are they?
8lights is about a terroristic act happened in Moscow metro in March 2010. Sasha was in Moscow that day. 8 are the escalator lamps in the Moscow metro where the terroristic act happened
I thought it was a genius touch to add your postpunk-sound with some electronics. This makes you quite original, not?
We were closer to a rock-new wave sound in the beginning, then we started to add some electronics on our songs and we suddenly loved it… I don t know if it's original or not, it's just what we like to do and the music we love to play. I cannot imagine now our music without electronics
I guess the fact that your album is released by Alice In… is already a dream, but what's your biggest dream anyway?
We are very happy and proud that we signed to Alice in… Our dream is to see our music growing and get listened by more and more people. You asked which is our biggest dream? So let's dream….. , our biggest dream is to play Glastonbury festival!
I want to finish with two questions I always ask. What's your favorite record of all time and please state why.
Claudio: My favorite record of all the times is Music For Airports by Brian Eno. I love it because it caught me and I couldn't stop listening to it.
Francesco: My favorite record is Facelift by Alice in Chains, there is not a specific reason why I like it…it's just a perfect record.
Michele: My favorite record is The Unforgettable Fire by U2. The compositions, the songs, the way they were made is so original
Sasha: My fave album is Ok Computer by Radiohead. It really shocked me when I listened to it the first time. I had never heard anything like that at that moment, it changed my life.
With whom wouldn't you mind to be alone with in an elevator for 8 hours and what would you do then?Francesco: I wouldn't mind to be alone in the elevator with Eva Mendez and talk about soccer
Michele: Beyoncé, have you ever seen the Alberto Sordi-movie Strange occasions?
Claudio: My director at work. It could be a good occasion to kill him
Sasha: I wouldn't mind to be in an elevator for 8 hours with Bono…and play guitar for him
A special message for the Peek-A-Boo readers could be?
After a pint oh Blanche de Namur and a Leffe the best thing to do is to listen to Martin Kleid's 8lights (laughs).
Didier BECU
08/03/2013
---