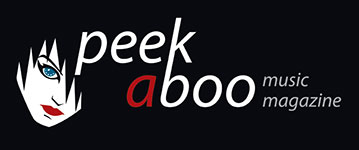 like this interview
---
TERROR BIRD
Despite what anyone says, Siouxie Sioux is not an influence! I swear!
05/03/2013, Didier BECU
photos: © Sally Dige
---
On 23rd May you can see the performance of Terror Bird in Brussels at Café Central in Brussels. So it's the perfect time for your mag to find out what Terror Bird is all about...
Hello Nikki, please tell us who and what Terror Bird are.
Terror Bird is my music project. I've been writing songs under this name for almost nine years. But it's been a live band for six years. Other than myself, the band members have changed a lot over time. Right now, the band is myself, Liane, and Jen. Liane plays cello and Jen plays synth. I sing and play electronic drums live.
I don't know what kind of music to call Terror Bird, because it doesn't follow one particular style in my mind. But it's dark, a bit 80s, and romantic, so I like to call it "New New Romantics" as a joke. Or bedroom wave, since all the songs are written at home.

If I hear the name I'm thinking of something brutal like Ministry, but it seems that you're making ethereal synthpop. Why the name?
About nine years ago, I watched a cheesy movie about Terror Birds, or Phorusrhacids, among other animals that lived very long ago. For some reason they fascinated me. The Phorusrhacids were giant predatory birds that couldn't fly. They were the most threatening predators millions of years ago. Maybe back then, I felt like a villain, or predator. I pissed off a lot of people when I was younger.

I also really liked the song, "Danger Bird" by Neil Young and wanted to reference this song in a way that wasn't too obvious.

A third reason is that I used to have terrible anxiety that at times could be described as having feelings of "terror". Today, our name does seem a bit too brutal, but I think it's too late to change it. Also, if people understand the reason behind the name, maybe they will find it less brutal.

If I'm right you're quite new on the scene and yet you're already doing a whole tour in Europe. There are bands around who are dreaming of this their whole career without reaching that goal.
We're actually not new on the scene. We've been a band for years. We just haven't been paid much attention to, and don't have much press. We do records on small labels and I guess that neither we nor the labels have much money to spend on advertisements and press.

In the past few years, we've done three European tours, and one American tour. We are very lucky to get to tour Europe, but I had to make it happen. The first tour, I didn't have many shows and booked everything myself. I went by myself, by train. The second and third tours we were lucky enough to have organized by the booking agency, Antistars, who I asked to book for us.

This tour, I am booking myself, and it takes a lot of time. But it is rewarding and totally worth it once you are playing the shows and meeting people! Years ago, I never would have dreamed that we could tour Europe, but my good friend who is in a band called Basketball said that his band booked their own tour, despite not being well known and that they had a lot of fun. He inspired me and let me know it was possible.

Isn't this also a proof that Facebook and YouTube works better than the promotional words from the labels?
I'm not sure what works better. Do you mean for promotion? I think music videos can definitely work their magic. But I think magazines and blogs are so bombarded by new material that it's easier to listen to music suggested by people you know and trust the opinions of, rather than sift through the good, the bad, and the mediocre.

We're evolving in a world in where music becomes a free item. Nobody seems to care to pay a penny. Do you think that's a good thing?
Not really. Sometimes I find it disheartening that people won't even pay a very small amount for a digital download, because I feel like they don't care enough about the music to pay a measly amount. And I'm really broke! Ha ha. But I never thought I would actually make any money off of music or art. That's not realistic and I think if that's the main reason why you do music, maybe you should do the world a favor and let someone sincere take your place.

At the same time, I can't say that I don't download music for free of bands I like. Because I do. Because again, I don't have much money and neither do most people I know. But maybe if I did, I would pay for it more in order to support artists.
And maybe things mean less if they're not in a physical form. You almost take an mp3 or free online movie for granted, I guess. But my (and other people's) appreciation for physical versions, like cassettes or vinyl hasn't died. And I think people really appreciate and respect and will actually buy these formats, because they encourage you to listen to a whole album, and immerse yourself in the mood of the album. You don't get that weird, high and anxious feeling you get when you are just picking different songs every three minutes and you know it can be whatever you want. You let the album affect you, and relax. Sorry, that went a little off-topic.

You're from Canada. Can we say that you belong to a scene?
If I belong to any scene in Canada, that would more be the punk, post-punk, or the somewhat recent goth (//Zoo, Animal Bodies, Koban) scene in East Vancouver. Maybe we'd be grouped in with Grimes, Cosmetics or Austra because that's also female-led synthpop. But we don't know those bands (other than Cosmetics) and for the longest time, I felt alone with what we were doing in Vancouver. So we mostly played dj nights, with touring bands, or with our friends' bands that we liked. A lot of these were punk bands, grungish bands, rock and roll, etc. We're part of a group of friends that sees each other all the time, because we all go to shows all the time.
Some say you're making bedroompop. Are Terror Bird bedroompeople?
I am! I can't say the same for the rest of my band! Sometimes I am a livingroom person. Ha ha.

Joking aside, who or which are your musical inspirations?

I would say the top artists that have influenced me are David Bowie, Kate Bush, The Smiths and Morrissey. I have also been influencd by Elliot Smith, early Rolling Stones (which probably makes no sense to anyone but me!), 80s synth pop like OMD, Human League (who we actually got to play a show with), Ultravox, Gary Numan, 60s French and American pop, Belle and Sebastian, The Poppy Family, Lesley Gore, Iggy Pop, Roy Orbison, Patti Smith, New Order, Death in June (the songs, not the pseudo-Nazi stuff). Despite what anyone says, Siouxie Sioux is not an influence! I swear! Jeremiah, who was in the band for a long time and played drums on two of the records was influenced mostly by punk music, I think
Sometimes they say that everyone with a computer can make music. Agree or disagree?
Agree! But obviously not everyone can make good music. That being said, everything is subjective and what I prefer might be seen as total crap by someone else.

If you tell your neighbors that you're going to do an European tour, what do they think?
They think and say, "Ohhh how lucky! How wonderful! I'm so jealous!". I always tell them they should come with me, but they never do.

You'll soon be in Belgium. Ever been there and what can people expect?
Yes, we've been to Belgium before and loved it! We are a band of three women, and we will be having the time of our lives. So they can expect us to be a little drunk and probably doing weird interpretive dances and pseudo ballet moves after we play. We are friendly, so I hope people will talk to us! During the show, they can expect me to sing and play a little electronic drum pad and do some weird movements and dances. They can expect cello and synth. We will have fancy outfits and I always wear makeup that makes me think of my true love, David Bowie during the 1970s.
Didier BECU
05/03/2013
---