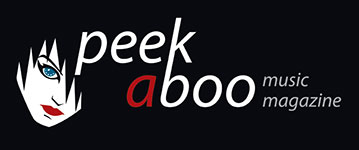 like this interview
---
DIORAMA
Started as a one men's dream and now it's a real band with a new cd!
19/02/2013, Filip VAN MUYLEM
---
Diorama started as a one man's dream and solo project. Nowadays Diorama is a real band, so time for a nice chat, starting with the new album (see review on our site)!
To start with: how did you come up with the symbiosis between the art in the booklet and the music? I think you met the artist by accident with this painter, right?
Right, it was actually Katharina who came along with the idea for a possible cooperation. She had come across some of our songs on YouTube and decided to get in touch with us. The interplay between her artwork and our sound turned out to be a great additional benefit for the album. From my point of view, it offers a new and very inspiring optical access to its overall atmosphere.
Why did you call the first song 'Maison de tigre' and shouldn't it rather be 'Maison du tigre'?
Yes, the song is called "maison du tigre". There's a spelling mistake in the booklet. Don't tell anyone! (laughs)
About 'Hope', I think it's about a women who has a baby inside her. The baby could be the one who will bring the light, but I feel uncertain about it. Can you help us out?
As the title suggests, the song deals with hope. The kind of hope that will persist incessantly, even on completely lost ground and against all odds. A connection to having children and laying your hopes upon them is imaginable, yes, but all in all the song has a wider philosophical scope.
Is 'The Expatriate' about Barack Obama and if not who else?
No, the song definitely doesn't talk about Mr. Obama, rather about a fictitious person who is sent off by his or her organization to a foreign country. He has all the success and gets to meet all the important people. However, he's unable to pursue his personal fulfillment, whatever that means. His individual nature and his life goals just don't seem to fit into the remote environment he chose to throw himself into. This self-awareness tears him apart, so he tries to break out by announcing history-making efforts without having a clue about how they should look like and how they might ever be accomplished. The song is a figment of this ludicrous imagination.
'Even the devil doesn't care' is a bit of a hard title for a cd, but if I read the stories of the songs it is indeed all about very negative things. What's happening on this album?
Every song has its own standpoint and writes its own story. There's no such thing as an all-embracing dramaturgy, I think that's pretty obvious. There's rather a certain mindset and a certain mood keeping the whole thing together. The album title reflects an absolutely indifferent attitude towards life, which marks a 100% cynical and nihilistic position. But the other side of the coin -and this is intrinsic in the songs as well- is the human miracle of actually being capable of overcoming our own hopelessness by... well... hope.
I noticed you made a long way: from one dude with his synthesizer to performing with a complete band. Can you inform us about this long path?
Felix is my sandpit buddy. We've known each other since we were 3 years old, later on we went to the same school etc. - funny enough, that we're still en route together. By the time Diorama was founded, Felix and I were already active in music production with some techno projects, so it was logical to also team up in the Diorama context. Bernard (who left the band about 7 years ago), Marquess and Sash were friends we met at university. As the external demand for our concert presence combined with our own interest to explore new musical pathways was more and more increasing, it appeared logical to involve other instrumentalists into our work. Each time, the lineup was extended, it was a natural process that began with experimenting and hanging out.
I heard you joined Adrien Hates for his acoustic tour. I have seen you both playing in the past together and one this is for sure: 1+1 = 3! How does it feel to work together with Adrien?
It makes me forget space and time.
Is there a chance you'll record a cd with both your voices and talents together?
This has been an old dream of ours and we're talking about a common project every time we meet. So far we haven't allowed ourselves the necessary time, but I'm sure that someday...
I somehow feel that this acoustic tour could be something for Diorama too?
Yes and no. We would really need to rehearse, then, I guess! And we would need to think about further extending the lineup. In the end, it's also a question whether there's a demand for this and whether people are willing to organize and bear the costs of such a kind of show.
Would you use 'Over' as last song at a concert? It has the same vibe as 'Rock'n Roll Suicuide' from David Bowie, who was always thinking about an opening track and a closing track for his concerts. What do you think?
We still have to see how the song develops in the live context and decide from there. The song has a certain hymn touch that would leave a sublime impression on the audience and ourselves. So far it is imaginable.
Can we ever expect a metal song on a Diorama album? Somehow I feel it's possible? The more I listen to some songs on this album the more I feel like: if they let themselves go from here …
A metal song on a Diorama album is not very likely. I also don't like thinking inside these musical categories as if there was a set of precisely defined components for each genre and if you choose the metal components you end up with an authentic metal song. As a side project, this would surely work, and it's even a good idea. But not the footloose and chaotic way we're making music as Diorama.
What will the future bring? More gigs, for sure and then …?
More work, less money, I'm afraid
Diorama will play this summer at this great festival (copy & paste the link):
Summer Darkness 26-28 july 2013
https://www.facebook.com/events/429370773782263/
Filip VAN MUYLEM
19/02/2013
---