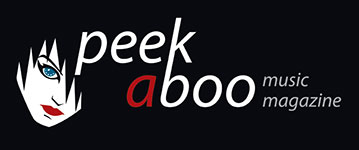 like this interview
---
TRIMETRICK
All art is connected by time and inspiration and technology from others, and my contribution is infinitely small compared to the whole.
28/01/2013, Jurgen VANVLASSELAER
---
Ever heard of Dirty Electro? If not, check out the Belgian duo TRIMETRICK.Tracks like Black Electro or Bad Little Kitty are a musthave in your collection if you are into harsh pumping dirty electronics created by mastermind Michael Mampaey combined with great lyrics and the unique fantastic vocals by Catherine Jane Robertson aka Kate.
Welcome Michael and Kate. When did TRIMETRICK see the light of day? Is it your first project or were Kate or you in bands before?
Michael : Kate and I met at Pukkelpop festival in 2005, through a mutual friend. I introduced myself as 'The king of pussylicking and a disco-machine' (I kid you not). TRIMETRICK was already a fact, but I explained to Kate that I was searching for a female vocalist with decent English skills, because I wanted to work with English lyrics, and to be honest, if English is not your native tongue, it sounds very stupid on record. Kate told me she wrote bizarre dark poetry, and that she was raised speaking English, French and Dutch... So I fell in love with her...
Kate : It's true, lol. I'm half Scottish and half Belgian and I was raised speaking 3 languages, I have always felt most comfortable expressing myself in English though. Michael and I soon discovered we were on the same wavelength regarding our outlook on life and music.
What's the story behind the band's name?
Trimetric (without the K) is a form of perspective used in technical drawing, designed to overcome the reading flaws you can have when using symmetric perspective. For example, if you draw a cube in symmetric perspective, it looks like a hexagon. Trimetric perspective overcomes this problem by rotating the angle of flight lines. The K was added to make it unique to our work, just like Aleister Crowley added the K to 'magick', and it works: if you search for Trimetrick in any known search engine, you immediately come to us, because it is a word only used by us.
What are your main influences?
Michael : When it comes to music, I have a profound love for 90's dark electro and industrial: Suicide Commando's and Wumpscut's early work were a revelation to me, as well as The Klinik, Dive, Sonar, Hybryds and Monolith. You know, Dirk Ivens and friends basically, but I'm also a very big fan of black-, trash- and deathmetal. Slayer is the best band EVER to me, and next to them are Cannibal Corpse and Morbid Angel. Techno of course; Bonzai records and R&S stuff, and some drum'n'bass and dubstep stuff. And NIN. Trent Reznor is god.
Other big influences, if I'm allowed to say this, are recreational and psychotropic substances, drugs if you like. Nowadays, I calmed down a bit; my job demands focus and sobriety, but I did it all, and went through all the stages that come with it: from the LSD-driven epiphanies of heaven, to the deepest crutches of hell, after a 3 day amphetamine binge. Some of our best work is written, recorded and/or produced under influence of drugs. I'm a 'brapper' if you know what i mean.
Kate: Musically, I'm a huge sucker for The Cure and My Dying Bride. I love nostalgic 80ies music, dark industrial and doom metal. Lyrically, I have a great admiration for Edgar Allan Poe and Vincent Price, I guess that's the main inspiration behind my vocal performances and writing style.
In 2008 you released an excellent debutalbum Utopia Deleted. It never got the attention it deserved I think. How do you look back on that album?
Michael : Looking back on Utopia Deleted, I think I should have had it mastered by a pro, because some of the tracks sound like shit. Especially the first song, Dreams Of Death, has way too much bass. Nothing a bit of equalising can't solve, but nevertheless.
On the other hand; it was designed to break some cliché's and fixed ideas about electronic music, for example; I put a lot of effort in making it sound very dirty, like a garage rock band; but with the pure qualities of synth programming, but apparently we went too far too soon, or too late. One side of the industrial scene nowadays likes clean and danceable, easy for DJ tracks, while the other side sounds like a competition between those who have the harshest distortion. You rarely hear songs that finely balance all the possible elements that once made the goth/industrial/EBM scene so special and distinguishable. There are a lot more interesting things happening in other genres these days.
Kate : It's true we have never tried to fit into any specific category and just enjoy creating audio that blows minds. Looking back on it now, we also never made any conscious efforts to push or promote our work, we just unleashed it onto the internet, free for anyone.
I feel like in the current musical climate, there's a need of some sort to stand on top of a cliff and shout and scream at everyone that you're the greatest shit alive, when we don't really feel that way. If people like it, great, if they pass it along to someone who they think will like it, great also. If people don't like it, we're not going to ram it down their throats until they do.
But Utopia Deleted was a turning point for us, in retrospect, after that it felt like we'd opened the gates to a shitstorm of undiluted inspiration.
A second album was due to be released last year on an American label if I am correct. But that sadly never happened. What went wrong?
Michael : Very long (2 years) story: We got an invitation from Seba to appear on Endzeit Bunkertracks and we sent Black Elektro. The dude went apeshit over the song, and decided to nominate us with two other bands, to join a voting contest, and the winner would get a record deal with Alfa Matrix... Great! But some dudes decided to fuck with the voting system, so the whole deal went off (they changed it to registered voters but it sounds like bullshit to me) and we didn't get the deal. In the meantime, a lady by the name of Rachel Mendelson (A.K.A. Rachel Haywire), owner of a New York based label called machineKunt Records contacted us, stating she would sign us, regardless of the outcome of the contest. We signed the contract, started working, and after three months we sent a master to New York City. It was a relatively easy job for us, because most of the songs were already recorded, but the idea was to introduce us to the U.S. scene, which was booming those days.
What we didn't know back then, is that Mrs Mendelson was a bit of a troublemaker in the American scene; she was in some kind of fight with Terrorfakt, she had huge issues with the production crew of Kinetik Festival, and she constantly drew attention to herself with some kind of virtual stalker. In the meantime, she picked up some interest in the transhumanist movement, and she totally neglected her label and their artists. Big mistake, because she kept us on a leach for two years, and long after the album was supposed to come out, she sent us 50 CDR's of our album, made by some stupid print shop, so yeah, that was a big blow for TRIMETRICK.
Kate: The fact we were sent CDR's of very poor quality was a huge blow, especially after all the effort we put into the production of a supreme sound experience. It was simply unacceptable.
Will this album be released on another label then? Or can we purchase these tracks another way?
Michael : I'm very proud to say that every TRIMETRICK song is online, for free, on http://be.electrobel.org/trimetrick. That's right; TRIMETRICK is a 'Creative Commons' licensed project; you can download all of our songs on high quality 320bps MP3 without getting in trouble with the law, if you need wave versions you can mail trimetrick@telenet.be and i will send you the songs on CD charging only the senders' fee. As a matter of fact, we've been using electrobel since the birth of TRIMETRICK as it is an original and unique concept. I mean, why should a potential audience pay you for a bunch of zeroes'n'ones that produce a soundwave? The medium has no significance, and the artist should not be rewarded for more than it's intellectual property of that very specific instance in time in which he or she or they created that specific collection of melodies and sounds. If you start to think about; it is pure madness that anyone should get rich, or be put on a pedestal for something they claim to be theirs. Did I invent the computer or the synth? Does a painter even bother to make his or her own brushes? All art is connected by time, inspiration and technology from others, and my contribution is infinitely small compared to the whole. That is why I (Michael) am a strong adept to the zeitgeist movement, and I think artists can make a great headstart and set the thing in motion, by simply doing their thing for the benefit of all. So with the help of electrobel, TRIMETRICK is free, for all. Kate and I just have front row tickets, that's all.
My favourite TRIMETRICK track is Black Electro. A fantastic track, combining great harsh electronics with Kate's great vocals.What's the story behind the track ?
Michael : I agree. Black Elektro is TRIMETRICK's best song.
The bassline comes from Emagic Logic's ES2 synth, the theme is made using REFX Vanguard, the church organ is from a Korg, and the beat is designed using stomper. The sound sample comes from the film Silent Hill and the vocal sample is from Quills, a story about Marquis de Sade.
Kate uses two Boss VT1 voice transformers, serially chained; one that voices up 1 semitone at 50 percent and one that voices down, and a small valve preamp. The first version was with a steady 4/4 beat, but the released version has this break in it, and it works.
The lyrics are obviously very anti-religious. I am what they call an 'aggressive atheist': I find the idea of the 'three big' religions; christianity, islam and judaism not only preposterous, but a very big setback in human evolution. There simply is no god, and everyone who beliefs otherwise does not deserve my respect, and is subject to my insult and ridicule. You are wrong, and you should be pointed to this fact.
However, the song does refer to some ritual practices: the white chalk circle, the iron red circle etc. Rituals are often mistaken for religious practices, while in their purest form they don't differ from acts like yoga or meditation. A ritual is the summoning of an idea, or spirit if you will, to the psyche. Black Elektro summons the warrior spirit, the dark creator of man, living in Absu; the Sumerian abyss from where all of life begins.
Kate : Save a few songs, I have written all the lyrics for TRIMETRICK. Black Elektro was one of two songs we co-wrote in a sense. Michael had written a few short sentences about the Absu and after having the idea for the song laying around for months, one day we sat down together and knocked the whole lyric out. I'm a little neurotic when it comes to the rhyming scheme in lyrics and I have a thing for reoccurrence I guess. I liked the idea of the ritualistic symbols being repeated in different stages of the song. We recorded it the same day. I think the final song was the 3rd vocal take and was recorded in one piece. It was an extremely intense experience, my bones were shaking inside my body producing a scream like that. Even now when I hear it I think FUCK IS THAT MY VOICE?
Michael : Yes, the vocal take on the final mix is unedited and has no post-production modifications; in the first two takes I programmed the effects and the necessary de-essing and compressing, and the third take was a go. We used the overdrive of the voice transformers very scarcely, because Kate has a natural grain and grunt from herself.
What about TRIMETRICK on stage. Are there any gigs in the pipeline?
Michael : No. For the moment, TRIMETRICK is a paused project.
Kate : I recently graduated in photography and have had a crazy schedule. Making time has become an issue and my focus is now mainly on my working career. TRIMETRICK is something we both gave our time and effort to gladly, but unfortunately we live in a world where bills have to be paid on time and financial responsibilities hang over us like thunderclouds. We also decided it would be better to cease activity for the time being, until we can give it our undivided attention again, instead of bleeding slowly to death. Michael and I are still close friends though and it isn't out of the question TRIMETRICK will release more songs in the future.
Are you both involved in other projects as well?
Michael : I have a techno project called Quabaal ; it's also a creative commons project, with all of its songs on electrobel.org. I don't think it will ever come close to the madness we created with TRIMETRICK , but I'm having fun with it. My big influences when it comes to techno is stuff like The Delta, Albert Kraner and Deimos etc...
I want to start working with a female vocalist again, but not under the name TRIMETRICK. TRIMETRICK will always be Catherine Jane Robertson and Michael Mampaey.
Kate : I have done a few guest vocals for other bands, like Nebula-H and Herfst. There are a few other collaborations in the making but nothing finite. In the future, I plan to work with Michael on a dark ambient project of my own.
Final word?
Kate : "This above: unto thine own self be true. And it must follow as the night the day, thou canst not then be false to any man." - W. Shakespeare
Thank you both very much for the very interesting answers and good luck with all your future projects!
https://www.facebook.com/pages/Trimetrick/266582759098?fref=ts
Jurgen VANVLASSELAER
28/01/2013
---