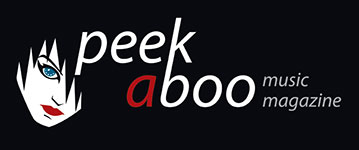 like this interview
---
LIZARD SMILE
I think we succeeded in our aim and brought out a disc that makes a powerful impression in just half an hour.
14/01/2013, Xavier KRUTH
photos: © Marquis(pi)X
---
Lizard Smile will be playing on January 18th on the sixth Dark Entries Night in Kinky Star, together with Keiki. Those who already have seen the band live know that they sound very convincing. What's more, they're carrying a brand-new cd with five strong songs under the arm: 'State of Void'.
'State of Void' is your third cd. It has turned out to be a mini-cd with five songs. Are you happy with the result?
Albi: For sure. They were the first songs after 'Wayward' and we really didn't want to keep them hidden for humanity. Or better: we had to do something with them.
Strobo: 'State of Void' is the result of three factors: we didn't want to put to much time between this and the former release ('Wayward'), we were extremely critical in the writing process and the selection of the new songs and we worked very hard on the recording. I think we succeeded in our aim and brought out a disc that makes a powerful impression in just half an hour.
Beatnick: By making a short cd, we hoped to have a finished product out much sooner.
For this cd, you worked with a professional studio. That's not an easy option in a time where studios are very expensive. Why did you choose to do it this way?
Strobo: It's funny that you ask the question in such a way. For our previous cd also, we recorded in the same studio. Back then we did this only for the voice, now we did voice and guitar. If you are striving for the best possible sound, you cannot easily go without a studio. For instance, you can use microphones there that you would never be able to pay by yourself.
Beatnick: In the studio, we record only the analogue sounds. We can deliver the digital sounds ourselves and they form the bulk of the song. The advantage is that the studio than makes up an own mix that makes it sound fresh to us also. The disadvantage is that it takes more time.
You exist since 1995. How did it all start?
Strobo: Regular readers of Dark Entries (and Peek-a-boo) will know that it all started when Albi and I leaved our first band 'This Vale of Tears'…
Beatnick: After their departure they wrote a number of instrumental songs together and then went looking for a singer. I could find myself in the songs and so we tried it out for a while. It seems to have worked out.
If I have got it right, you are playing since 17 years in the same line-up. That's a long time. How come you endured so long?
Strobo: It sounds cliché, but after a while a band forms an own identity, apart from its members. It becomes a way to work, a way to instinctively deal with sounds and patterns in a group. If you have the feeling that you grow into this, then you want to carry on.
Albi: And of course good characteristics, great personalities and our immeasurable love for music.
Your CDs have always been released through your own label: Reptile Records. Why did you choose to do it this way?
Strobo: I can't remember that we ever considered another option. It looked evident to us to do everything ourselves. Very Punk.
There have always been large intervals between the CDs. Moreover, the mini-cd was already announced some while ago. Is this the price for combining work and music?
Strobo: It is certainly related to that. And to the fact that we take our time to let the songs grow. You say that we are going for 17 years - I had lost the count myself - but that means that for 17 years we've been coming together to work at songs, record them, mix them, to provide them with good artwork… It doesn't go that fast, but we are working on it continually.
Albi: It has to be good when you release it. Songs grow when you play them. Some bands bring out CDs with 16 songs and you think: 2 are great or even hits, 5 are rip-offs of these hits and 9 are total upper crap. I feel cheated that way. That cd will be shelved much faster. I prefer 5 or 10 good songs, and waiting a bit longer until the next release.
'Kitchen Floor' is a reference to a song on the first cd. Your music has always remained coherent. Do you feel you remained true to the initial drives?
Strobo: If you mean initial drives to have groupies or play the rock star, I think that we evolved a bit. If you mean our music, then I think we have been loyal to our way of working.
Beatnick: As a musician, you hope to trigger the same feeling that you have when you listen to your favourite songs. That has always been the main drive for me, and I think also for the others?
Where do you find inspiration for the lyrics?
Beatnick: The content of the lyrics is always based on the colour and atmosphere of the song. It's mostly a stream-of consciousness happening. When I look at the songs of 'State of Void', I notice that they enter upon pretty depressing subjects. They're almost always subjects where I'm at odds with and it is a way to express that underlying feeling, because I'm not often an open book outside of that. Anyway, I take the content of the lyrics very seriously.
The goth-scene in Belgium is going through a crisis. More than ever, it's seems impossible to live of your music, and even organising gigs seems to be difficult. How do you think this will evolve?
Albi: No idea. We are all getting older, having other priorities. Many 'black coats' now chose for a house, wife and kids. That doesn't make it easy to go to every gig or party. You have to make choices and that's not always easy. The general economical crisis will also be a factor. People are saving money by not going to parties and concerts.
Every scene has its ups and downs, or disappears out of the spotlight to reappear later on. Who had thought that there would be a goth-revival in the nineties? To say it like a song of the Merry thoughts: 'We are the second generation', and I'm damn proud of it.
Strobo: In general, you can say that the demand for gigs is growing because of the diminishing record sales. Music has to be 'consumed' live. On the other hand, the goth scene offers less attractive bills with the same bands often coming back and mainly electronic acts.
Beatnick: Everything has a beginning and an end. This may be the end of the scene as we have known it. Though I am convinced that central elements of goth will never disappear. It is visually and intrinsically to strong and will always be reborn.
Lizard Smile has it's own sound and certainly didn't copy anyone. I wonder who you'd sum op as influences?
Albi: Yes, the influence-question. I was waiting for it. I listen to various genres and pic up things here and there that can be reborn in a song. Sometimes it works, sometimes not. But to avoid any speculation: Lacrimosa, Goethes Erben, Das Ich, Rihanna, Lady Gaga, Coldplay (yawn), De Strangers (though…) and Heino are certainly not.
Strobo: You don't like Rihanna?
Beatnick: I think it's strange that the great names in our genre are seldom mentioned when it comes to our influences, even though we included many references to them in our songs. But probably we are transforming it enough into our own stuff.
And what do you certainly want to make true with Lizard Smile?
Albi: Conquer the world?
Strobo: Once, I think it was in 2005, we let down the possibility to play in CBGB in New York. It's to late for that place now, but I'd like to see us perform in the Big Apple.
Beatnick: I'd like to raise our average number of releases per decennium a bit.
Xavier KRUTH
14/01/2013
---