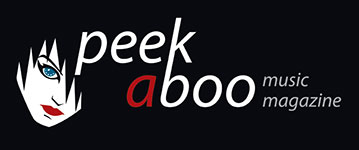 like this interview
---
HENKE
''the younger siblings of Goethes Erben''
07/01/2013, Ward DE PRINS
---
HENKE, the band fronted by Oswald Henke (Goethes Erben), will perform together with Aroma di Amore & Dark Poem on the 6th of April in Antwerp. A perfect opportunity to talk with these gentlemen. Despite our predilection for German, the language in which HENKE creates & performs, we did this interview in English, the standard language of peek-a-boo.
Can you introduce the band HENKE to us?
Benni: HENKE is a five piece band from Germany, fronted by ex-Goethes Erben mastermind Oswald Henke. We play a mixture of alternative, rock and gothic music that we call "Dark Alternative Music". The press named us "the younger siblings of Goethes Erben", but in contrast to Goethes Erben, HENKE is a band of five musicians that also present themselves as a group of five. Each one is contributing his part to the conglomerate and is involved in writing and producing the music. But nevertheless, Erben-classics find their way into our live-set too!
To Oswald: within Goethes Erben, theatre, dance, experiment & music were often combined to create a unique sound, but also very intriguing stage performances. Why did you choose for a new band name?
Oswald: HENKE is a music group, Goethes Erben was a music drama project. HENKE is a creative reboot away from acting but still very experimental, even with regard to the stage show.
With HENKE, it seems to me you work on a similar basis as GE (except for the dance), but with a more intense musical approach. Correct interpretation?
Oswald: HENKE ist a band with five creative minds, Goethes Erben were Mindy Kumbalek and I. HENKE is much more music because we are a band who wants to create songs and not music drama.
On stage, HENKE is a very cohesive band. The tight rhythm using drums & bass, intense guitars and marvelous synthesizers blend perfectly with the lyrics and vocals of Oswald. It feels as if like you guys are playing together since decades. I suppose that is the result of an intense preparation for each tour?
Benni: Thank you!;-) You are right! As we have not been playing together for decades yet, we really have to prepare intensely for each tour. Prior to our "Maskenball der Nackten" tour, we will be meeting up in our hometown for several rehearsal-weekends. Half of the band lives in Berlin or Munich so this means a lot of effort. But we are always looking forward to seeing each other again and playing the new songs together, so that the excitement for the tour increases each time.
The lyrics are always in German. This gives it the unique Henke approach, but it must also be some sort of a handicap since not everyone understands German. You never thought about singing in English?
Oswald: No, I think in German, I dream in German and I feel in German, so I have to write the lyrics in German.
On your first album "Seelenfütterung" you protested a lot, very explicitly in the song "Ich protestiere" but also in other songs. Do you feel the urge to make people aware about the negative aspects of the consumption society, about the lack of critical approach? (or is this just my personal interpretation)
Oswald: Art is the conscience of a society. Protest is one way to speak about abuses and injustices and it is also a way of making the people think about these problems. I´m convinced that we are living in a decade of change - all over the world social structures are changing, I also think that in Europe many things must change so that Europe can survive.
Now & then, you do a cover of a great classic. I remember the intense version of Sitz der Gnade (The Mercy Seat, Nick Cave) & lately also Helden (Heroes, Bowie). Do you have a special bond with those songs? Did you get a reaction from Nick Cave or David Bowie?
Oswald: No, we got no reaction from Nick Cave or David Bowie. These two songs could be translated into German easily, and for "Heroes" there is already a German version of the lyrics. The songs themselves are a part of my youth and the themes of the lyrics represent my views.
Any other cover we may except in the future?
Oswald: No, not at the moment.
You have been recording the new album "Maskenball der Nackten" in the 2nd half of 2012 – what can you tell us about it ?
Benni: "Maskenball der Nackten" is more diverse and more intriguing, but at the same time more cohesive than its predecessor. It's pretty obvious how the band has grown within the last year of working together and we're quite proud of that. For us, each of the twelve songs is a big step forward. We were trying lots of new things in the production process, like moving to an ex-mill in a German low mountain range and to a farm in East Frisia for writing and recording the songs and not to forget, of course, our support action based on the common crowdfunding principle, but adapted to the HENKE principle.;-). And here's the third innovation: We decided to leave our former label and do it ourselves. Fortunately, there were friends that liked this idea and offered their help. Now "Dryland Records" is born and ready to set the scene! All in all "Maskenball der Nackten" is a huge gain for HENKE.
You have realized this album with the support of fans. This becomes more & more the only way for underground/alternative artists to publish a new album. How did it work out for you. I guess you have quite a large fan base.
Benni: We were not using a common crowdfunding platform, but decided to do it by ourselves. On our website we offered a number of packages that our fans could buy. These packages ranged from a CD-preorder to a visit in the studio while we were recording the album, or even the possibility to purchase the rough demo versions of every single album-song by auction (the highest bidders are going to be named right beside "their" song in our album-booklet). All in all the support of our fans was overwhelming and so we were able to finance the album and thereby staying completely independent of any label. And that was much more than we would have expected.
In 2012, you toured with Coma Divine (with Sonja Kraushofer & Ashley from Whispers in The Shadows). Did you know each other already prior to this tour? How was this tour to you?
Oswald: I have known Sonja as an artist for a long time. Many years ago we played together on a festival tour together with L'Âme Immortelle and Goethes Erben. Two years ago, I worked with Sonja for an Artwork show on the WGT, then I heard from her new band Coma Divine. Benni and I saw one of their first live shows on the Mera Luna Festival, and after the show we asked them, if they were interested in doing a tour together with HENKE. The idea was to achieve more together than alone, and this plan succeeded. We share the technical crew and the nightliner and each group plays a complete live set. Coma Divine was not a support act, both groups had equal rights.
You will be touring Germany & Belgium in spring this year. Nowadays, it seems to be hard for organizers & bands to have sufficient visitors to make it profitable. In Belgium, we even had quite some gigs & festivals cancelled due to the lack of sufficient presales. As I understand, this phenomenon is global, often referred to the financial crisis as a cause, although I also think people are going out less (perhaps due to age) I guess this is the same in Germany? Can you do something as a band?
Oswald: The most important thing is not to rely on others but to do something yourself/be the active part yourself. It´s difficult to reach people only by normal promotion, you have to do everything possible to reach the people. You can listen to our new single "Zeitmemory" on youtube, weeks before the cd will be released. We sent this song to many internet-radio shows and also local radio stations, perhaps some will play the song in their shows. We print posters, but many promoters do not rely on the posters, because they think it doesn't reach the people. That's wrong, you reach less people than before, but you reach people. If you do nothing, you can´t reach the people, the promotion must be widespread, not only via facebook or mailings. We are willing to do meet and greets, promotors can offer this for example to a promotion partner. We give everyone an interview who is interested. We inform our fan base through our HENKE blog (www.henkeband.de) or via facebook.
What can we expect from your gig in Antwerp, in April 2013 ?
Oswald: In Antwerp, we will play more songs from Goethes Erben in our live set than in the concerts in Germany. So there will be many moments of remembrance for the people who know the songs from Goethes Erben, but we will also intruduce us as the band HENKE with the new songs from the HENKE album "Maskenball der Nackten" !
THANK YOU FOR THE INTERVIEW! :-)
We thank you for this nice interview & look forward to your gig in Antwerp, the 6th of April !
[ Questions by Philip Van Muylem, Didier Becu & Ward De Prins ]
Ward DE PRINS
07/01/2013
---