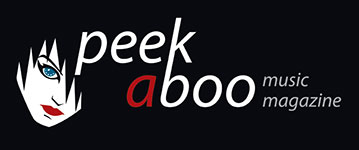 like this interview
---
7JK
I like the focus that such restrictions bring, and changing the limitations helps keep you varied and interesting as an artist.
11/12/2012, Chris KONINGS
photos: © Marcin Wiktorski
---
Currently I'm listening a lot to the first album of 7JK, a collaboration between Job Karma and Sieben (Matt Howden). It's not yet finished but I can tell you it reminds me a lot of post industrial bands like Coil. Matt's accent is only partly responsible for that, the eerie sounds and fresh approach to music and lyrics are other reasons. More on that soon!
Since both bands will play at Bimfest, I thought to add a few questions to Kurt Ingels his interview for Dark Entries. You can find that one here, it's in dutch however. So only a small interview here, but that does not mean we should keep it from you!
Hi Matt, a quick one, let's just say we will let the music speak for itself.
Hi there Chris, Matt here. Am happy to answer any questions.

"Dear Claire" reminds me a lot of Coil... very quirky and mournful, what's the story behind that song?

Its a quirky one indeed (laughs). It started life with a working title of "Reading from the wrong piece of paper at your wedding day speech" and had an extra verse that resolved the song in actually quite a comedy way- but as always with work in progress, it took a life of its own and went a slightly more sombre direction.

'47 Words For Sheffield' sounds intriguing, why the 47 words?

Why not? (laughs) I suppose I had Kate Bush's 50 Words For Snow, in mind, as a passing reference. But I think I also decided on the title before I actually filled in the blanks and found 47 appropriate words for my hometown. I make my students (I teach in a local college) do this an a lyric exercise; write 47 words for their hometown (or place that means something to them) and tell them that they don't have to worry about linking words or sentences that make it make sense, simply find 47 words; and in fact that the words they choose can themselves appear as verbs, adjectives or reveal truths about their feelings for the place. I use it to try and unlock a more poetic approach to words as lyrics, or at least more consideration of this aspect of the power of words.

Did living and growing up in Sheffield influence your music and how?

I can't judge, because I've only lived this life, and not another in another place. Which I know isn't a very helpful answer, but... ;) I would guess quite a bit. Places and landscapes certainly seep into my consciousness, for sure, and have influenced my work.
The moors and countryside around Sheffield are inspiring; the city is industrial and has equally seeped into me. Add to this that in fact one of the main reasons I came to Sheffield in the first place was bands; bands such as Clock DVA, Cabaret Voltaire etcetera.
You teach in a local college, what do you teach?
I teach various things; Composition, Arrangement and Studio production with our one-year students; and an entry-level course for people who want to perform. Here, I train them in breathing, relaxation and vocal exercises, a little bit of inspiration for writing, and some techniques for giving a good performance.

My wife is also a teacher, when I see her workload, I can't imagine her having time for making music and doing gigs.
I work hard, that's for sure! ;)

The lyrical exercises you give your students, do you sometimes use them for yourself and your musical approach?
Ooh yes- I have always found 'pleasant rules' to apply to my work, to focus my writing. This can be simply trying to write within the boundaries of what one person and a loop pedal can do on stage; or writing an album with a particular theme.

Giving yourself such limitations could result in more creative solutions.
Indeed- I like the focus that such restrictions bring, and changing the limitations helps keep you varied and interesting as an artist; certainly that's how it feels for me, anyway.

Is that also one of the reasons you work primarily with loops and your violin?
It is- though this brings restrictions, there are just so many notes, noises, melodies, words and ideas out there in the world that there are more than enough for what I do :)

Any last words for our readers?
Greetings to you :) Hope to see some of you at Bimfest this weekend, where I'll be performing with my new band 7JK. Lookign forward to seeing all the other bands there too, particularly Peter Hook & the Light.
Thanks a lot for the interview! When I see you I'll say hi!
Chris KONINGS
11/12/2012
---