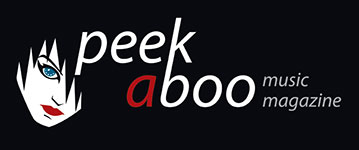 like this interview
---
CRONOS TITAN
Yes, religion means a lot to us.And we also feel that it's a great topic, especially since a lot of other bands in the scene deal with more dark and evil themes.
10/11/2012, Jurgen VANVLASSELAER
---
Earlier this year CRONOS TITAN released an excellent compilation which gave us a great overview of CRONOS TITAN's earlier work.That compilation was apparentely the trigger to start working on a new album again, which will be released in a few weeks.We thought it was the perfect time to have a little chat with the very friendly Norwegians.
Welcome guys. Can you give us a little introduction to CRONOS TITAN?
We're two guys, Pr3ben Bjønnes (from Chinese Detectives and Posh) and Per-Aksel Lundgreen (from Apoptygma Berzerk, Angst Pop and Chinese Detectives) from Norway that released a couple of industrial records in the mid 90's and now for the first time in 17 years, we're collaborating again. Now, we have finished a new album called Titans Remain! It will be released on Emmo.Biz Records later this year. Our two first records, Brides Of Christ and The Gregoraveian EP is long out of print, but all the songs + 7 unreleased tracks are available on the compilation 2xCD Total Titan! that came out earlier this year. This compilation spawned the idea of working together again, and a couple of gigs really got us excited, and here we are! One of the gigs was also our first gig in Germany, and it was at the NCN Festival in Leipzig, in september this year.
CRONOS TITAN is a mythological figure. Does this mean you are interested in mythology ? And why did you choose this particular name?
We're both interested in mythology and religion in general, but the name was not chosen because of this. There's a chemical factory plant in Frxta, close to where we live, called Kronos Titan, and this was the inspiration for the band name, since it's both industrial and linked to mythology. We just changed the first letter to a C not to be confused with the factory, as well as the fact that it's written with a C in english.
The last CRONOS TITAN EP was released in 1996.What made you start making music again after so many years?
The re-release of our old tracks on the Total Titan! 2xCD spawned the seed and the interest to pick up the instruments again, combined with the fact that we realized that we actually had a lot of support around the world and people hoping and waiting for a new album. So, when we first started talking again about this, we planned to have just a few concerts. We soon found out how much fun we had, so we wanted to take it further. Also, Pr3ben had bought new studio equipment because he was gonna make filmmusic for his new movie. It was also easier and more manageable to do electronic music today, than it was 17 years ago, and we wanted to explore the new possiblities.
Per-Aksel , you were in the original line up of Apoptygma Berzerk, but you left after the first album Soli Deo Gloria. Why? Did you ever regret leaving?
Well, both yes and no... What happened back then is ancient history now, and Stephan (Groth) and I are great friends today and collaborate on many levels, and I am really happy for all his success. Without me leaving, there would be no CRONOS TITAN or CHINESE DETECTIVES, two projects that I'm really happy for and proud of, so it's really a win-win situation.
Back to CRONOS TITAN, I heard snippets of the new album and was pretty impressed I have to say. How happy are you with it?
We are very very happy with the new album, and we think that both you and our fans from the 90's will be satisfied. We've followed the old recipe, true to our believes and musical roots, but of course updated to the sound of 2012. We think we have explored the sound pallet and reached a new level.
There are a lot of religious connotations and references in your songs. Is religion an important thing in your lives or is it just a great subject to write about?
Yes, religion means a lot to us, and we also feel that it's a great topic, especially since a lot of other bands in the scene deal with more dark and evil themes. We present a story with an open canvas, and we let the listener come to his or hers own conclusions. What we basically want, is that everybody who hears this to evaluate what they really believe in.
Your debut was released in 1995. The new album will be released in 2012. That's a technical gap of 17 years. Was there a big difference in the creating process?
Yes, you betcha! It's much easier today to accomplish the sound we want, but on the other hand it's more complex because you have too many choices, so it's easier that way to get lost in all the sounds and loose the original idea. The recording process is also more swift today, and there are no midi-hick-ups, and no hadware failure, and we can also swap ideas instantly online.
Was it more fun making this album then the one in 1995?
It is as fun as it ever was, because we never consider this to be work, and we feel privileged that we have an audience and the support of a record-label. But we only make music for ourselves in the first place, and if it later turns out that others like it, then great! Moreover, this time around, 17 years of inspiration was bubbling immedately, and we're of course different people today than back then. Having said that, the core of CRONOS TITAN, is the same. As the old saying goes; The more things change, the more they stay the same.
Is it the intention to play live with the new album?
We did some great gigs back in the 90's with Frontline Assembly and Die Krupps, and also as saturday headliners at the Whalestock Festival, as well as smaller gigs. We already played 3 gigs in 2012, and performing new material at two of them, so yes, we have all intentions of touring the new album, as well as hopefully performing some of our old material to a new audience for the first time. We hope to play as many venues as possible, both home and abroad.
Let's have a look at your sideprojects. You were both members of CHINESE DETECTIVES, Per Aksel was in ANGST POP and Preben you were in DEFCON 4 and POSH.Can you give us a little update on them or are they all dead and buried ?
We will release a 2xCD compilation with CHINESE DETECTIVES next year, entitled A Complete Background Check, including all the back-catalogue, some unreleased demo-versions, mixes etc + a couple of newly recorded songs that we hope will satisfy our fans. The newly recorded songs will feature the 3 original members, Pr3ben, Per Aksel and Desirée.
Regarding ANGST POP, an EP on vinyl 12" and CD was released earlier this year called Ødipus Rex 2012, and all back-catalogue material + demos and remixes was included here. No plans for any new releases with ANGST POP, but remix and production work for other artists will be done under this alias.
POSH released a synth-pop album on CD in 1999, called In Vanity We Trust , and POSH is 2/3 of CHINESE DETECTIVES, i.e. Preben and Desirée, and this album was released digitally just last week, so check it out! No other plans for this project either at the moment, but you'll never know.
Referring to DEFCON 4, funny you should mention it, because we're just in the process of going through our archives, and we've so far uncovered 6 unreleased tracks, and we're currently working on finding a label to release an EP with the 3 previously released songs and the unreleased material. Hopefully this will be out early next year.
Pr3ben has a couple of projects that has unreleased material, this is Akira Detour, an indie-pop band with an electronic edge, that was done together with Ted Skogman, drummer in Apoptygma Berzerk. The other one, also done with Ted Skogman, called Gods & Pioneers, is a project of more filmatic nature with an electronic soundscape. Both these projects will be released digitally late this year or early next year.
What's on the CRONOS TITAN agenda for the next couple of months?
First of all, we need to get the new album out and promote it, and to get some gigs scheduled. We're also on the lookout for a good management that can help us secure more gigs and do some marketing for us. We also hope to do a support tour for one of the bigger bands in the scene, we've already got a couple of feelers out, but we're open to suggestions. We want to gig as much as possible, and when time is right and inspiration is there, we'll start recording more material and do remixes.
A final word to our readers?
First of all, we want to thank our fans for being there! Without them, we are nothing, and quite frankly, we didn't know that people out there waited for us and hoped for more releases, but thanks to Facebook and modern technology, we were made aware of this. Secondly, we hope that our new album will please the audience as much as it has pleased us making it!
Thanks for having us; Pr3ben & Per Aksel :D
Thank you very much for your answers and all the best with CRONOS TITAN and the other projects!
Jurgen VANVLASSELAER
10/11/2012
---