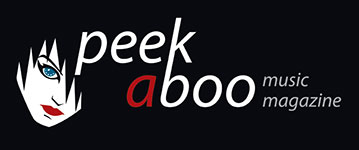 like this interview
---
RESIST CONCEPT
I mostly write about the things that affect me in my life. It's not like all of our lives are filled with angels and butterflies.We all have a dark side and i choose to explore that side of my psyche.
06/10/2012, Jurgen VANVLASSELAER
---
One of my favourite tracks of the last couple of weeks is JAdeD from US outfit RESIST CONCEPT. An oldschool electro masterpiece including a fabulous videoclip. As he is working on his first official release,we thought it was a good idea to have a chat with the man behind the project : Richard Descent.
Welcome Richard. Can you give us a little introduction to Resist Concept?
Hi Jürgen. RESIST CONCEPT started around 2004, everything is done by me; from creation, production, to release
Where does the name come from? What's the philosophy behind it?
The only real meaning behind RESIST CONCEPT is to think for one's self.
When I listen to your songs , I hear the oldschool Leaether Strip , Skinny Puppy, some X-Marks The Pedwalk ,etc.. I presume they were, and still are, a big influence for RESIST CONCEPT.
X-MTP, Leaether Strip, and Puppy are my favorite bands in the industrial scene, but my influences are all over the place. Slayer, The Dwarves, Alice In Chains, Black Sabbath, Pink Floyd, Mike Patton... really anything good and at least sprinkled with a little demon dust!
Your lyrics are quite dark , songtitels as Infection, Waste , Hated etc. tell you that straight away. Can you tell us something about them ?
I like to play with words or phrases and take them into experimental realms more than just tell a story. I try to let the listener create their own story when they listen to the music. I mostly write about the things that affect me, in my life. It's not like all of our lives are filled with angels and butterflies. We all have a dark side and I choose to explore that side of my psyche. The songs reflect on addiction, pain, loss of faith, political corruption, mental breakdowns, serial killers. So yeah, I guess it's pretty dark subject matter, but it's always therapeutic to get the demons out somehow.
Another plus in your tracks are the vocals, Trent Reznor meets good old Claus Larsen from Leaether Strip. I like the fact that you don't hide it behind tons of distortion, like so many bands do these days.
Thank you very much for the compliment :) I don't feel the need to over process my voice with pitch shifters and distortion. I use effects where I feel they help the song overall.
Last year your debut Defect was released as a digital only album if I am correct. As a non-downloader, any chances to purchase this in CD format? ;-)
Defekt was a collection of songs recorded from 2004-2010. I stopped working on RESIST CONCEPT between 2010-2011 and had joined another band in New Orleans. When that band broke up I revisited those tracks and thought they should have some sort of release. It's really more like an ep of demos and outtakes. Some of the songs will probably see a physical release in the future, but I highly doubt Defect will be revisited fully.
You're signed to Scarecrow Records now, so I presume a new album is in the pipeline?
Yes, I'm working on the first official RESIST CONCEPT album now, and it will be released through Scarecrow Records, hopefully by the end of 2012.
Do you play live as well ? Is it just you on stage ? What can people expect at a RESIST CONCEPT gig?
Live gigs are something that will happen in the future with Resist Concept.I love playing on stage, and have lots of ideas on how to make it a dark psychedelic live show. No, I would never like the idea of playing on stage alone; I feel that is one thing the "industrial" scene lacks at times is live shows.
I recently discovered the fantastic track JAdeD , a 7 minute masterpiece imho including a brilliant videoclip a la Tim Burton. Can you tell us something about it?
Thank you! JAdeD is a track I wrote around 2009. Lyrically it explores the dark fears of the human psyche. It was released on the Defekt album in demo form, and will see an update for the debut album. The video on youtube was a fan made video, but I thought it fit the song really well.
Are you in other projects besides RESIST CONCEPT?
I help with production on a project called suniC with Darrell Allen, and do programming / production with Rayne Black in False Flag Project. Keep an eye open for Justin Ogle's project GLOQ as well, all to be released through Scarecrow Records.
You are from California. How is the scene there nowadays? Any interesting bands that we have to keep an eye on?
Actually I was born and raised in a very small town in the southern part of the USA, the same town as Robert Johnson [blues legend famous for selling his soul to the devil] ,maybe that's where the darkness comes from? haha! I moved a good bit. Lived in a few different places in Cali, Das Bunker is a killer club.Keep an eye out for everything that comes out of DSBP, and always listen to CYBERAGE Radio Saturday Nights if you are looking for fresh sounds in this scene...
What's on the RESIST CONCEPT agenda the next following weeks / months ?
In the next few months I'll be getting this album finished up, and then I'll be working on the finishing touches on the suniC, and False Flag releases.
A final message to our readers ?
Keep the scene alive, and support the artists!
Thank you Richard and all the best with RESIST CONCEPT!
Jurgen VANVLASSELAER
06/10/2012
---