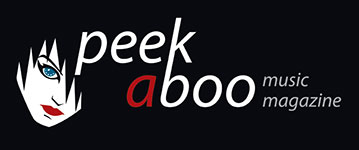 like this interview
---
SIMI NAH
I am very lunatic and I like to follow my instincts, the way I look & dress is also a part of it. But I never take it too seriously!
20/09/2012, Fred GADGET
---
When your manager presented me your album '5' earlier this year, I have to be honest, I'd never heard of Simi Nah as a band before… The name did ring a bell because I used to be a Lords Of Acid/Praga Khan 'follower' from their early existence… Why did you decide to start your own project?
First of all, I used to be bass player with Praga Khan, but not with Lords of Acid, and this since 1998. I always had solo projects, what I mean with "solo" is actually in "duo" with my partner in crime Kenny. Our first project together was "COMA" in 1997, and it's only in 2003 that I decided to start my own. We just reverse the roles; in Coma, Kenny fronts and I play the bass, in "Simi Nah", I sing and Kenny does the rest! "Simi Nah" is a perfect way for me to express all kinds of emotions, something impossible when I play with other bands.
Now I found out your solo project has been around for quite a while, though sadly it never reached me and many others too I believe … Are you aware of that, I mean the fact that many people (In Flanders?) still didn't hear about you after all those releases and years of existence? Even when you played the renowed Mark Rock Festival already in 2004!?
Mmmmm.... I wish I had the answer to this question ! Wrong time? wrong place? I don't know !! It is not always easy for a French girl, who speaks English, lives in the Flemish part of the country, to be recognized by one or both parts of Belgium ! So I guess it had something to do with that? We had great reactions on our first album in the UK with a 3 months airplay in a row on BBC1! :-)


One of the songs on your new album is called 'R&B (Rubis & Bikini)' that luckily enough doesn't sound like R&B but a nice danceable poppy electro-clash tune. Still the video looks, at first glance, like a real R&B music video… I guess you wanted to make a statement with this song?
R&B is of course a parody to R&B attitude! Rubis means ruby's in English, it is just a funny way to describe those girls who are dancing half naked on R&B music, covered by jewellery and only wearing Bikinis!!! :-D
The whole concept of our new album is actually a "clin d'oeil" to the "new stars generation", fashion, etc... With a fine touch of respect for Coco Chanel of course, who I admire!
The video of R&B is supposed to look like a real R&B music video... I like to confuse people, but when you have a good look at it, you will see it's just a joke! ;-)
I think 'hate' is the worst of the many ugly human characteristics … so tell us what the song 'Bride in Black' is about and who she wants to die and why?
Once again, in fashion, a show always ends with the dress of the bride. Nice dress, happy ending, everyone's happy.... In my show, the bride is dressed in black, and instead of a happy ending, she kills her husband while they just got married! And then we go into a romantic tragic gothic story of mine and my fantasy takes over. Pure fiction, no reason, just having a bride ending the show! Originally it was supposed to be the last song of the album, but we ended it with another tragic track "100 visages".
You are also interested in art and fashion, do you (still) have ambitions in those directions or do you try/plan to combine them all in Simi Nah, the band?
Now that I explained all this above, I suppose you understand that I am not into modern fashion, the one that tells you what to wear, how and when. I like fashion as it used to be, the time of Coco Chanel for example, but our materialistic system made an industry out of art and fashion, I find it less attractive! I still design unique models for people, but I have no intention to get commercial in that direction. I prefer to use the emotions in my music!
Judging by the pictures on your website you've gone through a lot of transformations since your musical career started… From a pitch black dressed pale make-up Gothic Queen into an in latex strapped dominatrix and today … a classy Egyptian Cleopatra look? Do these transformations also represent a certain time frame and life style in your life? Or was it just marketing behind it?
Marketing purpose? No, not my style :-) Timeline? Probably ! Let's say that mother nature helped me on that one.... ! Just following my feelings on the moment, I am very lunatic and I like to follow my instincts, the way I look & dress is also a part of it. But I never take it too seriously!!! ;-)
In 2004 you released an album called 'Cherchez La Femme' with some cover versions, amongst them 'Alice' from the Sister Of Mercy… Are you a fan? And what other music/bands do you like?
The album "Cherchez la Femme" contains 3 covers and 10 original tracks. Alice is one of the covers; I named my daughter after this song, and I covered it for the same reason !
A lot of our influences come from the 80's, to name a few, from France : Trisomie 21, Jad Wio, Taxi Girl, Martin Dupont, Serge Gainsbourg, Mylène Farmer, Baroque Bordello, etc.
And of course : the Sister Of Mercy, Bauhaus, Fad Gadget, The Cure, Joy Division, Anne Clark, Killing Joke, OMD, Virgin Prunes, The Stooges,... how many pages do you have for this interview ? :-)
I personally enjoyed your performance when you supported OMD in Antwerp this summer, although it missed some dB's and some more energy on stage… Where you aware of this and can you promise us you will kick ass on the BIMFEST 2012 stage? What can we expect? Alice?
dB's are unfortunately something we couldn't control from the stage, and that's the risk when you play support act :-( But as I heard, it was louder after 2 songs! (I know nothing, Ed.). Opening for OMD was fun despite the technical issues. BIMFEST is going to be different, a definitely more alternative set, and as you said we going to kick some!! You can expect Alice... on stage, next to me :-D and for the cover '"Alice".... let's keep it a surprise for the 15th December !!!
Fred GADGET
20/09/2012
---