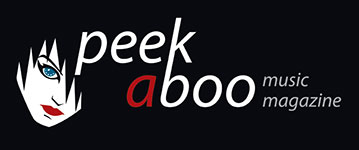 like this interview
---
SIMI NAH
I've been looking for the woman inside of me since 2004 and I haven't found it yet, so maybe I will in 2016!
10/12/2015, Benny CALUWE
photos: © Marquis(pi)X
---
Simi Nah has a new album out, named Bootleg, so another good reason for Peek-A-Boo to have a chat with the ever charming singer.

Dear Simi, you recently released Bootleg. What was the idea behind this release? And why only 100 copies?
We released our first album in 2004 and that was pretty much 80s orientated, we had difficulties to find a label because it was "too gothic" or "too new wave"! Then Jo Casters (Poesie Noire) released it on the label Mostiko. We recently had a lot of demand for this album, but unfortunately it's not available anymore. With the revival of the last years, I wanted to give people the chance to discover what we did in the past, as many thought Be my Guest was our first release! Because those songs already were published, it was a little bit complicated to re-release them in a more official way (I hate paper work!!), so we decided to make a bootleg of reworked versions, and 100 copies was just ideal for the demand.

On Bootleg a few tracks (especially L'Ange Je) reminds me of Mylène Farmer. Did you ever hear that before? It is meant as a compliment. You might not expect it, but personally I'm a fan.
Well, I've been told many times and yes, looking backwards, I do realize there is much Mylène in that track. Not that I wanted it that way, it just became like this during the production. Safyée was very young at the time, and she already participated by singing backing vocals on L'Ange Je with her innocent voice. This song is about a female vampire who looks like an angel.... as in reality!
Recently your daughter Safyée left the band. Is she involved in another musical project or is there another reason fort he breakup?
Oh, I could never talk about a breakup with Safyée ! She is my flesh and blood, we will never break up! She just has other plans in life, music is a part of her plans, I guess, and I fully support her. It was already magical to be able to share the stage and adventures with my own daughter, not many can write this in the book of their life!
Does Sayfée remain a live member of Simi Nah? Or will she only return as a guest?
It's up to her, depending on her future projects. For the moment I will continue as a duo with Kenny, but the idea of having Safyée with us from time to time is an absolute option.
After a successful Be My Guest show in St.-Niklaas earlier this year, you recently had a second edition in Retie. How did you experience that performance?
It was so different, which is very strange, because basically it was the same concept. We had lots of fun, especially for me, being able to play some bass this time.
This time some people who weren't involved on the album, such as Dirk Vreys (The obsCURE), Gerd Van Geel (The Arch) and Peter Slabbynck (Ex-RZ) joined you on stage as well. How did those collaborations came? Are they a possible indication for a second Be My Guest album?
For this second edition, we wanted something new; new tracks, new guests, that's mainly the reason we asked more friends to join us and Dirk Ivens who couldn't make it the first time. So, all together, it was almost a new show! A second Be my Guest? No, not for the moment. I want to concentrate on my own music and songs right now. It usually takes us a year to come up with a new album, so time is very precious.
On Bootleg there are also 2 covers (Taxi Girl and The Sisters Of Mercy). I'm not always keen on covers, but I never had a problem with your cover versions and I really liked the Be My Guest album. What's your secret in order to make a great cover?
When I was young, I used to cover many songs of my favorite bands, just like everyone who begins with music, I guess! With the years, covers became more a way to express nostalgia and bring back those sweet and sad memories. Music and perfumes are the best way to wake up senses in your brain. I suppose the mix of the original track, our mental state and feelings, result in what you kindly call a great cover!
Soon you'll perform in Valencia. Is it your first live show in Spain? Are there any other gigs planned?
Hahaha, funny that you mention it, because Spain is actually the place where I perform my first concert ever! It was in Gerona with one of my first bands, The Chicks, with Laurence Castelain on vocals (who now is involved in one of Kenny's first bands in the 80s, Flesh & Fell). So you see, it's a very very small world. So Spain, here I come again!!! We are looking for new gigs in 2016, you will be the first to know!

2015 has almost reached its end. How do you look back on 2015 and what are the goals for 2016?
2015 was a nice continuation of 2014, because we gained nice attention from people and press all over the globe. But it was also time to turn the page with Be My Guest, that took almost two years of preparation, recordings, release etc… 2016 will be a year of reflection for me. I want to release new songs, try to reveal myself the way I am... I've been looking for the woman inside of me since 2004 (Cherchez La Femme) and I haven't found it yet, so maybe I will in 2016!
Benny CALUWE
10/12/2015
---
Simi Nah heeft een nieuw (nou ja) album uit, genaamd Bootleg, opnieuw een goede reden voor Peek-A-Boo om een praatje te maken met de immer charmante zangeres.

Simi, onlangs bracht je Bootleg uit. Wat was het idee achter deze release? En waarom slechts op 100 exemplaren?
Toen we ons eerste album in 2004 uitbrachten, was dat was vrij 80s georiënteerd, we hadden moeite om een label te vinden, want het was ofwel te gothic of te new wave! Uiteindelijk bracht Jo Casters (Poesie Noire) het op Mostiko uit. Onlangs hadden we veel vraag naar dit album, maar het is helaas niet meer beschikbaar. Met de revival van de laatste jaren, wilde ik de mensen de kans geven om te ontdekken wat we in het verleden deden. Velen dachten dat Be My Guest onze eerste release was! Omdat die nummers al waren uitgegeven, was het een beetje ingewikkeld om dat opnieuw op officiële wijze te doen. Ik haat papierwerk, dus besloten we om een bootleg van de bewerkte versies te maken en 100 exemplaren was gewoon een ideaal aantal voor de vraag die we hadden gekregen.

Op Bootleg staan een paar nummers (vooral L'Ange Je) die me doen denken aan Mylène Farmer. Heb je dat eerder gehoord? Het is bedoeld als een compliment. Je zou het misschien niet verwachten, maar ik ben een fan.
Nou, men heeft mij dit al verschillende keren gezegd. En tja, als ik het nu hoor, besef ik dat er veel Mylène Farmer in zit. Niet dat ik dat zo wilde, het is gewoon door de productie zo geworden. Safyée was toen nog heel jong in die tijd, en haar backing vocals op L'Ange Je zijn zo onschuldig.. Dit nummer gaat over een vrouwelijke vampier die er uitziet als een engel.... net als in de realiteit dus!
Onlangs verliet je dochter Safyée de band. Is ze bij een ander muzikaal project betrokken of is er een andere reden voor de split?
Oh, ik zou nooit kunnen praten over een breuk met Safyée! Ze is mijn vlees en bloed, we zullen nooit uit elkaar gaan! Ze heeft gewoon andere plannen in haar leven, de muziek is een deel van dat plan, denk ik, en ik steun haar volledig. Het was al magisch op zich dat ik op een podium met haar kon staan en de avonturen met mijn eigen dochter delen, er zijn er niet veel die dat kunnen zeggen!

Komt Sayfée nog terug bij Simi Nah? Keert ze ooit nog als gast terug?
Zij beslist dat, en het is afhankelijk van haar toekomstige projecten. Op dit moment blijf ik een duo met Kenny vormen, maar het idee dat Safyée met ons van tijd tot tijd het podium deelt is een absolute optie.
Na de succesvolle Be My Guest-show in Sint-Niklaas, was er onlangs een tweede editie in Retie. Hoe heb je dat ervaren?
Het was zo anders, dat is heel vreemd, want eigenlijk was het gewoon hetzelfde concept. We hadden veel plezier, vooral omdat ik eens bass kon spelen.
Dit keer waren er een aantal mensen bij betrokken die niet op het album staan, zoals Dirk Vreys (The OBScure), Gerd Van Geel (The Arch) en Peter Slabbynck (Ex-RZ). Hoe kwam die samenwerking tot stand? Is dat een indicatie voor een tweede Be My Guest-album?
Voor deze tweede editie wilden we iets nieuws: nieuwe tracks, nieuwe gasten, en dat is vooral de reden waarom we meer vrienden vroegen en Dirk Ivens kon er de eerste keer niet bij zijn. Dus alles bij elkaar, was het bijna een nieuwe show! Een tweede Be My Guest? Nee, voor het moment niet. Nu wil ik me op mijn eigen muziek concentreren. Het duurt meestal een jaar vooraleer we met een nieuw album komen, dus tijd is zeer kostbaar.
Op Bootleg staan er ook 2 covers (Taxi Girl en The Sisters Of Mercy). Ik ben niet altijd wild van covers, maar ik heb nooit een probleem gehad met jullie covers. Wat is jouw geheim om een ​​ideale cover te maken?
Toen ik jong was, coverde ik veel nummers van mijn favoriete bands, net als iedereen die begint met muziek! Met de jaren werden covers een manier om nostalgie uit te drukken, het terugtoveren van mooie of droevige herinneringen. Muziek en parfum zijn de beste middelen om je hersenen te prikkelen. Ik veronderstel dat de mix van de originele track, onze mentale toestand en de gevoelens de basis vormen van wat jij zo vriendelijk een geweldige cover noemt!

Binnenkort spelen jullie in Valencia. Is dat je eerste Spaanse liveshow? Zijn er nog andere optredens gepland?
Hahaha, dat is zo grappig dat je dat zegt, want Spanje is gewoon de plaats waar ik voor het eerst optrad! Het was in Gerona met een van mijn eerste bands The Chicks, samen met Laurence Castelain als zangeres en die nu bij een van Kennys eerste bands uit de jaren 80 speelt: Flesh & Fell. Zo zie je maar, dat het heel kleine wereldje is. Dus Spanje, hier ben ik weer! We zijn op zoek naar nieuwe optredens in 2016, jullie zullen de eerste zijn die we op de hoogte brengen!
2015 loopt op zijn einde. Hoe kijk je terug op 2015 en wat zijn de doelen voor 2016?
2015 was een mooi vervolg op 2014, we hebben toch aardig de aandacht van heel wat mensen over de hele wereld gekregen. Maar het was ook tijd om met Be My Guest een pagina om te slaan. Na twee jaar voorbereiding en opnames, wordt 2016 voor mij een jaar van reflectie. Ik wil nieuwe nummers maken, mezelf proberen te ontdekken.... Sinds 2004 ben ik al op zoek naar de vrouw die ik ben (Cherchez La Femme) en tot dusver heb ik die nog niet gevonden, misschien doe ik dat wel in 2016!
Benny CALUWE
10/12/2015
---