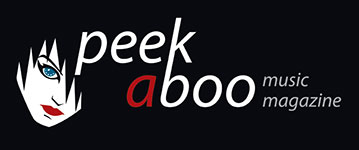 like this interview
---
SOUL EMBRACE
Do you have to be an innovator when making nice music? See it this way: the one who invented the first wheel was a very smart guy, the inventor of the second wheel was a genius.
07/12/2015, Didier BECU
---
Good Morning To Myself is another Belgian album that is released on Starman Records. The creator of this gem is Soul Embrace: a collective of musicians that is seeking its inspiration in the likes of Roxy Music and Morphine. Peek-A-Boo spoke with singer Alain Delterne.

Soul Embrace is not exactly fun for a reviewer, because you discover thousands of styles. How would you describe it yourself?
Soul Embrace is primarily the brainchild of Peter Verbauwen, he wrote all the songs and has dozens of others ready. The rest of the group consists of a mishmash of people that mostly makes music, but also videos, paintings and collages. They write stories, they're acting, they're editing or producing something. That somewhat explains the many styles. It's a kind of coincidental collective of friends in which each of us can express his passion. And so we want it to be: being creative in many ways. Soul Embrace is, as we say so ourselves: music for movies that were never made. But one day we will make those movies.

I consider your sound as unique in Flanders. I do not hear musicians who want to be hip, but simply do what they want to do and sometimes they're confronting the mass generation, right?
Thank you. He who wants to be hip is wrong anyway. Indeed, we are just ourselves and if the mass generation doesn't want that, then that's good, but we certainly do that intentionally. Too many people today are "culturally lazy". They listen and watch whatever they get without looking for the origin or the history. They don't want to hear the thousands of gems that you rarely hear on the radio. I am deeply sorry that the Belgian radio shows have so little interest and don't support what is happening musically over here.

I hope you want to answer the following questions after saying this. You don't seem to be very young, what is your musical past?
Allow us first to park our walker. Age has nothing to do with it, look at the Rolling Stones, Seasick Steve, the much too soon deceased BB King and hundreds of other great old rascals. Passion has no age. For us there are only two kinds of music: good and bad. What we do is listen to the first kind since decades. Each of us plays or has played in bands with many genres: from wave to electro, from soul to metal. That gives us some opportunities and a lot of inspiration.

How are the reactions to Soul Embrace?
The album sells good, but it always can be better. The critical acclaim is good, and that alone makes it all worthwhile. Everyone loves to get some recognition, but just as so many groups nowadays, we suffer of the phenomenon 'unknown is unloved'. On this CD there are without any doubt some songs that deserve radio coverage. Without wanting to sound arrogant, there are tracks included that you can sing along with your sunglasses on, after hearing them once. I've seen people do it, and that's great to see.

I guess it will be me, but I associate Soul Embrace with bars where there's a lot of smoke, where you can drink yourself to death and that is crowded with many beautiful women. No, I mean Soul Embrace is the ideal sex, drugs and rock 'n roll, right?
Nail on the head. Suffocating Love, Trying To Hold On and My Woman certainly fall into that category. In all honesty, we would love to make a music video with pole dancing female beauties in smoky bars. From a reliable source I know that clip is coming. But maybe we will put a fanfare in someone's bathroom, or make a horror video. It can come from all sides. Much depends on the mood of the listener and that makes the CD so versatile. Having said that, I miss smoky bars. An atmosphere that you rarely find in today's nightlife. The reason is probably not the cigarettes, and yet again it might be, though.

I found the title of your album pretty funny. Good Morning To Myself. That sounds pretty cynical. Explain!
That sentence is from the song Die A Happy Man. You can endlessly philosophy about it. Is it self-love, the lack of empathy in today's society, criticizing the philistinism, or an indictment of "the American way of life ' that has a breakthrough over here as well. Maybe you're just getting out of bed with the right mood and you wave a goodbye at yourself in the mirror. Or it is just a nice phrase that is meaningless. To you, the listener, to choose!

Your single is named Tarantino Cool. Why Tarantino?
The love/hate relationship with Quentin already caused many discussions in our band. Yes, Reservoir Dogs, Pulp Fiction and Kill Bill are masterpieces and the protagonists are usually cool as a cucumber in a freezer. But the man has stolen so many ideas from others without giving them credit, that he should be ashamed of it. Perhaps this sentence is more cynical than Good Morning To Myself. However, a black suit, black tie and sunglasses are pretty damn cool. Just ask Roy Orbison, Johnny Cash, Mr. White, The Men in Black or The Blues Brothers.

In fact, you don't hide your influences. I suppose you've had it with bands that claimed having invented hot water, not?
In many reviews we have been compared to Rolling Stones, Morphine, Roxy Music, Blue Blot and many others. That of course is very nice to hear, but many groups and artists are seen as the new this or the new that. That sometimes upsets artists as they want to be themselves. We are the new Soul Embrace. We did not invent the hot water, but you can make tea from it or take a bath in it. Do you have to be an innovator when making nice music? See it this way: the one who invented the first wheel was a very smart guy, the inventor of the second wheel was a genius. Don't forget the nod.

Something about Starman Records, it is the Belgian label for bands that want something different than the usual radio fodder. How did you land up there?
Starman Records is a label that deserves eternal fame and a lot more attention in almost all media, even though the written press adores label boss Felix Huybrechts. You have to be a daredevil to release 65 records with the best Belgian music in just three years, in an era where digital has become a synonym for free, from the sublime Isle of Men to Freckleface, or Ferre Grignard and the legendary Lavvi Ebbel. Someone told him recently that he is the new guardian of our national musical heritage. I fully agree. It was a huge honor for us that he wanted to release Soul Embrace. And how did we get there? The man also plays bass, he makes hilarious promo trailers and he is also an incredibly nice man. It was a match made in heaven.

What about gigs?
We would love to, but each of us works full time and as you pointed out yourself, we're just too old to be our own roadies. We'll see how it evolves, meanwhile we especially try to expand our repertoire and we go to bed on time.

What's your favorite record of all time and why?
Interesting question, but we do not have an answer as it depends on emotion, mood or situation. We do not think artists can't do anything wrong, or just have sublime records. Prince also made absurdities, The Beatles, ZZ Top or Bill Laswell as well. But to give you a kind of answer: Graceland, Sign Of The Times, My Life In The Bush Of Ghosts, Little Village, Rumors, The Healer, The Complete Stax Volt Recordings, Atlantic Rhythm and Blues... Name one album? I can't.

With whom you wouldn't care to be in an elevator for 8 hours and what would you do then?
You better ask the whole group, but I am personally fascinated by black musicians. Especially what they experienced when they were invited to play in a hotel, but were not allowed to stay there or slip in through the front door because of the segregation in the United States. So, I would choose the late B.B.King. Not only because he is one of the best blues musicians, but also because he's an incredibly kind man. Put me in the elevator with him and I want to hear his entire life from A to Z.

Why should Peek-A-Boo readers check out Soul Embrace?
Because Peek-A-Boo readers are curious people who are inherently smarter than others. As there is something on this CD for everyone. Because we like to make a second CD and because we hope that our radio stations give us the airplay we deserve, and that's said without wanting to sound arrogant.
Didier BECU
07/12/2015
---
Good Morning To Myself is alweer een Belgische plaat die is uitgebracht op Starman Records. De makers van dit kleinood is Soul Embrace, een collectief van muzikanten dat z'n mosterd haalt bij klasbakken als Roxy Music of Morphine. Peek-A-Boo sprak met zanger Alain Delterne.

Soul Embrace is geen pretje voor een recensent, want je ontdekt er ontelbare stijlen in. Hoe zou je het zelf omschrijven?
Soul Embrace is in de eerste plaats het geesteskind van Peter Verbauwen, hij schreef alle nummers en heeft er nog tientallen klaarliggen. Voor de rest bestaat de groep uit een bont allegaartje van mensen die vooral muziek maken, maar ook video's, schilderijen en collages. Ze schrijven verhalen, acteren, monteren en produceren en ga zo maar door. Dat verklaart enigszins de vele stijlen. Het is een soort toevallig collectief van vrienden waarin ieder van ons zijn passie kwijt kan. En zo hebben we het ook graag: creatief zijn op zo veel mogelijk manieren. Soul Embrace is, zoals we het zelf zeggen, music for movies that were never made. Maar ooit maken we die films wel eens.
Ik beschouw jullie geluid als een beetje uniek in Vlaanderen. Ik hoor geen muzikanten die er alles aan doen om hip te zijn, maar die gewoon lekker zichzelf zijn en als het moet loodrecht tegen de massa in, juist?
Waarvoor dank. Wie hip wil zijn om erbij te horen is al fout bezig. Wij zijn inderdaad gewoon onszelf en als dat indruist tegen de massa, dan komt ons dat verdomd goed uit, maar we doen het zeker niet opzettelijk. Te veel mensen zijn tegenwoordig 'cultureel lui'. Ze luisteren en kijken naar wat hen wordt voorgeschoteld zonder op zoek te gaan naar de afkomst, naar de geschiedenis, naar de duizenden pareltjes die je op de radio nog maar zelden hoort. Daar zou men wel eens wat verandering in mogen brengen. Ik vind het intens droevig dat Belgische radio's zo weinig interesse en steun verlenen aan wat er in dit land leeft op muzikaal gebied.
Ik hoop dat jullie nu nog de volgende vragen willen beantwoorden. Maar piepjong zien jullie er niet uit, wat was jullie muzikale verleden?
Sta ons toe om eerst even onze rollator te parkeren. Leeftijd heeft er niks mee te maken, kijk naar de Rolling Stones, Seasick Steve, de veel te vroeg overleden B.B. King en honderden anderen fantastische ouwe rakkers. Op passie staat geen leeftijd. Wat ons betreft bestaan er maar twee soorten muziek: goede en slechte. Wat wij doen is al decennia lang luisteren naar de eerste soort. Elk van ons speelt of speelde in minstens één andere groep en dat in vele genres van wave tot electro en van soul tot metal. Dat geeft ons wel wat mogelijkheden en vooral veel inspiratie.
Hoe zijn de reacties op Soul Embrace?
De plaat loopt goed, maar het kan altijd beter. De kritieken zijn lovend en dat alleen al maakt het de moeite waard. Iedereen krijgt graag wat erkenning, maar wij kampen zoals zo veel groepen tegenwoordig met het fenomeen 'onbekend is onbemind'. Er staan op deze cd zonder enige twijfel een aantal nummers die het verdienen om radio-aandacht te krijgen. Zonder arrogant te willen klinken zijn er tracks bij die je na één keer luisteren al autorijdend luidkeels wil meezingen met de raam open en de zonnebril op. Ik heb het mensen al zien doen en dat is geweldig om te zien.
Het zal wel aan mij liggen, maar ik associeer Soul Embrace met bars waar je de rook kan snijden, waar de drank altijd aanwezig is en (terwijl we toch bezig zijn) veel vrouwelijk schoon. Neen, ik bedoel Soul Embrace is de ideale seks, drugs en rock 'n roll toch?
Nagel op de kop. Suffocating Love, Trying To hold On en My Woman vallen zeker in die categorie. In alle eerlijkheid zouden we heel graag een videoclip maken met paaldansend vrouwelijk schoon in voorgenoemde rokerige bars. Uit goede bron weet ik dat die clip er zit aan te komen. Maar evengoed willen we graag een fanfare in iemand zijn badkamer zetten, of een horrorvideo in elkaar knutselen. Het kan alle kanten uit. Veel hangt af ook van de gemoedstoestand van de luisteraar en dat maakt de plaat juist zo veelzijdig. Dit gezegd zijnde, ik mis slecht verlichte, rokerige bars. Er hangt een sfeer die je nog zelden vindt in het huidige nachtleven. Dat ligt waarschijnlijk niet aan de sigaretten, en toch weer een beetje wel.
Ik vond de titel van jullie cd best grappig. Good Morning To Myself. Dat klinkt toch behoorlijk cynisch. Verklaar!
Die zin komt uit het nummer Die A Happy Man. Je kan daar eindeloos over filosoferen. Is het eigenliefde, het gebrek aan empathie in de huidige samenleving, het zich verzetten tegen de kleinburgerlijkheid, of een aanklacht tegen 'the american way of life', die hier ook meer en meer voet aan de grond krijgt. Misschien ben je gewoon met het juiste been uit bed gestapt en zwaai je even naar jezelf in de spiegel. Of het is gewoon een leuke zin, zonder betekenis. Aan jullie, als luisteraar, de keuze.
Jullie single is Tarantino Cool. Waarom Tarantino?
De haat-/liefdeverhouding met Quentin heeft al voor menig discussie gezorgd in ons clubje ongeregeld. Ja, Reservoir Dogs, Pulp Fiction en Kill Bill zijn meesterwerken en de protagonisten zijn meestal cool als een komkommer in een diepvriezer. Maar de man heeft ook al zoveel ideeën gepikt van anderen zonder krediet te geven dat het bijna om te schamen wordt. Misschien is deze zin wel cynischer dan Good Morning To Myself. Daar staat tegenover dat een zwart pak, zwarte das en zonnebril inderdaad verdomd cool zijn. Vraag dat maar aan Roy Orbison, Johnny Cash, Mr. White, The Men in Black of The Blues Brothers.
In feite steken jullie de invloeden niet onder stoelen of banken. Ik veronderstel dat jullie het hebben gehad met iedere band die van zichzelf beweert dat hij het warme water heeft uitgevonden, niet?
We zijn in de vele recensies al vergeleken met Rolling Stones, Morphine, Roxy Music, met Blue Blot en vele anderen. Dat is natuurlijk zeer leuk om te horen, maar zoveel groepen of artiesten worden gezien als de nieuwe dit of de nieuwe dat. Dat stoort soms omdat artiesten zichzelf willen zijn en toch onmiddellijk een etiket opgeplakt krijgen, ten goede of ten kwade. Wij zijn de nieuwe Soul Embrace. Wij vinden geen warm water uit, maar weten dat je er thee van kan zetten of een bad in kan nemen. Moet je elke keer vernieuwen om leuke muziek te maken? Bekijk het zo: de uitvinder van het eerste wiel was een heel slimme kerel, de uitvinder van het tweede wiel een genie. De knipoog mag je er zelf bij zetten.
Zo kom ik bij Starman Records terecht, het label bij uitstek voor bands die iets anders willen dan de Studio Brussel-routine. Hoe kwamen jullie daar terecht?
Starman Records is een label dat eeuwige roem verdient en ook veel meer aandacht in zowat alle media, hoewel de geschreven pers Felix Huybrechts terecht op de handen draagt. Je moet het maar durven om in een tijdperk waarin digitaal een synoniem is geworden voor gratis, 65 releases uit te brengen met het beste van het beste uit Belgische muziek en dat op amper drie jaar tijd. Van het sublieme Isle of Men tot Freckleface, met wat uitstapjes naar Ferre Grignard en het legendarische Lavvi Ebbel. Ooit zei iemand dat hij de nieuwe hoeder is van ons nationaal muzikaal erfgoed. Ik ben het daar volkomen mee eens. Dat hij Soul Embrace wilde uitbrengen was niets meer dan een enorme eer voor ons. En hoe we daar terechtkwamen? De man speelt ook bas, maakt hilarische promotrailers en is bovendien een ongelooflijk toffe mens, die gewoon zijn ding doet. It was a match made in heaven.
Wat de Studio Brussel routine betreft: wordt eens terug een zender met ballen. Zijn jullie zeker dat jullie dagprogrammatie echt wel is wat de mensen willen? Tien keer per dag dezelfde bedenkelijke hits, zichzelf constant op de borst kloppend, zekerheid eerst, minder zeveren en meer variatie in de playlist. Klinkt dat als een frustratie? Wees maar zeker!
Hoe zit het met de optredens? Kunnen we jullie binnenkort aan het werk zien?
Dat zouden we heel graag willen, maar elk van ons werkt ook fulltime en zoals je zelf al aangaf, we zijn te oud om onze eigen roadies te zijn. Moeilijk om elke zaal van Oostende tot Spa van een zuurstoftent en een trapliftje te voorzien. We zien wel hoe het evolueert, ondertussen proberen we vooral om ons repertoire te laten groeien en op tijd te gaan slapen.
Wat is jullie favoriete plaat aller tijden en waarom?
Boeiende vraag waarop we niet kunnen antwoorden en wel omdat bij elke emotie, sfeer, situatie of setting duizend favoriete platen passen. Wij niet zo van: die artiest kan niks verkeerd doen of die plaat is van begin tot einde subliem. Prince heeft ook ondingen gemaakt, The Beatles, ZZ top of Bill Laswell ook. Maar om toch iets te antwoorden: Graceland, Sign Of The Times, My Life In The Bush Of Ghosts, Little Village, Rumors, The Healer, The Complete Stax Volt Recordings, Atlantic Rhythm and Blues,... Eén plaat opnoemen? Ik kan het niet.
Met wie zou je het niet zo erg vinden om samen 8 uur in een lift te zitten en wat zou je dan doen?
Ook dat zou je best aan de hele groep vragen, maar ik persoonlijk ben gefascineerd door wat zwarte muzikanten allemaal meemaakten toen ze wel in een hotel mochten optreden maar er niet mochten logeren of door de voordeur naar binnen moesten komen vanwege de segregatie in de Verenigde Staten. Dus ik zou kiezen voor wijlen B.B.King. Niet alleen één van de allerbeste bluesmuzikanten, maar ook een ongelooflijk vriendelijke man. Zet mij maar in de lift met hem en laat hem maar vertellen, liefst zijn hele levensverhaal van A tot Z.
Waarom moeten de Peek-A-Boolezers Soul Embrace uitchecken?
Omdat Peek-A-Boolezers nieuwsgierige mensen zijn en die zijn per definitie slimmer dan anderen. Omdat er op deze cd iets staat voor iedereen. Omdat wij graag een tweede cd zouden uitbrengen en omdat wij hopen dat de radiozenders ons op die manier de airplay kunnen bezorgen die we verdienen, zonder arrogant te willen overkomen.
Didier BECU
07/12/2015
---