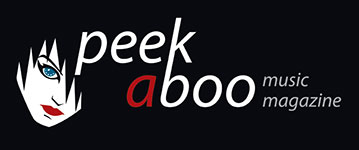 like this interview
---
RABIA SORDA
So when it comes to play music for others I give them the Erk's treatment for total madness!
27/11/2015, Britta Tabrit
photos: © Marija Buljeta
---
Rabia Sorda went on tour this fall to France and Russia. In the dark light of recent events in France, it is hard to think of Paris as a city to listen to concerts, but it will always be a great place to enjoy good music and life itself! Peek-A-Boo had the chance to have a short interview with frontman Erk Aicrag.
Thank you Erk for answering some questions for Peek-A-Boo magazine! So you've recently been on tour with Rabia Sorda. You played shows in a couple of French cities, the one in Paris with Punish Yourself was even sold out. Give our readers a short summery of your impressions of France and the fans there.
French crowds irradiate a great energy and they come to the shows to give it all! Over the years I think we have had some of the best crowds in Paris and our last show with Punish Yourself was no exception!!
One of yours shows in France was cancelled and you decided to stay one more day in Paris and play a DJ set together with your band mate Marcus in a club on the river Seine. As I was there myself, I could see clearly that you guys were happy not to stand on the podium yourself for once. Is it something you'd like to do more often? And tell us, do you play songs you like yourself or do you just compile a list of famous tracks to please the majority of the dancing crowd?
That DJ gig was really fun to do. Regardless of being on or off the stage, Marcus and I always have fun and that DJ gig was really good, the vibes were just right to party! I just play the tracks I like. I enjoy a lot of music styles and I have been doing DJ gigs over the last 20 years, so when it comes to playing music for others I give them the Erk treatment for total madness! That evening Marcus added even more madness and that took the whole thing to level "awesome"!
Shortly after this you did one show in Moscow. It was Halloween and I saw some awesome pictures of you and the fans. I got the impression that night was special. Was it?
Oh, yes it was, the energy was just right that evening. We played a energizing set and afterwards we had one of the best Halloween parties ever! I think many people would agree with me that Moscow has one of the best nightlives in the world.
You did sightseeing in Moscow, I guess. What was the most impressive place? (Honestly for me it is the building of the Lomonosov Moscow State University!)
Yes we did, I still think the Red Square/Kremlin area is marvelous. We got lost in the city for a couple of hours and it was fun to see the non-touristic part of Moscow. I have been visiting Moscow for some time now and I have really enjoyed some of their museums too.
Rabia Sorda has got a new member. Felix joined the band as a drummer. How did you get together professionally? Last spring we posted an ad to the studios in Berlin. He got in touch with us and after some rehearsals we had a real goog contact musically. He has already played 5 shows with us and he is doing a great job.
In summer you talked about a new Rabia Sorda EP that might come out this year. I can't really remember the proper name, it was something like King of the Wasteland. Please correct me, if that's wrong. Any news on this?
Yes, King of the Wasteland is the name of the song, but we are aiming for a 2016 release now.
New stuff planned for the shows next year? By the way, I really liked the one in Leipzig with the two female dancers wearing pig masks. Will you continue that idea in the future or create even new scenic elements on stage? And how important is a continuous development for you - a personal one as well as the development of the band in general?
It is important to make things that are fun to do. We will definitely be looking forward to add more visual gimmicks to our shows in the future. That show in Leipzig was really fun for us and for the crowd too!
Something you are looking forward to in 2016? A special show, festival, anything?
Looking forward to playing the Out Of Line Festival in Berlin. Then the tour madness with Hocico in Europe and the USA. I'm looking forward to playing M'era Luna next Summer too!
At the end of the interview, please choose your favorite chewing gum, please: spearmint, cinnamon, licorice, peppermint or orange-grape.
That's peppermint!
Thanks for the interview Erk and enjoy your winter break!
Britta Tabrit
27/11/2015
---
Dit jaar trok Rabia Sorda op tournee naar Frankrijk en Rusland. Als gevolg van de recente gebeurtenissen, klinkt het vreemd om het over Parijs het hebben als een stad waar je naar muziek kan luisteren, maar ondanks alles blijft het een geweldige plek om te genieten van goede muziek, en van het leven zelf natuurlijk! Peek-A-Boo mocht een praatje te maken met Rabia Sorda frontman Erk Aicrag.

Dank u Erk dat je tijd wil maken voor een interview met Peek-A-Boo! Je ging dus onlangs op tournee met Rabia Sorda. Je speelde shows in een paar Franse steden, die in Parijs met Punish Yourself was zelfs uitverkocht. Geef onze lezers jouw indruk van Frankrijk en de fans.
De Franse fans hebben echt wel veel energie, en als ze naar de shows komen dan geven ze zich helemaal! In de loop der jaren denk ik dat onze Franse fans tot de beste behoren, en de show in Parijs met Punish Yourself was geen uitzondering !!
Eén van je shows in Frankrijk werd geannuleerd, maar je besloot om nog een dag in Parijs te blijven om een DJ-set te spelen met je bandpartner Marcus in een club op de Seine. Terwijl ik daar was, kon ik duidelijk zien dat je het met plezier deed, omdat je niet moest optreden. Is dat iets wat je vaker zou willen doen? En vertel ons, kies je de nummers zelf of loop je gewoon een lijst van bekende tracks af zodat je de dansende menigte tevreden stelt?
Die DJ-set was echt leuk om te doen. Ongeacht of we op of naast het podium staan, vinden Marcus en ik het altijd leuk en die set was echt goed, de vibes waren perfect om te feesten! Ik speel gewoon de nummers die ik wil. Ik geniet van veel muziekstijlen en in de afgelopen 20 jaar deed ik meerdere DJ-sets, dus als het gaat om muziek die ik voor anderen speel, geef ik ze gewoon de "Erk-behandeling" zodat het totaal waanzinnig wordt! Die avond voegde Marcus er nog wat meer waanzin aan toe zodat iedereen gek werd!
Daarna speelde je in Moskou. Het was op Halloween en ik zag een aantal geweldige foto's van jou en de fans. Ik heb de indruk dat het toch een speciale nacht was!
Dat was het ook, de energie van die avond zat goed! We speelden een energieke set en achteraf hadden we één van de leukste Halloweenfeestjes ooit! Ik denk dat veel mensen het met mij eens zullen zijn dat Moskou één van de steden is met het beste nachtleven!
Je deed ook wat sightseeing in Moskou. Wat was de meest indrukwekkende plek die je zag? (Eerlijk gezegd was dat voor mij het gebouw van de Lomonosov Moscow State University!)
Ik denk nog steeds het Rode Plein. Het gebied rond het Kremlin is prachtig. We waren een tijdje verdwaald in de stad en het was leuk om het niet-toeristische deel van Moskou te zien. Ik heb Moskou al een paar keer bezocht en ik heb ook van de musea genoten.
Met drummer Felix heeft Rabia Sorda er een nieuw lid bij. Hoe hebben jullie elkaar gevonden?
In de lente van vorig jaar plaatsten we een advertentie in de Berlijnse studio's. Felix nam contact op met ons en na enkele repetities voelden we de klik. Hij speelde reeds in 5 shows mee en hij doet het echt geweldig.

In de zomer sprak je over een nieuwe ep van Rabia Sorda. Ik kan me de juiste naam niet meer herinneren. King Of The Wasteland was het, denk ik!
Ja, zo heet dat nummer. We proberen het in 2016 uit te brengen.

Zijn er nog nieuwe dingen gepland voor volgend jaar? Zelf hield ik van de show in Leipzig waar twee meisjes varkensmaskers droegen. Ga je in de toekomst nog zo'n dingen doen? En hoe belangrijk is een voortdurende ontwikkeling voor jou. Ik bedoel persoonlijk, maar ook van de band in het algemeen.
Het is belangrijk om dingen te doen die leuk zijn. We zullen zeker meer visuele trucjes aan onze shows toevoegen. De show in Leipzig was echt heel leuk, zowel voor ons als voor het publiek!
Is er iets om naar uit te kijken in 2016?
Natuurlijk is er het Out Of Line-festival in Berlijn. Daarna volgt de toergekte met Hocico in heel Europa en de Verenigde Staten. We spelen de komende zomer ook op M'era Luna.

En nu moet je je favoriete kauwgom kiezen: spearmint, kaneel, zoethout, pepermunt of druiven met appelsiensmaak!
Geef mij maar pepermunt!

Bedankt voor het interview, Erk, en geniet van je winterstop!
Britta Tabrit
27/11/2015
---