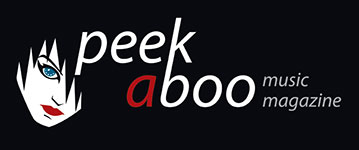 like this interview
---
TRACER
I usually do not give much explanation to the lyrics, I do not want everything to be ready-made
09/11/2015, Wim GUILLEMYN
---
Some say that musicians have an easy life, but sometimes that is a myth. At half past seven Peek-A-Boo had an interview with Michael Brown, the singer of Tracer. He just finished the soundcheck and at eight o'clock he had to be on stage. While answering our questions, he tries to eat some hot food. Rock 'n roll as it really is...
Peek-A-Boo recently reviewed the new album, I must admit that before Water for Thirsty Dogs I never heard the band. The title track has a rich atmosphere, and I hear a lot of grunge influences. Agree?
Absolutely, lots of people say that, but we have other influences too. But indeed, the greatest influence comes from grunge bands such as Soundgarden, Nirvana, but also bands like Black Sabbath and Led Zeppelin, where many artists take elements from. We always try to find something new, something interesting that has not been done before. Just listen to Lana Del Rey on Ultraviolence. We think it's fantastic what she does. Or Mastodon, their new album is sublime. All these new things come to us and they all disappear in a large pot. When we write, it all comes back (consciously and unconsciously) into something interesting.
After El Pistolero you had no contract, right?
Yes that's right. We actually signed to another label, but it is not a classical record label. It is more free. In these times it is difficult to find someone who is willing to invest money. We were lucky that the management we have for years, made a deal. And we have a pretty good deal. We are much freer than before. The album is paid by ourselves and through Pledge Music the record label jumped on it. Hopefully, with the next album there is another significant input from the label so we can make it even better!
To have more resources?
Yes, indeed. We didn't have a producer because we could not afford one. But at the same time it was also a bit of a godsend, because we knew how to make the songs ourselves. That was different on El Pistolero: the producer cut everything into pieces. He then used the right pieces to make songs with. Now it is better for us: we write the songs in the same vibe, and you can hear the result. It gave us a lot of energy, this new way of working!
The album sounds more mature than El Pistolero... And then that voice. It is not the first time that you are here on tour?
Correct, thanks. No, it is the seventh time that we toured Europe. The first two were quite modest tours. It starts to grow. This here is our largest and longest tour so far.
Is it different here than in Australia?
Certainly, Australia is a very big country but sparsely populated. There are only six big cities where you can go on tour. That's too little actually. And it is difficult to break through. Here, our music gets attention from press and radio. That's why we come back every time. Domestically, everything concerning rock music is rather quiet.
Is there no real club scene then?
There is not much left of it. In my home town there were once three great clubs to play, but they no longer exist. Yesterday we played in Amsterdam, and there you find lots of small clubs where bands play. With us that is non-existent. In Melbourne there is a scene, but mainly underground and more indie rock oriented.
More and more commercial?
Yes, and as a rock band, it's very hard to get opportunities to play there or to be played on the radio. We also have no female singer who halfway the song starts stripping or so, we're just three guys who love to play heavy rock (laughs).
You have a very solid sound with only three members, I'm curious how you do it live.
That is the challenge for us. On the album we try to find a good match for the three of us. And the album sounds very basic, so it is easy to play live.
Is the album title Water For Thirsty Dogs a metaphor?
In any case not a known one! It arose literally when we saw along the way, somewhere in a desert, on tour, a bucket that had that sentence. We looked at each other and both thought: that would be a cool title for an album. Especially since it can mean so many things. We saw it as a metaphor in our period of change, with the record label we were on. We felt a bit like thirsty dogs who were waiting for what we would do after our success with El Pistolero. We thought "fuck it, we'll do it our way," and that gave us strength and energy. We wanted to bring elements from the 90s in a modern way. Find a new sound. In a sense we were the water, the thirsty dogs are the fans who were waiting. This is another way to explain the title.

It is always great if a title has significance for everyone?
Yes, that is the beauty of music. I usually do not give much explanation to the lyrics, because I want people to start to interpret themselves. I do not want everything to be ready-made, but that they do a little effort to find it out themselves.
You are planning a new album after this tour ?
Yes, but it will be for the end of 2016, I think. In any case, around that time there is recording time. We will first come back in February and March to do a tour. Finally after two and a half years. Hopefully in Brussels too. There are already some dates for the UK and we are negotiating for other countries. Hopefully we can also play at some festivals this summer. We never see Europe in the summer (laughs). The intention is that we will record some songs and maybe release a live DVD.
How do you survive such a long tour?
We try to stay healthy. Sometimes we drink a cocktail, but very rarely. We try to do some fitness and a healthy living. The hardest part of touring is that you have to wait much: waiting for doing your soundcheck, to play, to eat, to do the merchandise... I easily can believe that bands who are on tour drink too much, etc... You land into some kind of routine on tour and every day looks a little similar. After a while you hardly even know what day it is. As today it is Saturday, I believe.
It's Sunday actually... oh, no, you're right it's Saturday...
(laughs loudly) You see, if even you can't remember!

How do you write your songs?
This happens in several ways. For this album, we rented a chalet in the woods. Far away from everyone. That was an intensive way to write songs. And there was not much else to do there. So most of the songs on Water For Thirsty Dogs are made there. We had thousands of pieces. If all of us thought it was something good, then we tried to make a song of it. That's how it went, but in the past it happened that I just came up with a song and when everybody said it was good, that we worked it out. We worked three months on the last album. We felt it was good, but we did not know exactly why it sounded good. If you constantly write songs in the same way, then it seems that you do every time the same trick.
Finally, what is the most important thing you ever did with Tracer?
Shit. That's a tough one. Perhaps that all the way from Australia, I am on the other side of the world every night and can sing and play our songs. And that for a large audience, sometimes they sing and that makes it special too.
Wim GUILLEMYN
09/11/2015
---
Dat muzikanten een luizenleventje hebben, is soms een fabeltje. Om half zeven had Peek-A-Boo een gesprek met Michael Brown, de zanger van Tracer. Hij heeft net de soundcheck gedaan en om acht uur moet hij het podium op. Terwijl hij onze vragen beantwoordt, probeert hij een bord met wat warm eten te verorberen. Rock 'n roll zoals het echt is…
Peek-A-Boo recenseerde onlangs het album, ik moet eerlijk bekennen dat ik voor Water for Thirsty Dogs nog niet van jullie had gehoord. Het titelnummer klinkt heel sfeerrijk, met een roestige gitaar en fijne zang. Ik hoor veel grunge-invloeden. Akkoord?
Absoluut, we worden daar veel over aangesproken, ook andere invloeden. Maar de grootste invloed komt inderdaad uit de grunge met bands zoals Soundgarden, Nirvana en daarnaast ook bands zoals Black Sabbath en Led Zeppelin waarvan veel artiesten elementen gebruiken. We proberen momenteel toch iets nieuws te vinden, iets interessant dat nog niet gedaan is. Luister maar eens naar een Lana Del Rey op Ultraviolence. We vinden het fantastisch wat ze op die plaat doet. Of Mastodon, hun nieuwe plaat resoneert ook mooi. Zo komen al die nieuwe dingen tot bij ons en verdwijnen ze in een grote pot. Als we schrijven komt dat allemaal weer naar boven (bewust en onbewust) tot iets interessants.
Jullie zaten na El Pistolero zonder contract?
Ja dat klopt. We hebben eigenlijk getekend bij een ander label maar het is geen klassiek platenlabel. Het is wat vrijer. In deze tijden is het moeilijk om iemand te vinden die geld voor je wil vrijmaken. We hadden het geluk dat het management, dat we al jaren hebben, een deal kon afsluiten. En we hebben een redelijk goede deal. We zijn veel vrijer dan voorheen. Het album is door onszelf betaald en via Pledge Music sprong het platenlabel erop. Hopelijk krijgen we met het volgende album weer een belangrijke inbreng van het label zodat we het nog beter kunnen maken.
Ook om meer middelen, mogelijkheden te hebben?
Ja, inderdaad. We hadden nu bijv. geen producer omdat we ons dat niet konden veroorloven. Maar tegelijkertijd was het ook een beetje een godsgeschenk omdat we zo de nummers konden maken zoals we zelf willen. Op El Pistolero was dat anders: we maakten nummers, waarna de producer alles in stukken sneed en overal de goede dingen uithaalde. Daarna gebruikte hij de goede stukken om er songs mee te maken. Nu was het beter voor ons: we schreven nummers in eenzelfde vibe, wat je kan horen aan het resultaat. Het gaf ons veel energie, die nieuwe manier van werken.
Het album klinkt ook volwassener dan El Pistolero…En dan die stevige stem. Verbazingwekkend als ik je hier voor mij zie zitten. Het is niet de eerste keer dat jullie hier op tournee zijn, he?
Correct, bedankt. Neen, het is de zevende keer dat we door Europa toeren. De eerste twee waren heel bescheiden tournees. Gaandeweg, met de hulp van maatschappij, is het begonnen te groeien. Dit is hier onze grootste en langste tour die we al gedaan hebben.
Is het hier anders dan in Australië?
Heel zeker, Australië is een heel groot land, maar dun bevolkt. Er zijn maar een zestal grote steden waar je op tournee kan gaan. Dat is een beetje te weinig eigenlijk. En het is er moeilijk om door te breken. Hier krijgen we met onze muziek veel aandacht van pers en radio. Daarom komen we ook telkens terug. In eigen land ligt alles op vlak van rockmuziek wat stil.
Is er geen echt clubcircuit dan?
Er schiet niet veel meer van over. In mijn thuisstad waren er vroeger drie leuke clubs om te spelen, maar die bestaan intussen niet meer. Gisteren speelden we in Nederland, in Amsterdam, en daar vind je overal kleine clubs waar bandjes spelen. Bij ons is dat zo goed als onbestaande. In Melbourne is er nog een scène, maar dan vooral underground en meer indierock gericht.
En commerciëler?
Ja, en als rockband is het gewoon erg moeilijk om daar kansen te krijgen om te spelen of om op de radio te worden gedraaid. We hebben ook geen vrouwelijke zangeres die halfweg haar nummer stript of zo, we zijn gewoon drie mannen die graag heavyrock spelen (lacht).
Jullie klinken wel stevig met alleen maar drie leden in jullie line-up, ik ben dan ook benieuwd hoe jullie dat live brengen.
Dat is de uitdaging voor ons. Op het album proberen we een goede afstemming te vinden voor ons drie. En het album klinkt ook erg basic zodat het wel gemakkelijk live te spelen is.
Is Water For Thirsty Dogs een metafoor?
In ieder gevaal geen bekende! Het ontstond letterlijk: langs de weg ergens in een woestijn, op tournee, zagen we een emmer staan waarop die zin stond. We keken naar elkaar en dachten allebei: dat zou een coole titel zijn voor een album. Vooral omdat het zoveel dingen kan betekenen. We zagen het als een metafoor voor de veranderingsperiode, met het platenlabel waarbij we toen zaten. En het voelde een beetje als de dorstige honden die zaten te wachten op wat we gingen doen na ons succes met El Pistolero. Zelf dachten we "fuck it, we gaan het op onze manier doen", en dat gaf ons kracht en energie. We wilden de elementen uit de jaren 90 in een moderner jasje steken. Een nieuwe sound vinden. In zekere zin waren wij het water waar de dorstige honden (de fans) op wachtten. Dat is een andere manier om de titel uit te leggen

Het is altijd sterk als een titel voor iedereen een eigen betekenis kan hebben.
Ja , dat is het mooie aan muziek. Meestal geef ik niet veel uitleg over de teksten omdat ik wil dat mensen zelf op zoek gaan naar het idee erachter. Ik wil niet dat ze alles voorgekauwd krijgen, maar dat ze een kleine inspanning doen om het zelf te ontdekken.
Plannen jullie een nieuw album na deze tournee?
Ja, maar dat zal ergens voor eind 2016 zijn, denk ik. We voorzien in elk geval een opnameperiode. We komen eerst in februari en maart terug voor een eigen tournee. Eindelijk na twee en een half jaar. Hopelijk ook in Brussel. Er staan al enkele data vast voor Groot-Brittannië en we zijn aan het onderhandelen voor andere landen. Hopelijk kunnen we ook eens op enkele festivals spelen deze zomer. We zien Europa nooit in de zomer (lacht). Het is de bedoeling dat we daarna wat nummers opnemen en misschien een live-dvd uitbrengen. Het is nog afwachten wat het zal worden…
Hoe overleef je zo'n lange tour?
We proberen gezond te blijven. We drinken wel eens een cocktail, maar heel zelden. We proberen wat te fitnessen en gezond te leven. Het moeilijkste aan toeren is dat je veel moet wachten: wachten om te soundchecken, om te spelen, om te eten, om de merchandise te doen… Ik kan gemakkelijk geloven dat een band soms ontspoort en teveel drinkt, etc… Wij eten zelfs nauwelijks chocolade op tournee. Je komt in een soort van routine op tour en elke dag ziet er een beetje hetzelfde uit. Na een tijdje weet je nauwelijks nog welke dag het is. Zoals vandaag: het is zaterdag geloof ik.
Het is zondag eigenlijk…o neen, je hebt gelijk het is zaterdag…
(lacht luid) Zie je, als jij het zelfs al niet meer weet…
Hoe ontstaan de nummers bij jullie?
Dat gebeurt op verschillende manieren. Voor dit album hebben we een chalet in het bos gehuurd. Ver weg van iedereen. Dat was een intensieve manier om songs te schrijven. En er was daar ook niet veel anders om te doen. Dus de meeste songs op Water For Thirsty Dogs komen van daar. We speelden en namen coole stukken op. We hadden duizenden stukjes die we samen doornamen. Als we alle drie iets goed vonden, probeerden we er een song van te maken. Dat is hoe het daar ging, maar in het verleden is het al gebeurd dat ik gewoon met een song afkwam en als iedereen het goed vond, we daarmee aan de slag gingen. Voor het laatste album zijn we drie maanden bezig geweest. We voelden dat we goed zaten, maar we wisten niet precies waarom het goed klonk. Daarom dat we er zolang aan bezig zijn geweest. Als je telkens de nummers op dezelfde manier schrijft, dan lijkt het er een beetje op dat je iedere keer dezelfde truc toepast.
Ten slotte, wat is voor jou het belangrijkste moment sinds je met Tracer bezig bent?
Shit. Dat is een moeilijke. Misschien wel dat ik, helemaal uit Australië, hier aan de andere kant van de wereld elke avond mag zingen en onze songs kan spelen. Voor een groot publiek. En dat ze soms meezingen maakt het toch speciaal hoor.
Wim GUILLEMYN
09/11/2015
---