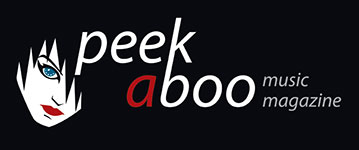 like this interview
---
BLINDNESS
Dark is much more interesting, don't you think? How boring do you think a completely happy album would sound?
14/10/2015, Didier BECU
photos: © Iona Dee
---
If you love noisy (and we mean really loud!) indiepunk postpunk shoegaze, then Blindness is your band. Wrapped In Plastic is a bomb, an album that goes like a rocket right through your ears and won't leave your mind afterwards. Peek-A-Boo went to London (well, in a virtual way that is) to meet the three women who are responsible for this gem! Shame Peelie is no longer among us, as we're sure he would play it non stop! Get addicted!
Hello, let me first congratulate you with the album, which in all fairness belongs to the best ones I heard this year. I hear a sound of a band which is capable of doing a lot. So how are the reactions and are things like you were hoping them to be?
Beth:Thanks very much. The reactions have mostly been good, I think, which is obviously what you want.
Debbie: Thanks, glad you like it. I've only seen good reviews, which is nice. personally, I'm just happy it's finally come out!
Of course, every reader knows the background of Debbie. But, what did Beth and Emma do before joining Blindness?
Beth: I've been in a couple of bands before Blindness. The last was the Mekano Set, which was mostly two of us drinking wine and experimenting. When I left, I started using software so that I could keep writing and singing and that's basically how Blindness started.

Emma:I guess I just got into things by accident really, it's always been just for the fun of it. I started out playing in a couple of mate's bands back in Leeds. Firstly as a guitarist in what can really only be described as an aggressive three chord/three guitar punk band... quite aptly named the Dirty Rotten Scoundrels. A little while after that imploded on itself, I joined my best friend's band, the Kiara Elles. Initially as their keyboardist, but we had a shake up soon after; we ended with one less member and I landed on bass. The moment I held a thunderbird, I knew that was it. Since moving to London, I've been bassist for both Blindness and the Climbing Boys, the latter are my current housemates. Climbing Boys came first, but as you say, every reader knows Debbie's background after Beth, so after hearing Beth's beats with Deb's guitar work was really all it took for me to want to get involved.

I guess you won't mind for saying this, but as Debbie used to be in one of the pioneers of the shoegaze genre (Curve) I guess it's a real profit for a shoegaze/postpunk band like Blindness, not?
Beth: It's a benefit having Debbie in the band because she's such a good guitarist. The Curve connection is certainly obvious as they are a big influence on me.
Emma: On the music, definitely, yes. On my liver and kidneys... Not so much.
In fact, I call it shoegaze/postpunk, but is it shoegaze/postpunk you make?
Beth: I don't really know what it is. It takes from a few genres, but doesn't really fit neatly into any. It tends to take bits from here and bits from there and put them together, depending on various influences.
Debbie: We call it 'electro-filth'.
Emma: Amen to that!

On the cover of your album we see The London Eye. Of course it can be my sick imagination, but I was thinking that it refers to your music as Blindness makes you feel dizzy as well. I guess there must be another reason?
Beth: Haha. I hadn't really thought of it like that. Did it make you dizzy? Debbie saw the photo which was taken by Pink Soldiers London, who were doing the design, and suggested it. We really liked the photo and the design that they did. Some of the suggestions we'd had sent to us from elsewhere felt very American and we, obviously, aren't. So the London Eye seemed more appropriate as that's where we're from.
Debbie: Also - Eye/Blindness. Geddit?

I heard a lot of different styles on the album. On Humming I had the feeling that there was a touch of Martin Hannett, it's like the spirit of the famous producer walks around in there!
Beth: Wow – I don't think anyone's mentioned the songs making them think of him. I'll take it as a compliment, though.
Debbie: That's a massive compliment - thanks. That's down to Beth, Michael & Rizzo's hard work though in the studio. I just listened to mp3 mixes they'd done and said 'turn this up, turn this down', etc.
Agree that Blindness is a bit dark too?
Beth: Yeah, I guess it is. Some of the album can seem fairly relentless.
Debbie: Dark is much more interesting, don't you think? How boring do you think a completely happy album would sound? *shudder*
Emma: Ha, yes it can be. The other third of a reason why I joined.
I really do hear a lot of echoes from bands like The Jesus & Mary Chain and The Fall in your sound. In a way, punk in the real punk way. Agree on that?
Beth: I'll take that.
Debbie: Yes, but there are other post-punk bands that we (I) draw upon - Siouxsie and the Banshees, Gang of Four, Slits, Raincoats etc. Also 60s garage rock for riffs.
Emma: My writing input on this album isn't worth a mention as the majority was recorded before I joined, but we certainly share a lot of common influences, punk, grunge and post-punk being favourites of mine.
In some way, this question is only for Debbie. At the time of Curve and Echobelly, the UK press called those bands gods. These days their power has gone. Is that a godsend for the music scene or not?
Debbie: It's both good and bad, I think their 'kingmaker' mindset (not the band!) did give the inkies a massive sense of entitlement and undue influence on making and breaking 'scenes' and led to some dodgy prejudices and rivalries springing up which didn't help. On the other hand, there were some excellent writers, and despite their personal tastes you would read them because they were entertaining and intelligent. Now in the internet age, anyone can be a critic which is very democratic, but some of the sites and blogs I've seen are basically rubbish. Just because you can type doesn't mean you can write!
What do you think of the current British music scene?
Beth:There are some really great bands around in the UK at the moment. It's just a shame that some of them are being ignored. It isn't always about the music, which is sad.
Debbie: To be honest, I have very little idea of what's happening in the British music scene. I like what I like, which usually means bands that my friends and aqcuaintances are in. Occasionally I might stumble across something great online, but I don't really go looking, too busy trying to create music myself.
Emma: Great bands and an vibrant, mostly DIY live scene. The industry however needs turning on its head. And maybe even a good hard kicking up it's arse.
Any chance that you'll doing a tour outside Britain?
Beth: Nothing planned at the moment, but we'd love to.
Debbie: We are open to offers.
Emma: Book us, we shall come. Maybe.
What's your favorite record of all time and please state why!
Beth: It's hard to pick one. Hounds of Love by Kate Bush. I know the album really well, but it still astounds me everytime.
Debbie: It's really hard to pick just one (and Beth has beaten me to HOL) but one of my all time favourites is Specials by The Specials. It still sounds as fresh as it did in 1979. Yes, I'm that old.
Emma: Bleach by Nirvana. I grew up on an isolated estate in Bradford... It made me feel normal. It's probably also why I first ever picked up a guitar. More so, my ears just never tire of it.
With whom wouldn't you mind to be alone in an elevator for 8 hours and what would you do then?
Beth: I'm not sure I could stand anyone for 8 straight hours.
Debbie: Anyone alive or dead? Probably my dad. I'd ask him everything I didn't get to when he was alive.
Emma: David Attenborough. Well, ideally David Attenborough and the Devil, so I could try to do a deal to go back in time and live his amazing life.
The last words are yours.
Debbie: Thanks, take care and be lucky!
Didier BECU
14/10/2015
---