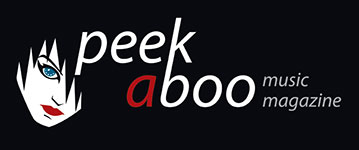 like this interview
---
THE MARY HART ATTACK
If you think this is a democratic process: forget it!
11/10/2015, Didier BECU
---
We were quite impressed when hearing A Dark Green Light: the tape by the Belgian trioThe Mary Hart Attack. Noisy, melodic shoegaze and post punk always works here! The forthcoming days will be quite busy for Kristof Souvagie, Wil Mathijs and Kris Vlaeminck as they're involved in an upcoming tour and the recording of their debut. So, it's time for a chat!
Let us start with that band's name. I read that Mary Hart is famous. Could be, but I honestly have never heard the name before. How did she end up in your band's name?
Kristof: We had a list of potential bandnames. At first we thought of the name "The Mary Hart Syndrome". But that sounded pretty lame, so we switched to "Attack". It didn't connect with what we wanted to do: give punches with our music.
Kris: Exactly, Mary Hart is a TV personality of the late 80s, early 90s in the States. In a way it matched with the music we had in mind when we got together.
Wil: When we founded the band, I was looking on the net for the most common psychological pathologies and discovered The Mary Hart Syndrome. When I researched on Mary, I immediately understood why people could get a syndrome from that woman.
You're a Belgian band that doesn't have a Belgian sound. Is that flattering or not?
Kristof: I don't really know. What is that Belgian sound actually? The music we make is something we feel good about. To put it in a cliché: "we just try to make good songs and create a sound that is ours."
Kris: We definitely don't sound like Ali Farka Touré, who is not from Belgium either. Well you know, if people say we do not sound Belgian and it is meant in a non-flattering way, we really don't care that much.
In fact it was kind of hard to find a proper description. I mean you're indie, indie noise, punk… Come on you're the reviewee, describe your sound!
Kristof: We don't like to put a label on the music. But people like to put music in genres. All depends on the approach, but there is no real recipe to it. Sometimes it starts with a song written on an acoustic guitar and then we put it in the TMHA blender. Mostly those songs sound kind of shoegaze/noisepop. Other songs start from a drum or bass groove we like. It leads us to jams or other creative tools. Here the songs have more of an indie/post-punk feel. Those songs are often more in your face.
Kris: Still, making songs is a process. This also means killing your darlings and reforming an idea until we feel good about it. When it takes too long, we throw it away. And if you think this is a democratic process: Forget it!
You have a tape out. Tapes seem to be back these days. Did you choose a tape for the money matter or for the format?
Kristof: We like the look and feel of a tape. It also sounds a bit different than a CD or vinyl. It's a fact that tapes are more cheap than CD's or vinyl. Our label Oddie Records released the tape. Dennis Van Hoof made really cool artwork for it.
Wil: And it comes with a download code.
Kris: Thanks to Dennis by the way. Cool label!
How were the reactions so far?
Kristof: Overall, we received really cool reviews about the EP and our gigs. But for us, the EP contains old songs. We think, like any band, that our new stuff is much better. The process will be heard on our next release (2016). When we recorded the EP, we hadn't even done any live shows. In the beginning our live shows were too loud and unbalanced. We knew there was some work to do. It was a good learning process. Now we know each other better musically. We are a better live band now. Lately we got some nice reviews on our gigs.
A song like You Talk Too Much is a bit brutal. I even thought I heard the forbidden F-word. Was it just fun or were you really that furious?
Kristof: I don't know why the F-word came out, but in a song I can express stuff that I can't say in normal life. It's like a catalysator. I'm glad I've got music to express some more complicated emotions. Some people say we make 'dark' music. But I don't know. We've got some joyful lyrics too. It's also an uplifting thing for me.
Wil: Even when it's dark.
The question everybody wants to know the answer to, or at least your fans., is: what will be the next release? A full album?
Kristof: Yes, we are now ready to record our full album. All the songs are written and the pre-production is already done. 8 to 9 songs will be on the album.
In November we will lock us up in our 'TMHA-space'. It's and old run-down restaurant and the acoustic of the room is pretty incredible. We will produce the record all by ourselves. We got all the gear to do it.
Wil: And it gives us more time/space to do what we want when we want as long as we want.
Kris: Exactly, no time pressure, no extra money for studio time or whatsoever.
You soon will do a mini tour in Belgium that will get you on some famous stages here in Belgium. There's Cafe Video in Gent, but also Trix in Antwerp. Can you tell us something about it?
Kristof: For those gigs all credits go to our booker Bart Somers (no not the politician!) from Soundboxes. We are very grateful to have bumped into this guy. The show at Trix will be a cool night. It's together with Mogo, another post-punk band that is getting more and more attention. We're also looking forward to play at Café Video in Ghent. It has been a long time since we played in Ghent, so we expect a lot of people to show up. There is also a gig planned in Brussels. And in January we will play in Breda (NL).
Talking about dreams. What is your ultimate dream music wise?
Kristof: We just want to bring great music and play cool shows, go on tour and meet cool people, get inspired and create again from these encounters and experiences to release new material and go on tour again.
What's most important: sex, drugs or rock 'n roll?
Kristof: Sex is very important.
Wil: Sex is defintely the most important.
Kris: Yes it is, will not deny that.
Kristof: We don't do drugs.
Wil: But if drugs are free and we don't have to have sex for it, it's welcome, so we could resell it to upgrade the studio and invite our girls for dinner.
Kris: Hmm, drugs, no thanks. Can I have a Duvel instead?
Kristof: Rock 'n roll is also very important.
Wil: It's a natural thing.
Kris: That is our core-business, no? Playing music. So yes!
The Stooges or The Beatles? (We don't even mention The Stones!)
Kristof: The Beatles. (The Stones were not that bad when they still had Brian Jones though.)
Wil: The Stooges.
Kris: The Beatles. Is maybe more poppy but still. They moved something in the world of sound and recording. Cool experiments they did we still use today!
What's your favourite record of all time and please state why!
Kristof: I can't just pick one favourite record. There is so much good music out there. For me the most 'important' record though is the album Carnavas by Silversun Pickups. It was the first time I heard that wall of sound in music. I listened to it on my Discman for days and days. I was struck by all the guitar fuzz and flipping delay effects together with really good songs.
Wil: The same opinion as Souva, but my walkman was loaded with Bach's Cello suites by Anner Bylsma.
Kris: Same, same here. I have a bunch of favorite records, but in different kinds of genres running from classical music to pop, rock and jazz. It is endless.
With whom wouldn't you mind to be alone in an elevator for 8 hours and what would you then?
Kristof: I'm gonna say my girlfriend and I won't tell you what I'm gonna do.
Wil: Kris in a sexy good smelling female clone-updated leather version with smokey eyes, in stockings and pumps or maybe rather just the Devil & God, to discuss things about life. Or some of my death friends, to have the chance to talk and laugh together again. At the end, an elevator technician with the right tools will do.
Kris: In Swifts Gullivers Travels, Gulliver encounters wizards in Glubdubdrib who bring the big philosophers and politicians to him: can be revealing. Unlike Will, I'm lucky my friends are still alive. But I never met my two grandfathers. One was a multi instrumentalist. He played accordeon, flugel and so on. And about the other, my mother always told me I was a copy of him. A reincarnation if you want. And honestly, I'm not sure about that sexy female version of Will. No thanks. Haha.
Didier BECU
11/10/2015
---