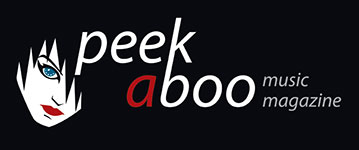 like this interview
---
WHITE COAL ADDICTION
Despite the fact that I'm totally fascinated by death, we're always ready for a good laugh.
28/09/2015, Didier BECU
---
White Coal Addiction is a trio from Belgium that you probably have never heard of (unless you're deep in the underground!). Their sound is amazing as it combines cold wave, post-punk and a touch of goth in doomy songs that are presented on their first EP. Peek-A-Boo wanted to find out what they are about, and we spoke with band member Thanakoff.
Who is White Coal Addiction?
White Coal Addiction consists of three musicians from the south of Belgium. Joe plays bass, Aurel plays drums, and I'm Thanakoff. I play guitar, synths and I sing.

Hmmm, why does a bunch of three guys name themselves White Coal Addiction?
Wow... That's a long story and the story of a very long night (laughs). That night, we wrote our song A Project… To make it short we wanted a three words name, because we're three bandmates, with a bit of provocation... We later discovered that the white coal actually exists. We now use this concept for the lightshow of our gigs: creating smoke lights, coming from stacks.

I was really overwhelmed by your sound. I hear a great mixtures of old school gothwave (Clan Of Xymox) and modern post-punk (White Lies). I guess this sort of music is your roots?
You're the second person who heard some sounds of Clan Of Xymox in White Coal Addiction. It wasn't meant to, but I see it as a compliment! Thanks! We didn't want to copy the actual post-wave scene. We took a white sheet, came back to our roots (Joy Division, The Cure, Slowdive, The Chameleons,..), and added our heart and our soul to it ! We also wanted to record our EP in a very special place (a warehouse) to give it a story, humanity and a spatial reverb.

After 3 years you released your EP. How are the reactions so far and has it created opportunities to get some more gigs?
We first made this EP to do our promotion. So we've sent a lot of copies to promotors and venues and now we're waiting for new opportunities, hoping to play in the North of Belgium and more outside the borders. Talking about the reactions, they're rather good, our EP is exactly as we wanted it to be, thanks to the great work of our producer Renaud Labarbe, aka Reno Mellow.

Talking about concerts, I read somewhere that you're even better on stage. Explain!
Well, there is a sort of energy and sweat we cannot transmit through a needle or a laser ray. We think music is made to be lived and seen. Aesthetics is also a very important stuff for us.

I'm afraid I have to ask it, but your sound reminded me so much of Asylum Party. Do you agree, or is it just me?
To be honest, I only know La Nuit by Asylum Party, but I'll have a listen to their other songs.

There are five songs (well six, if you count the remix) on the EP. They have a varied sound, but they all sound quite doomy. Are you doomy people?
No, I don't think so, but we haven't seen a specialist yet (laughs). Despite the fact that I'm totally fascinated by death, we're always ready for a good laugh. Well, our lyrics are doomy and telling about death and dark dreams, but isn't music a way to express our deep desires and fears?!

Cologne reminded me of early Chameleons. What is this song about?
Yeah! Thanks! This song is telling about a fabulous night when I played with my Joy Division tribute Band in Cologne. I met very nice people there, and I had an amazing night with some unexpected experiences... White Coal Addiction played several times in Cologne since that night. The German audience is amazing !

I know it's a question of money, but are there plans for a full album?
We've got enough tracks to record two full albums (laughs), really! But first, we have to find a serious underground record label to produce our first album.

How would you describe White Coal Addiction to someone who has never heard you before, and I guess most of our readers haven't!
In all modesty I'd say that White Coal Addiction is a power trio that will bring you back to the roots of coldwave and post-punk with a bit of noise and shoegaze sounds.

What's your favorite record of all time and please state why!
My favorite record of all time is Unknown Pleasures, because Joy Division did its stuff without copying anything that was existing at that time! I cannot spend a week without listening to it, and that is now for 28 years!

With whom wouldn't you mind to be alone in an elevator for 8 hours and what would youd o then?
Hmmm (laughs), let's say Ian Curtis to write a new song together, but I'm not sure he could stay for 8 hours in an elevator… Another genius I would really enjoy to stay with for 8 hours is David Gilmour. We could speak about music, airplanes, animals, and hmmmm write a new song together (laughs)!

The final words are yours….
We would sincerely like to thank Peek-A-Boo for this interview! We are looking forward to play soon in Flanders and discover the underground audience of the North. We are also preparing a new EP called MAJOR offence with another 6 tracks coldwave experience! It will be released in late 2015.
Didier BECU
28/09/2015
---