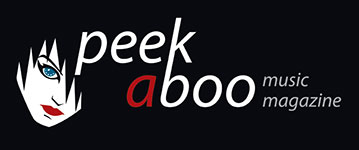 like this interview

---
POPSIMONOVA
One of my biggest wishes is to a make a soundtrack for the movie, my huge inspiration is John Carpenter!
14/09/2015, Benny CALUWE
---
The annual BIMFest at Antwerp is the ideal opportunity to discover new sounds that matter. One of the acts you better don't miss is the Croatian Popsimonova, fronted by Lana Jastrevski. Peek-A-Boo had a chat with her about the past, but more important the future!
Lana, did you learn a classical instrument when you were young? Or did you immediately start to experiment with electronics?
I played a violin before I started with electronics.
Which bands are influential to you musically?
I like a lot of bands and different music, but the band who was the key to my interest to making electronic music is definitely DAF. Besides them, the sound of Front 242 probably has the biggest relevance for me. Also, the most influential bands on my list are The Klinik, Dive, Suicide, Anne Clark, Malaria! and SPK.
A few months ago you played in Wommelgem nearby Antwerp. How did you like the location?
Wommelgem is an ex military fortress – it was definitely one of the best location I played. An aura of mystery hangs over the interior of dark, creaking corridors and atmospheric dusty rooms. An otherworldly feeling I like the best.
You played in Wommelgem together with Keluar for the presentation of the Deep compilation (Daft Records). On this album that is compiled by Dirk Ivens you contributed the terrific track Are you real? How did this cooperation happen?
It was a truly wonderful experience to play with Keluar and Onrust. I met Dirk Ivens when I played in Antwerp for the first time. It was in 2012 at the Kissinger club. He already had an idea about a female compilation, so we talked a little bit about it. I appreciate that he included me on the DEEP compilation since I'm a huge fan of his music projects. It really means a lot to me.
Last year your LP Die Brücke was released. You worked together with Zarkoff for this release. Are you happy with the reactions on the album?
It was one fruitful and wonderful collaboration. I learned a lot, for example, how to approach the creation from a completely different angle. Reactions are fantastic, I'm very pleased.
Die Brücke wasn't the first time you worked together with Zarkoff. In the past you also worked with Selecto. In which way co-operations are beneficial for an artist? Will you co-operate again in the future? Or would you like to go your own way?
I had a collaborations with different artists: Zarkoff, featuring on NRSB-11 (a project of DJ Stingray and Gerald Donald), Umrijeti za Strojem, Le Chocolat Noir, Selecto, Dorcelsius, Le crabe and Cesar Canali. I give you some links so you can check them out.
https://soundcloud.com/popsimonova
https://www.youtube.com/watch?v=PFbMQpzeYi0&list=PLs-tv5mu2LCXl_F-brNhgkku-9bOlnwjn
https://www.youtube.com/watch?v=8gTcsgRJEvk
https://www.youtube.com/watch?v=LZN6Zm96AfA
http://www.discogs.com/artist/1371413-Popsimonova
I learn a lot from these collaborations and I'm open for the new ones in the future. They are challenging for the creative process and very good for my own progress.
You have released some tracks in your native language Croatian and some in English as well. I like both, in Croatian you sound delightfully mysterious and your charming English accent is a great asset too. Now you are gaining popularity in Western Europe, will you focus on English songs? Or will we still hear some tracks in that wonderful Croatian in the future?
Thank you. I will focus on English songs, because English is definitely more melodious than Croatian. Although, Croatian can sound very exotic to those who don't know the language.
Do you find inspiration in news facts? Or is it rather literature or other popular cultures that are inspirational to you? Or are your lyrics mainly based on your own experiences?
My lyrics are mainly based on my own experiences and thinking. I use writing to deal with my emotions and experiences. This has obviously a therapeutic effect for me, and it is an important way to process all the different stages of life and certain experiences. Also, I have been heavily influenced by beatnik writers and Russian literature.
Besides that, for ten years I lived in Sisak, a small industrial Croatian town. Popsimonova was born/created there among the abandoned industrial landscapes, feelings of alienation and an E.A. Poe atmosphere. All of that shaped me as a person and inspired me a lot for my musical projects.
On Friday 18 December you will play at BIMfest 2015 in Zappa, Antwerp. What can we expect?
At BIMfest I will present my new album, you can expect adrenaline and uncompromising musical diversions without respite.
What are your future plans/goals?
The new album of Popsimonova Brokedown Palace is coming out in October. I did eleven new songs for the Rotterdam Electronic Emergencies label. Besides that, I work intensively on my new songs and releases and also on a few new projects with different musicians. One of them is project Diktatur with Cesar Canali (Vólkova); we just published tracks on Not So Cold a Warm Wave Compilation Vol.2. by Tacuara Records. I just did a musical score for a theater performance/contemporary dance by Ina Sladic, in Zagreb. I worked in theater before, and enjoyed it tremendously; I would like to do it more often in the future. One of my biggest wishes is to make a soundtrack for a movie, my huge inspiration is John Carpenter!
We end with a classical Peek A Boo question. What is your all time favourite album and please state why?
My all time favorite is Closer by Joy Division. It's perfect.
Benny CALUWE
14/09/2015
---